Notes
The table above lists all recruits as of January 2, 2019. In addition to the Star Rating, we display the highest TRN, ITF junior, and WTT rankings for each player over the 6-month period prior to the voting, and for international players we display the TRN ranking they would hold if eligible. We also display current UTR numbers from the date the voting began.
Also Receiving Votes
Other women's programs receiving votes are: San Diego (28), Navy (27), Maryland (23), North Texas (23), Pacific (CA) (23), Michigan State (20), Tulane (13), Clemson (11), Cal Poly (8), Georgia Southern (8), Northern Arizona (8), Nebraska (6), UC Davis (4), Colorado (3), College of Charleston (2), Liberty (2), Wake Forest (2).
All Devils, All the Time
For the first time in the 14-year history of our poll, the same school has both the top-ranked men's and top-ranked women's recruiting classes. The Duke Blue Devils stand atop our rankings at No. 1.
Duke Head Coach Jamie Ashworth is an excellent recruiter. This 2019 recruiting class marks the eighth Top-10 recruiting class in Blue Devil history - and their first No. 1 recruiting class since 2011.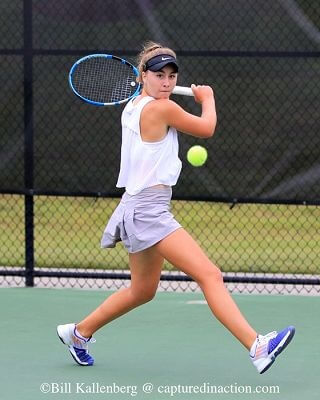 Our panel gave the Duke class of Margaryta Bilokin (New Canaan, Conn.) and Chloe Beck (Watkinsville, Ga.) 435 out of a possible 450 points and 7 of 18 first-place votes. Both Bilokin and Beck are Blue Chip recruits who have been in the Top 5 of their class. Bilokin has competed at the highest level of junior tennis - participating in the junior events at both the US and French Opens. Beck has had success against both US and international opponents - posting 9 wins in the 2018 Hard and Clay Court Nationals as well as reaching the semifinals of the ITF Pan American Championships in October.
Note: Bilokin reclassified to enroll this spring, but that reclassification was not known when we started our poll on January 2. Bilokin is on campus competing for the Blue Devils in the middle of the lineup this spring, and our policy is to not include these mid-year players. We would expect Duke to drop down from the No. 1 spot in our rankings when we conduct our next poll.
Roar of the Bruin
Two recruiting classes stood out for our panel - evenly splitting 14 of the 18 first-place votes. The UCLA Bruins are comfortably in the No. 2 position - garnering 421 points and registered as the top class on seven ballots. UCLA's point total was only 14 points behind top-ranked Duke and 59 points better than the third-place recruiting class.
Blue Chip standouts Abigail Forbes (Raleigh, N.C.) and Alexandra Vagramov (British Columbia, Canada) make up the two-woman class for the Bruins. Over a four-week period last summer, Forbes posted an eye-popping 15 singles victories at the USTA Clay Court, National Team, and Hard Court Championships, and she just won the singles title at the 55th ITF Coffee Bowl in Costa Rica on January 19th. Vagramov has also posted some big wins on the international stage, reaching the Round of 16 at both the USTA International Spring and ITF Pan American Championships in 2018.
UCLA Head Coach Stella Sampras Webster knows how to recruit. This is Webster's tenth class ranked among the Top 10 - and her third straight class in the Top 3. This class should help the Bruins improve on their Elite Eight run in 2018.
High Five
Three recruiting classes were extremely close in the voting - with only 2 points separating three programs.
The Texas Tech Red Raiders earned 362 points to take the No. 3 spot with their international class from Russia and Australia. Things got even tighter from there, with the Yale Bulldogs and Oklahoma State Cowgirls earning 360 points apiece to post a rare tie at No. 4 on our list.
Conference Call
The classes in these recruiting class rankings come primarily from the six power conferences - and there is a pretty even spread. The Big 12 has three representatives in the rankings - and they are the only conference with three programs in the Top 10. The other five conferences have more ranked classes: the SEC and Big 10 each have five classes in the list - while the ACC, PAC-12, and Ivy League have four ranked classes apiece.
The only team outside the power conferences is the Denver Pioneers. The two-man class of Britt Pursell (Oceanside, Calif.) and Alessia Truden (Palermo, Italy) earned 30 points to tie for No. 25 in our rankings.
Drop Shots
Scattershooting through the rankings:
Panelists for Winter 2019
The 18 panelists for this voting period are shown below alphabetically. Please join us in thanking them for donating their time and talents to this effort.
Casey Chapin - National Tournament Director, Director, Hudlow Tennis Center
Scott Colson - Co-founder of Payers & Players Podcast
Sonny Dearth - Daily Press newspaper and dailypress.com Web site in Newport News, Va.
Joey Dillon - TRN contributor, freelance writer
Tim Donovan - Donovan Tennis Strategies, DTS College Prospects Showcases
Sally Grabham - National Tournament Director, USTA National Sportsmanship Committee, Southwest Junior Competition Committee, USTA Southwest Section President
Marty Hennessey - Director of Tennis at The Stirling Club, USPTA professional, National Tournament Director
Larry Haugness - USTA/Missouri Valley Executive Committee, Former ITF and USTA National Tournament Director, PTR National Tester, USPTA, Junior Davis Cup Coach
Granger Huntress - Texas College Tennis blog
Ernie Katko - Junior Development Coach in Chicago, USTA High Performance Coach
Dave "The Koz" Kozlowski - Inside Tennis With The Koz, The Tennis Channel
Patty Lambropoulos - Junior Tennis Coordinator, College Park Athletic Club, National Tournament Director, Chicago District Board of Director and Endorser, Midwest Junior Competition Committee
Colette Lewis - ZooTennis.com
Rick Limpert - TRN contributor, freelance writer
Parsa Nemati - Junior and college tennis expert
Robert Sasseville - National Tournament Director, USTA Junior Competition Committee Member, USTA National Referee
Lisa Stone - ParentingAces.com
Julie Wrege - TRN principal, TennisInformation.com principal, former National Tournament Director, former USTA junior ranking chair and USTA Tennis Rules Committee member
About Mizuno
Mizuno is proud to sponsor Recruiting Class Rankings at TennisRecruiting.net.
Reach Beyond
Mizuno is a brand that offers superior sporting goods designed to bring happiness and joy to all through the power of sports. We know that playing sports is a journey, and are committed to crafting the high-quality products athletes need throughout their journey – regardless of who they are, which sport they love or at what level they play. Mizuno is passionate about sports, and we'll always strive to help athletes find their inspiration – just as we have for over 100 years. #REACHBEYOND
Learn more about Mizuno and how they can help elevate your performance at www.mizunousa.com. Follow @MizunoTennisNorthAmerica for the latest in tennis news and product releases.
To see if you qualify for a preferred player package, please contact Tyler Carey. All NCAA recognized college tennis programs are eligible to receive discounts on Mizuno tennis shoes.
Leave a Comment
More Recruiting Class Rankings
21-Jun-2019
2019 Top NCAA D-III Women's Classes
The Tennis Recruiting Network wraps up its spring recruiting class rankings with a look at the D-III women. Today we present our list of the Top 25 NCAA D-III women's recruiting classes for 2019. This year, a new program has Engineered its way to the top of the rankings for the first time ever.
17-Jun-2019
2019 Top NCAA D-III Men's Classes
The Tennis Recruiting Network is excited to present its recruiting class rankings for NCAA Division III conferences. Today we unveil our Top 25 D-III men's recruiting classes for 2019. For the fourth time in five years, our top-rated class comes from the Windy City.
14-Jun-2019
2019 Top Mid-Major Women's Classes
TennisRecruiting.net is back today with more rankings of mid-major recruiting classes. Today we present the Top 25 mid-major women's recruiting classes for 2019. Check out the top of the rankings - where the Waves are cresting.