Winter Nationals
Bhakta Earns 14s Gold Ball for Birthday Celebration
by
Gary Curreri
, 8 January 2019
Ria Bhakta, who turned 14 on New Year's Day, celebrated her birthday in style as the Saratoga, California native defeated fifth-seeded Kinaa Graham of Austin, Texas 6-0, 6-0 to capture the Girls 14s singles title at the USTA National Winter Championships at the Reffkin Tennis Center in Tucson, Arizona.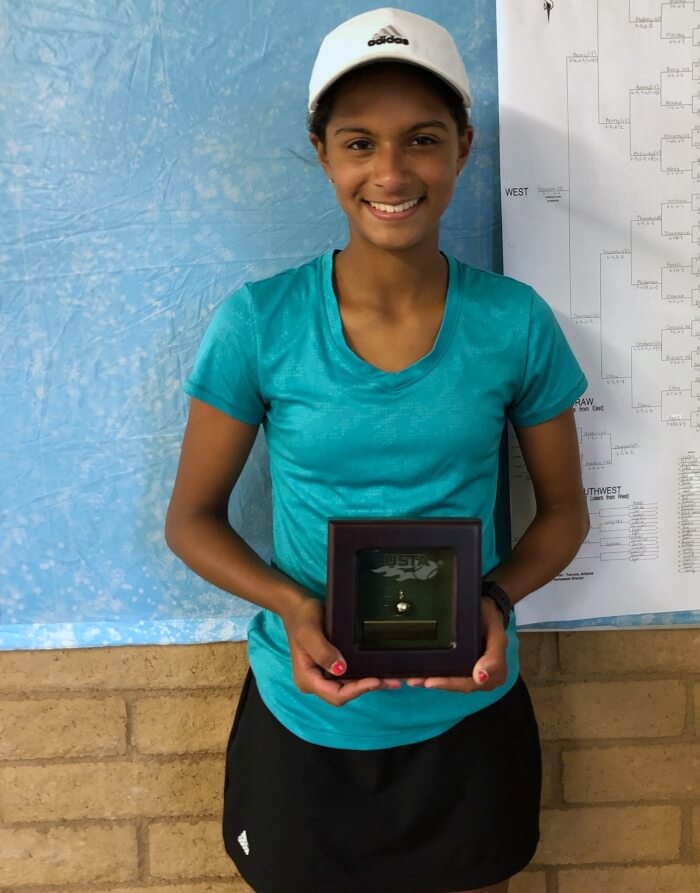 Singles Champion Ria Bhakta
"This was a really good birthday present, probably the best," said Bhakta, who was seeded ninth, but picked up the first gold ball of her career. "I put the birthday part aside while I was playing my match. We are actually going to go home and celebrate at my favorite restaurant Thai Foods in Sunnyvale, California. Out of everything I have done in tennis, this probably ranks the highest. The second is probably the Little Mo."
The last time that Bhakta won a prestigious tennis tournament, it came at the expense of Graham. Bhakta defeated Graham, 6-2, 6-1 for the Little Mo championship in the Girls 10s division.
"I was really focused," said Bhakta. "I just played really, really well. Kinaa didn't seem tired at all. She is really a fit player and gets to everything. When she hit a short ball, I was able to finish the points today."
Making her first nationals final appearance, Bhakta didn't drop a set and lost 19 games the entire week in recording straight-set victories.