College Feature
College Tennis Takes Center Stage at the Australian Open
by Rhiannon Potkey, 22 January 2019
The Australian Open was treated to a showcase of American college tennis - past and present - on Tuesday in Melbourne.
As the University of Southern California and South Carolina men's and women's programs met in a historic dual match Down Under, Virginia graduate Danielle Collins was advancing to the semifinals in women's singles.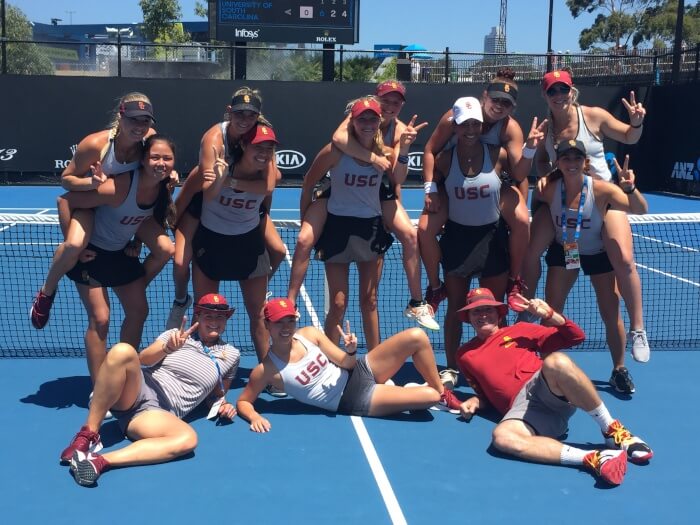 The USC Women Upset No. 13 South Carolina
The clash of USCs marked the first time collegiate tennis dual matches have been contested at a Grand Slam.
The SoCal schools swept their season-openers, with the No. 5 USC men defeating No. 25 South Carolina 4-0 and the USC women upsetting No 13 South Carolina 4-1.
"It was amazing. The whole thing was absolutely amazing," USC women's coach Alison Swain said. "I would say it was a bucket list item, but I don't think I could have dreamed up an experience like this to even have on my bucket list."
The Intercollegiate Tennis Association (ITA) teamed with Tennis Australia to arrange the dual matches. The college programs took part in exhibition singles and doubles matches against Tennis Australia National Academy players the day before playing each other.
ITA Chief Executive Officer Tim Russell, Chief Operating Officer Erica Perkins Jasper and official Anthony Montero helped ensure things ran smoothly.
"Those three individuals flew here just to make sure this was a real dual match," USC men's coach Peter Smith said. "You can't do this without the support from those three key individuals as well as Tennis Australia and (CEO) Craig Tiley. It's just incredible what everyone did to make this happen."