Tournament Feature
Seeing Double: Chunduru Twins Share Big Dreams
by Rhiannon Potkey, 18 February 2019
They are identical twin brothers. They play doubles together. One is a righty, one is a lefty.
The comparisons are inevitable.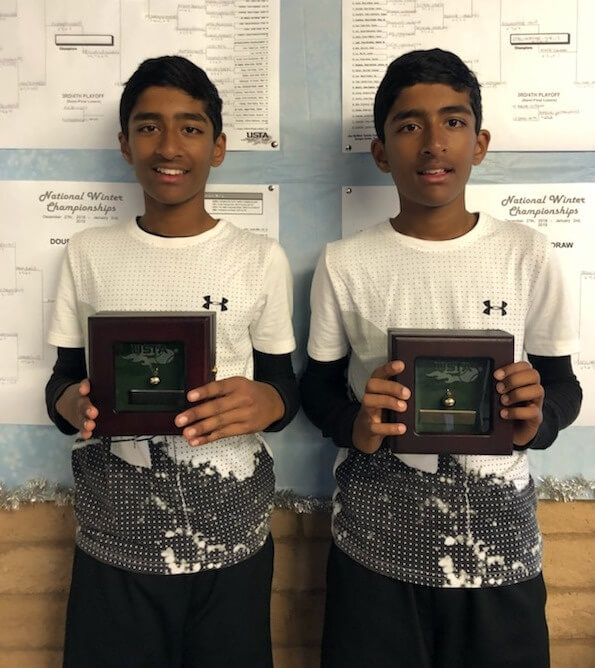 Abhinav (left) and Prathinav Won Winter Nationals
Abhinav and Prathinav Chunduru don't play many tournaments without hearing someone mention Bob and Mike Bryan.
The 12-year-olds from Plano, Texas weren't even born when the Bryans began their professional careers, but they have grown up admiring their success on tour.
"We watch them on TV, and they kind of inspired us," Prathinav said. "One time, we went to Cincinnati and got to watch them play live in person. That was a lot of fun."
The Chunduru twins have goals to follow the same path as the Bryans, starting in college and reaching the pro tour. They want to chase individual success in singles and stay connected in doubles.
The Chundurus captured the first gold balls of their careers in January at the USTA Boys 12s Winter National Championships in Tucson, Arizona. The fourth-seeded duo beat the top two seeds in the tournament in the semifinals and finals, respectively.
"It was exciting to win the first one. It was a very happy moment when we won," Abhinav said. "We have been talking about winning a gold ball for four months and it happened. We didn't come in the tournament as favorites, but we definitely thought we could win."