Tournament Feature
Georgia Weathers Several Storms to Capture ITA Indoor Title
by Rhiannon Potkey, 12 February 2019
They may get down, but you can never count them out.
The Georgia women staged several dramatic rallies on their way to capturing the program's fourth ITA National Team Indoor title.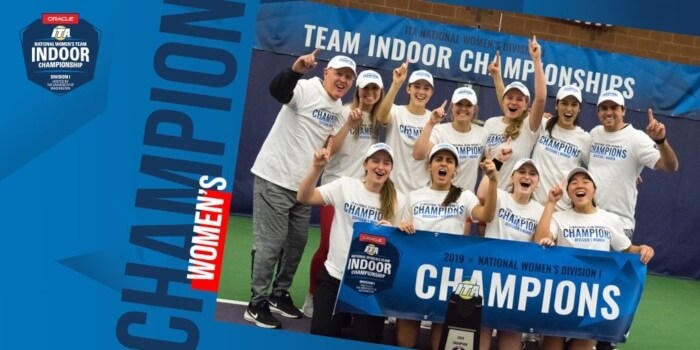 Georgia Wins Program's Fourth Indoor Team Title
© ITA
The fifth-seeded Bulldogs capped their championship run with a 4-3 victory over second-seeded and defending champion North Carolina in the final on Tuesday at the Nordstrom Tennis Center on the campus of the University of Washington in Seattle.
The last two singles matches were decided by third-set tiebreakers, and sophomore Katarina Jokic clinched the title for Georgia by rallying from a 5-2 deficit in the third to beat UNC's Makenna Jones 6-7(3), 7-5, 7-6(2) at No. 1 singles.
Georgia (7-0) went the distance in its final three matches of the event, beating the top three ranked ITA teams in the process. The Dawgs lost the doubles point in each match, yet regrouped and rallied to win in singles.
Georgia took down No. 4 seed Vanderbilt 4-3 in the quarterfinals and upset No. 1 Stanford 4-3 in the semifinals before denying UNC (9-1) its fourth title in five years and avenging a 2015 final loss to the Tar Heels.
"This team grew up a lot this weekend. We preach to them about understanding it's never over until it's over, whether things are going great or not going great," Georgia head coach Jeff Wallace said. "We feel like that can be our backbone, and I think our players did a great job of that. It's a lot easier said than done."