College Feature
Wingate Sets the Expectation for Sexual Assault Awareness
by Rhiannon Potkey, 22 February 2019
Daniel Belsito and his Wingate teammates took the words to heart and became inspired to act.
Although they aware of sexual assault on a superficial level, hearing Brenda Tracy speak made it resonate much deeper.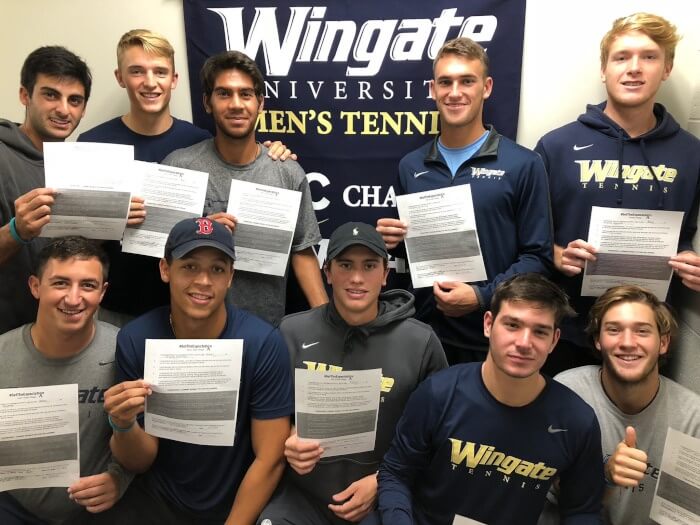 Wingate Players Signed the Set the Expectation Pledge
Tracy came to Wingate last October to address student-athletes about her Set the Expectation platform to raise awareness and educate others about sexual and physical violence.
Tracy was gang raped in 1998 by four men, including two members of the Oregon State football team. After going public with her story, Tracy became an advocate and began visiting colleges across the country.
Tracy wanted the shame she initially felt to morph into hope, healing and redemption. She wanted to save others from enduring the trauma she experienced.
Belsito and his teammates were so moved by Tracy's appearance they decided to do more than just sign the Set the Expectation pledge. They organized a daylong event to educate high school kids in the Wingate, North Carolina area and spread Tracy's message.
Wingate's inaugural Set the Expectation event will take place on March 2 when the men's and women's teams host Columbus State. The players have invited high school kids to take a campus tour, participate in a free tennis clinic and hear from a representative from Safe Alliance, a local organization that helps survivors of domestic violence and sexual assault.
They are asking people to donate items that will be given to Turning Point, which serves survivors of domestic violence, sexual assault and child abuse. The Wingate players will wear special "Set the Expectation" T-shirts during their matches.
"We wanted to use our match as a platform to invite kids and educate them on how important this issue is," Belsito said. "We want to make this a schoolwide thing, and hope other schools in our conference follow. That is a big goal obviously, but what better way to start than us. Somebody has to do it."
Tracy noticed how engaged the members of the men's tennis team were during her visit to Wingate. There is always a lot of publicity when football programs embrace her message, so she was heartened to see it spread to a sport like tennis.
"They really listened to everything I said. I threw a lot of ideas out there at them and talked about a lot of different things, and they picked up on all of them," Tracy said. "They could have just put patches on for a match, but they took the extra step of reaching back to influence high schools kids coming into college and holding a daylong event. That is incredible."
Once Wingate began discussing the idea of hosting an event, graduate assistant coach Joel Roberts decided to make it part of his Sport Management masters program project. The Wingate administration was on board and fully supported the team's mission.
Roberts sent letters to 10 high schools in the area inviting them to attend, and began contacting the local organizations to help educate attendees about sexual assault and domestic violence. He arranged the details for the free clinic and the lunch Wingate will be providing.
"We are really looking forward to it and looking forward to getting as many people to attend as possible," Roberts said. "It's the first time ever, and the goal is to do this annually and really try to grow it into a really big successful event each year to help educate high school students while helping promote Brenda's platform as well."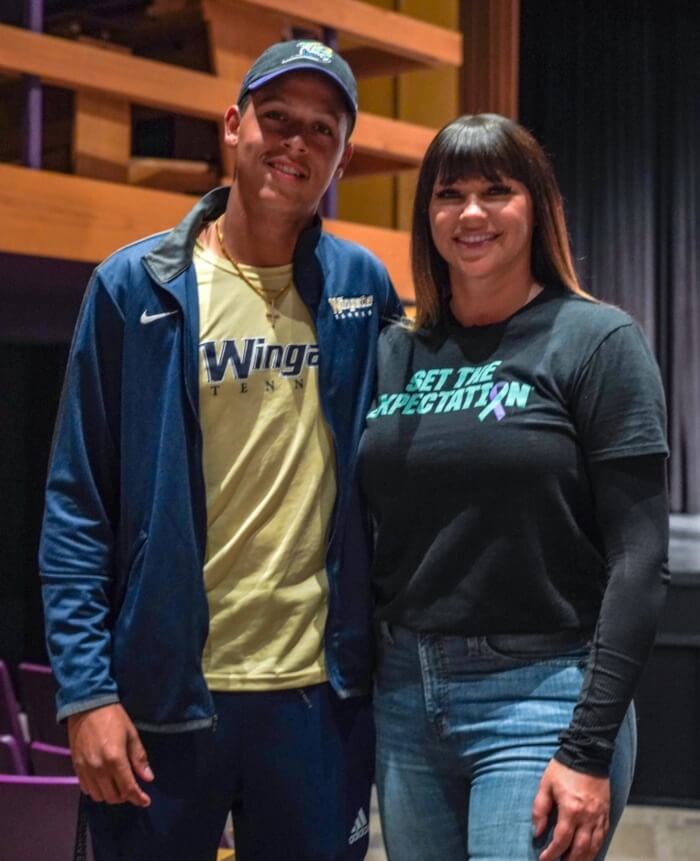 Daniel Belsito and Brenda Tracy
Belsito, a junior from Charlotte, North Carolina never really considered becoming an advocate for preventing sexual violence until hearing Tracy share her story. Tracy encouraged men to take a leading role by speaking out for women and becoming role models in their community.
"That is something that really stuck with me. One of the things I have always wanted to do since I've been a college athlete is to do more than just be an athlete," said Belsito, the 2018 South Atlantic Conference Player of the Year. "There are other things you can do around campus to try and make athletes be seen in a better light. Giving women who don't feel spoken for our support and showing them we stand with them is one way. Not just now, but for years to come."
Roberts sent a letter to Tracy inviting her to attend Saturday's event, but she had a speaking engagement already booked. Tracy plans to try and come next year, and encouraged the players to keep spreading the message to as many people as possible.
"For some young men, these are scary topics and a scary space to get involved because sometimes we talk to our young men like they are the problem. But these men can be the solution," Tracy said. "It takes a little bit of a leap of faith for them. It can't be comfortable for them, and they are doing it. That is what's important. I am very, very proud of them."
About K-Swiss
College Content at TennisRecruiting.net is sponsored by K-Swiss.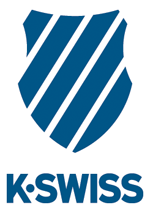 At K-Swiss we are 100% invested in the sport of Tennis and committed to helping players play their very best and win at every level. From a competitive junior or adult player to the greatest doubles team of all-time, Mike and Bob Bryan. For over 50 years we have been making some of the most innovative, high quality tennis footwear in the game featuring the very best in comfort with a consistent fit.
We encourage you to try the K-Swiss shoe that is best for your game.
Connect with K-Swiss on Facebook, Twitter, and YouTube - or on their website.
Leave a Comment
More College Coverage
13-Mar-2019
Texas Dismisses Center Amid Bribing Scheme Fallout
Texas men's coach Michael Center was dismissed from his position on Wednesday after 18 seasons at the helm following his alleged involvement in a widespread college admissions bribing scheme. Texas' 2019 recruits are still trying to process the news like everyone else.
3-Mar-2019
Emory Women Capture Third Straight ITA Indoor Title
The second-seeded Emory women captured their third straight ITA Division III National Team Indoor championship on Sunday afternoon with a 5-3 victory over top-seeded Claremont-Mudd-Scripps. Emory has won five Indoor titles overall in six appearances.
26-Feb-2019
Getting To Know UCLA's Maxime Cressy
Maxime Cressy doesn't lack confidence. The UCLA senior has risen to No. 1 in the singles lineup for the Bruins, and expects a similar trajectory on the professional tour. Cressy sat down at ITA Indoors for Q&A to discuss his style of play and his future goals.
About Rhiannon Potkey
Rhiannon Potkey is a veteran sportswriter with more than two decades of experience in journalism. Potkey has covered many sports at many levels and has a passion for finding great stories. Potkey has covered the U.S. Open, junior sectional and national events, college conference championships and Davis Cup matches. Potkey is currently Content Strategist for Tennis Recruiting. You can reach Rhiannon by email at
[email protected]
.