Special from
Zoo Tennis
MOBILE, Ala. - The sixth year of the USTA National Spring Team Championships offered a bit of everything weather-wise, from humidity and rain at the beginning, to wintry temperatures at the end. Yet for all the blankets and down jackets necessary for the spectators and the leggings and hoodies required for player comfort, the Patriots and the Firecrackers will remember the tournament not for the weather, but for the gold medals they earned.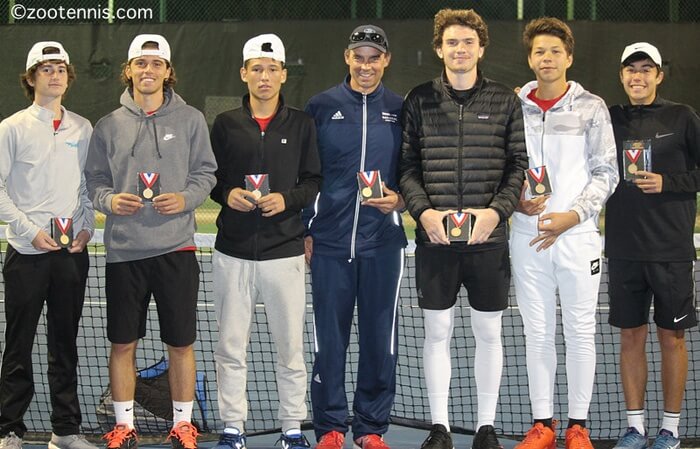 The Patriots Won the Boys National Spring Team Title
© Zoo Tennis
The 16 boys and 16 girls teams consist of six players, two each from the 14s, 16s and 18s divisions. Teams are selected two days prior to the event via the waterfall method, which is designed to distribute players equally using USTA rankings. Each team is assigned a junior development coach, selected by the USTA, then participate in one day of practice and team building before taking the court for the first of four matches in a compass draw.
As with Division I college tennis, one point is awarded to the team that wins two of three doubles matches, then six singles matches are played, each worth one point, with a No. 1 and No. 2 player from each of the three age divisions.
With rain expected on Sunday, the tournament's scheduled first day, tournament officials moved up the start of play to Saturday, leaving the teams only a few hours to get to know one another and the coach. Rain did in fact disrupt play on Sunday, with the boys quarterfinal matches unable to finish, while the girls did not take the court.
[PHOTO GALLERY: Check out more photos from the event here]
The boys finished their quarterfinals and played their semifinals on Monday, an unseasonably cold day in Mobile, with temperatures failing to reach 50 degrees. This revised schedule allowed the boys to play their final on Tuesday, with the Patriots defeating the Vikings 5-2 to claim the title.