Special from
Zoo Tennis
A warm and sunny week at the Indian Wells Tennis Garden ended Saturday for the 16s division of the Adidas Easter Bowl National Championships, with 14-year-old Vivian Ovrootsky and 15-year-old Samir Banerjee collecting gold balls in singles.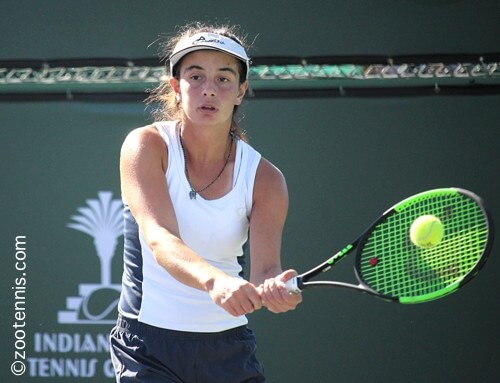 The ninth-seeded Ovrootsky, who won the previous week's ITF Junior Circuit Grade 4 tournament in Irvine, had just one day off before jumping back into top-level competition. But what she lacked in rest, she made up for with confidence, and it showed in her 6-3, 6-4 win over No. 10 seed DJ Bennett in the final.
"I felt really confident heading in," said the San Jose resident, who trains with Nick Fustar at the Eagle Fustar Academy. "I know I didn't play my best tennis in the match that I could have, but DJ was playing unbelievable tennis, her forehand was great. I just had to get through the match there, take offense when I had the opportunity and I think that's what I did."
Ovrootsky, who had taken out top seed Nadejda Maslova 7-5, 7-5 in the third round, dropped her only set of the tournament in the semifinals against unseeded Gracie Epps.
Ovrootsky admitted some fatigue after that 6-2, 6-7(6), 6-4 battle with Epps.
"It was tiring, but I think I recovered well, which is why I was able to move and play like I did today," Ovrootsky said.