Special from
Zoo Tennis
A surprise winner and a repeat winner were the stories of the 2019 ITF Grade B1 Easter Bowl last week, with qualifier Ron Hohmann and 2017 16s champion Emma Navarro claiming titles and gold balls after a week of perfect weather at the Indian Wells Tennis Garden.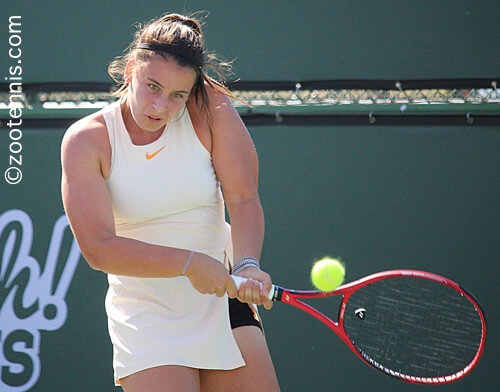 It didn't take long for the boys draw to open up, with top seed Eliot Spizzirri losing to Daniel Milavsky in the first round, along with five other seeds. The girls draw went mostly to form until the third round, when No. 13 seed Emma Jackson took out top seed Hurricane Tyra Black and No. 16 seed Alexandra Yepifanova defeated No. 2 seed Elli Mandlik.
That left No. 3 seed Navarro as the favorite, and she continued to advance in straight sets, reaching the final with a 7-6(1), 6-2 win over unseeded Ellie Coleman.
Her opponent in the final, Robin Montgomery, had come back from a set down in both the quarterfinals and semifinals, beating unseeded Fiona Crawley 1-6, 7-6(5), 6-3 and No. 5 seed Lea Ma 2-6, 6-2, 6-0.