Who's Hot
Hot 100 List - April 2019
by Amelia Thomas, 16 April 2019
This time of year, junior tennis begins to kick into high gear. Daylight savings means more hours of sunlight to train and compete.
The Hot 100 lists are published each month, and the April Hot 100 lists feature the 100 boys and girls who most improved their rankings during the month of March. You can find out more about the Hot 100 - and how the lists are calculated - by reading here.
The latest lists, published today, are available here:
We talked to a few of these top performers:
Harrison Collomb (Wellesley, Massachusetts)
Three-star freshman Harrison Collomb credits the work he has been doing with his coaches for his recent improvements. Collomb works primarily with Alex Johansson, Director of the New England Tennis Academy. He also trains with fitness coach Marko Stanic.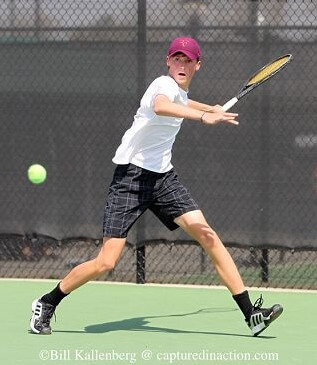 Three-Star Freshman Harrison Collomb
© Bill Kallenberg/CapturedInAction
"My good play over the last month, which led to a significant improvement of my ranking, has been the result of hard work on and off the court," Collomb said. "From the countless hours perfecting my forehand crosscourt to the endless reps to strengthen my lower body to polish my movement of court, my coaches and I have been working towards short and long-term goals."
Johansson believes Collomb's determination is what distinguishes him from his peers. "Harry has great character for his young age," Johansson said. "What separates him from the herd is his steadiness in showing up. His focus and effort is very consistent day in and day out. He is a great person and serious young tennis player on a mission to maximize."