NCAA Roundtable
NCAA Tournament: Storylines and Super Regional Debut
by Rhiannon Potkey, 2 May 2019
The brackets have been released, the scouting reports discussed and teams are ready to hit the courts.
The NCAA Division I men's and women's tennis championships begin on Friday with first-round action taking place at campuses across the country.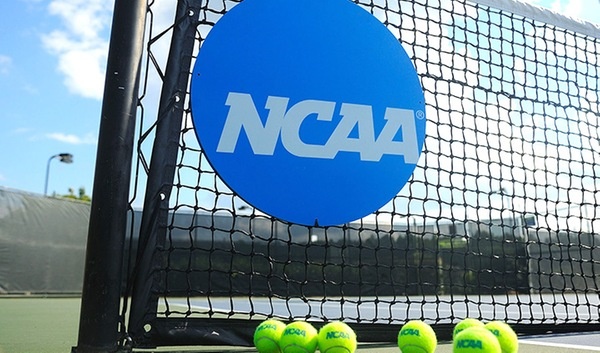 The 64 men's and women's teams received their road maps to a potential national title on Monday night when the draws were announced. (men's bracket, women's bracket).
This year features a new twist with the debut of the Super Regional format. Each Super Regional campus site features two teams playing a single-elimination format on May 10th or 11th. The Super Regional winners advance to the USTA National Campus in Lake Nona, Florida, where eight teams will contend for the national championship May 17-19.
Ohio State was awarded the No. 1 overall seed in the men's bracket. The Buckeyes, who reached the final last year, have never lost an NCAA tournament match on their home courts. Georgia was awarded the No. 1 seed in the women's bracket. The Bulldogs have won two NCAA team titles.
We will be making some tournament predictions for all the matches on our sister site - SLAM.tennis. You can also follow the action on Twitter (@slam10s).
If you haven't already, be sure to check out the fifth annual SLAM/TRN May Madness Bracket Challenge, presented by Tennis Warehouse.
To get you ready for all the action, Tennis Recruiting Network invited some of our college tennis contributors to answer questions about the season and the NCAA tournament.
Today, they'll give their thoughts on the major storylines they followed and what they think about the new Super Regional format. Tomorrow, we'll check back to get some predictions on dark horses and eventual champions.
Q) What were the best story lines to close the regular season?
Colette Lewis, Zoo Tennis
The University of South Carolina women earning their first SEC title in program history sticks out for me, with their win over previously undefeated (and now NCAA top seed) Georgia a clear indication of how far they have come under coach Kevin Epley.
As the No. 5 seed in the Big South Tournament, the Radford men are undoubtedly the Cinderella entry in this year's NCAAs. The clock will strike midnight for them against No. 14 seed Tennessee in the first round, but coach Rob Bareford is off to an impressive start in his first year leading the Highlanders.
The question of how the University of Texas men would handle the trauma of the firing of coach Michael Center in the aftermath of the "Varsity Blues" college admission scandal was answered in part in the days immediately following his arrest, when the Longhorns defeated No. 1 Ohio State 4-1. If the No. 2 seeds can go on to win the title, it will be the storyline of this year's NCAA team championships.