Notes
The table above lists all recruits as of May 3, 2019. In addition to the Star Rating, we display the highest TRN, ITF junior, and WTT rankings for each player over the 6-month period prior to the voting, and for international players we display the TRN ranking they would hold if eligible. We also display current UTR numbers from the date the voting began.
Also Receiving Votes
Other men's programs receiving votes are: UCLA (36), Fresno State (35), Notre Dame (34), Wichita State (22), Texas Tech (16), Utah (15), Winthrop (13), Santa Clara (12), Texas A&M (12), Wisconsin (11), Butler (10), Middle Tennessee (10), Louisiana (9), Washington (4), Dartmouth (3), Vanderbilt (3), Purdue (2), Nebraska (1), Yale (1)
Eyes Are Upon You
It's a great time to be a Longhorn.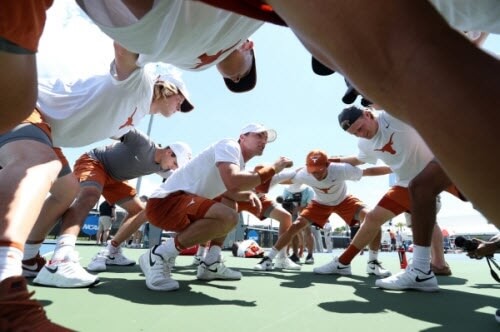 Texas followed up its NCAA Championship with the top-ranked recruiting class
© Courtesy NCAA/USTA
The University of Texas men's tennis team had a magnificent year in 2018-19. They posted a 22-2 record during the regular season, including a perfect 5-0 record in the Big 12 regular season. That performance was good enough to earn the Longhorns the No. 2 seed in the NCAA Tournament, where they roared through the bracket to capture the program's first-ever NCAA Team Championship. Along the way, Head Coach Bruce Berque and his squad also earned a slew of Big 12 and NCAA honors.
The Longhorns graduate five seniors from their championship roster this spring, including four players who were regulars in the lineup.
But the future also looks bright. For the first time in school history, the top-ranked recruiting class in the nation is heading to Austin.
Texas has a five-man class arriving next fall, including three Californians - Jacob Bullard (Calabasas), Eshan Talluri (San Diego), and Siem Woldeab (La Mesa) - as well as East Coast athletes Cleeve Harper (Hilton Head, S.C.) and Evin McDonald (Bethesda, Md.). Bullard, Harper, McDonald, and Woldeab are all rated Blue Chip seniors by TRN, and three of them have UTR ratings above 12.7. This group of recruits earned 425 out of a possible 450 points - including 5 first-place votes.
Bullard, McDonald and Talluri all participated in the 2018 USTA National Championships in Kalamazoo, posting nine combined singles wins between them. Harper has competed on the ITA circuit, where he reached the quarterfinals of both the Atlanta and South Carolina ITF events last fall. Woldeab's highlights include a semifinal appearance in last summer's USTA Boys' 18 Clay Court Championships.
"We are extremely excited for this group to arrive on campus next Fall," said Berque at the NCAA Championships. "This group loves being on the tennis court - practicing, competing, improving. It should be a fun group for us to coach."
Coming off an historic season in 2019, the Longhorns will look to reload rather than rebuild in 2020.
High Five
A look at our winter rankings shows that there was a lot of movement at the top of our list.
The Duke Blue Devils, who had the top class earlier this year, check in at No. 2 in our rankings. This five-man recruiting class is extremely strong with three American players rated among the Top 10 in the Class of 2019. Duke actually earned 8 first-place votes - more than any other program - while garnering 419 points.
Rounding out the Top 5 are the Georgia Bulldogs (No. 3), TCU Horned Frogs (4), and Ohio State Buckeyes (5).
TCU made one of the largest jumps in our rankings - adding a pair of international recruits this spring. The three-man class consisting of British standout Jacob Fearnley as well as Tomas Jirousek and Tadeas Paroulek of the Czech Republic actually earned 5 first-place votes on their way to the No. 4 spot. All three of David Roditi's recruits have UTRs well above 13.
Something New
From top to bottom, there are a number of programs in this Top 25 list that did not appear in our winter rankings - starting with the Georgia Tech Yellow Jackets.
Coach Kenny Thorne is bringing in the highest-rated haul in Tech history with three Blue Chip recruits and a fourth who has been rated among the Top 25. This class - which was not rated in the winter - stands at No. 6 in our rankings.
Other ranked classes that did not appear in our winter list are Virginia (No. 17), Pepperdine (18), SMU (22), and Arizona (25).
Conference Call
The recruiting classes from our rankings are spread out among eight conferences, but two stand out over the rest - the Big 12 and SEC.
The Big 12 is one of the smaller conferences with only six programs, but four of those programs have recruiting classes ranked in the Top 11. In addition to top-ranked Texas and TCU (No. 4), the Big 12 is represented in the rankings by the Oklahoma Sooners (9) and Baylor Bears (11).
The SEC leads all conferences with six ranked classes, led by the Georgia Bulldogs (3) and Kentucky Wildcats (10). Other ranked SEC classes include Florida (13), LSU (14), Mississippi State (15), and South Carolina (19).
Other conferences with more than three programs in our rankings are the ACC (5 ranked classes) and Ivy League (3).
Beyond the Power Six
Three recruiting classes in our rankings come from programs outside of the so-called "Power Six" conferences, including two teams from the West Coast Conference.
The WCC is a strong conference on the Pacific that attracts many prospects from the fertile recruiting grounds of California. Over the years, five different WCC programs have reeled in Top 25 recruiting classes, and the WCC has been dominant in our mid-major rankings as well.
2019 is no different, with two WCC programs - the Pepperdine Waves and Gonzaga Bulldogs - appearing on our list. The Waves and Bulldogs check in at No. 18 and 24, respectively.
The other mid-major program in our rankings is Southern Methodist University out of the American Athletic Conference. The Mustangs have a deep class anchored by Blue Chip senior Julian Noah Steinhausen of Los Angeles.
All three of these programs should feature prominently in our mid-major rankings that will be published two weeks from now.
Panelists for Spring 2019
The 18 panelists for this voting period are shown below alphabetically. Please join us in thanking them for donating their time and talents to this effort.
Casey Chapin - National Tournament Director, Director, Hudlow Tennis Center
Scott Colson - Co-founder of Payers & Players Podcast
Sonny Dearth - Daily Press newspaper and dailypress.com Web site in Newport News, Va.
Joey Dillon - TRN contributor, freelance writer
Tim Donovan - Donovan Tennis Strategies, DTS College Prospects Showcases
Larry Haugness - USTA/Missouri Valley Executive Committee, Former ITF and USTA National Tournament Director, PTR National Tester, USPTA, Junior Davis Cup Coach
Granger Huntress - Texas College Tennis blog
Pua Johnson - USTA National and ITA Collegiate Referee
Dave "The Koz" Kozlowski - Inside Tennis With The Koz, The Tennis Channel
Patty Lambropoulos - Junior Tennis Coordinator, College Park Athletic Club, National Tournament Director, Chicago District Board of Director and Endorser, Midwest Junior Competion Committee
Colette Lewis - ZooTennis.com
Rick Limpert - TRN contributor, freelance writer
Parsa Nemati - Junior and college tennis expert, Cracked Racquets.
Phil Parrish - Tennis Director, The Longfellow Club, National Tournament Director, Former College Coach
Robert Sasseville - National Tournament Director, USTA Junior Competition Committee Member, USTA National Referee
Lisa Stone - ParentingAces.com
Clayton Taylor - Former ATP and Collegiate Coach. Former Director of U.S. International Hard Courts and National Opens
Julie Wrege - TRN principal, TennisInformation.com principal, former National Tournament Director, former USTA junior ranking chair and USTA Tennis Rules Committee member
About Mizuno
Mizuno is proud to sponsor Recruiting Class Rankings at TennisRecruiting.net.
Reach Beyond
Mizuno is a brand that offers superior sporting goods designed to bring happiness and joy to all through the power of sports. We know that playing sports is a journey, and are committed to crafting the high-quality products athletes need throughout their journey – regardless of who they are, which sport they love or at what level they play. Mizuno is passionate about sports, and we'll always strive to help athletes find their inspiration – just as we have for over 100 years. #REACHBEYOND
Learn more about Mizuno and how they can help elevate your performance at www.mizunousa.com. Follow @MizunoTennisNorthAmerica for the latest in tennis news and product releases.
To see if you qualify for a preferred player package, please contact Tyler Carey. All NCAA recognized college tennis programs are eligible to receive discounts on Mizuno tennis shoes.
Leave a Comment
More Recruiting Class Rankings
25-May-2020
Top Men's Classes - 2020 Rankings
As we move into summer and towards reopening, the Class of 2020 has been moving forward. As of today, over 1,600 seniors have reported commitments to college tennis programs, and more are making verbal commitments each and every week. The decision-making will continue, but now is a good time to check in on where where things stand. Today, TRN and Mizuno are excited to bring you their poll of the Top 25 Men's College Tennis Recruiting Classes.
21-Jun-2019
2019 Top NCAA D-III Women's Classes
The Tennis Recruiting Network wraps up its spring recruiting class rankings with a look at the D-III women. Today we present our list of the Top 25 NCAA D-III women's recruiting classes for 2019. This year, a new program has Engineered its way to the top of the rankings for the first time ever.
3-Jun-2019
Top Women's Classes - 2019 Spring Rankings
Last week, we ranked the men's recruiting classes. Today, we take a look at the women. TRN and Mizuno are proud to present its spring rankings of the Top 25 Women's Recruiting Classes. Four new faces have popped into the Top Ten over the past few months, and there is a new face at the top - with the Gamecocks' first appearance at No. 1.