NCAA Championships
Failure and Suffering Help South Carolina Reach Elite Eight
by Rhiannon Potkey, 16 May 2019
At a time when many are trying to shield kids from failure, the South Carolina women are confronting it head on. The Gamecocks embrace struggle.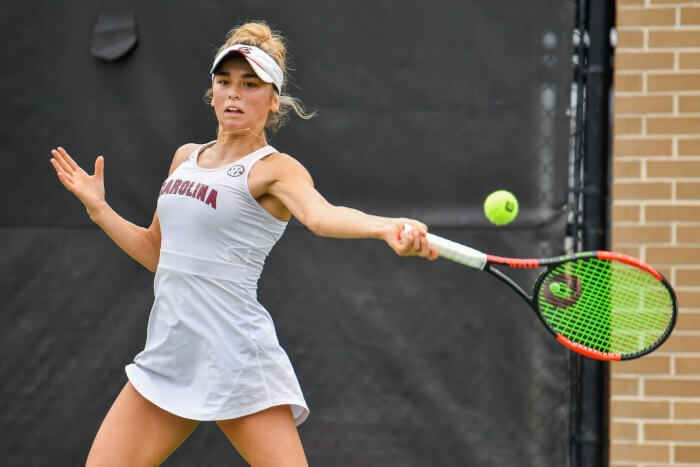 South Carolina Senior Paige Cline
© USC Athletics
They talk about it constantly in team meetings, and dig deep into their psyches to understand the process.
They have learned failure can be the biggest impetus for growth. They know from personal experience how it can develop resiliency that translates to all aspects of life.
The three seniors on South Carolina's roster embody the program's philosophy.
Paige Cline nearly transferred after her sophomore year because she wasn't experiencing the success she expected.
Brazilian Ingrid Martins struggled with everything about the transition to the United States, and would break down crying on the court.
Rachel Rohrabacher has been dogged by injury nearly every season.
Despite experiencing self doubt many times along the way, they all decided to stick it out and persevere.
They have helped South Carolina achieve historic milestones this season.
The Gamecocks won the first SEC Tournament title in program history by taking down previously-undefeated Georgia 4-3 in the final, with Martins clinching the win.
After back-to-back Sweet 16 appearances the last two years, South Carolina broke through this year to reach the NCAA Division I quarterfinals for the first time since 2009 and third time overall.
The No. 4 Gamecocks play No. 5 Duke on Friday night at 7 p.m. ET at the USTA National Tennis Center in Lake Nona, Florida. The men's quarterfinal matches kick things off today, beginning at noon with No. 4-seed and defending champion Wake Forest taking on No. 5 Virginia.
"The seniors have all been through this numerous times and have all failed in various stages personally and as a team. They have grown through that process and they know what it takes now," South Carolina head coach Kevin Epley said. "That is probably why we have been able to push through a few barriers that we couldn't in the past."