Recruiting Feature
2019 Top Mid-Major Men's Classes
by TennisRecruiting.net, 10 June 2019
Two weeks ago, TennisRecruiting.net its annual recruiting class rankings.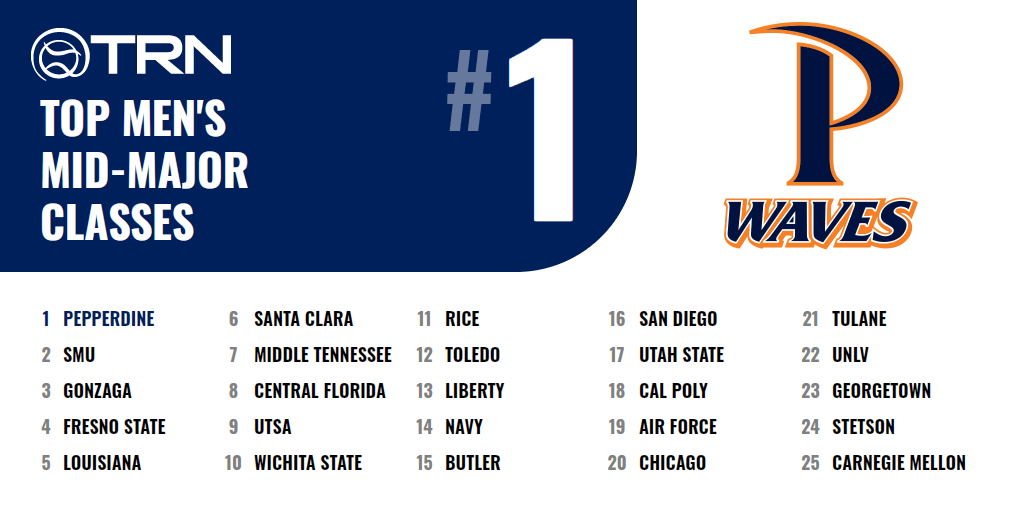 We continue our rankings today with a look at the top college recruiting classes from the "mid-major" programs - programs outside of the ACC, Big Ten, Big 12, Ivy League, Pac-12, and SEC.
Many mid-major schools compete at a very high level. In Division I tournament play this post-season, several players from mid-major programs advanced to the Rounds of 32 and 16 in the singles and doubles tournaments - including Murkel Dellien and Marius Frosa of Wichita State who reached the doubles quarterfinals and achieved All-America status. Mid-major schools have won national titles in the singles, doubles, and team events at the D-I level.
And, of course, many quality teams also compete in Division II, Division III, NAIA, NJCAA, and CCC - where they vie for titles every year.
Top 25 Men's Mid-Major Recruiting Classes (through May 25)
Today, the Tennis Recruiting Network is excited to present the Top 25 Mid-Major Men's Recruiting Classes for 2019. The mid-major conferences for tennis include programs from the AAC, Atlantic 10, Atlantic Sun, Big East, Big Sky, Big South, Big West, CAA, C-USA, Horizon, MAAC, MAC, MEAC, Mountain West, Northeast, OVC, Patriot, SoCon, Southland, SWAC, Summit, Sun Belt, WCC, and WAC conferences from NCAA Division I - as well as all programs outside of NCAA Division I.
We solicited the help of a number of college tennis coaches in coming up with this list - and we thank them for their help. As is our policy, these rankings do not consider incoming transfer students or players who competed on college rosters in 2018-19.