NCAA Championships
Texas Men Brush Aside Distractions, Capture First NCAA Title
by Rhiannon Potkey, 20 May 2019
It could have torn the team apart and sent the season into a downward spiral. But the Texas men's players refused to let anything get in the way of their dream.
After absorbing the shock of their head coach being fired for his role in a national college admissions scandal, the Longhorns closed ranks.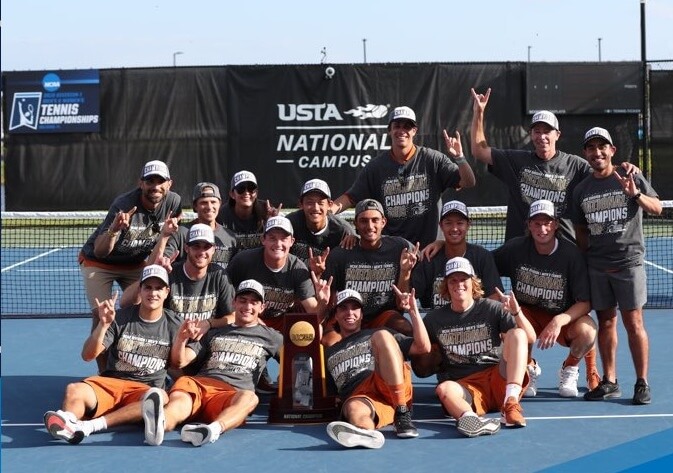 Texas Won the First NCAA Team Title in Program History
© Texas Athletics
They blocked out the distractions and focused on playing for each other.
In a national title run fit for a movie script, Texas culminated the season by capturing the first NCAA championship in program history.
The second-seeded Longhorns defeated No. 4 seed and defending champion Wake Forest 4-1 on Sunday at the USTA National Tennis Center in Lake Nona, Florida.
"It is really kind of crazy. I still don't know how to really think of it," said Texas senior Colin Markes, an Austin native. "But maybe once we get home to Austin, it will sink in a little more. I am not surprised we did it, but I am very excited and relieved that we got the job done."
In March, the program was rocked by the news that former head coach Michael Center was involved in a wide-ranging college admissions scandal. Carter acknowledged accepting $100,000 in bribes to falsely designate a college applicant as an athlete. He pleaded guilty to conspiracy charges in federal court last month.
Assistant coach Bruce Berque took over as interim head coach, and kept the program on steady ground as the scandal continued to generate national headlines.
"We were definitely pretty shocked when it happened. But the fact that we have all these seniors playing side by side for four years now, we kind of knew at this point we were playing for each other and no one else," Markes said. "I guess I would say it was more of a motivator to try and prove to people we could do something special with all this stuff happening."