Recruiting Profile
Creath Ready to Write Her Next Chapter at Tennessee
by Rhiannon Potkey, 11 June 2019
Any time Callie Creath wants to calm her nerves at a tournament, she cracks open a book and escapes for a few minutes.
Creath is a voracious reader, and sped through the Harry Potter series and Assassin's Apprentice trilogy as quickly as she could turn the page.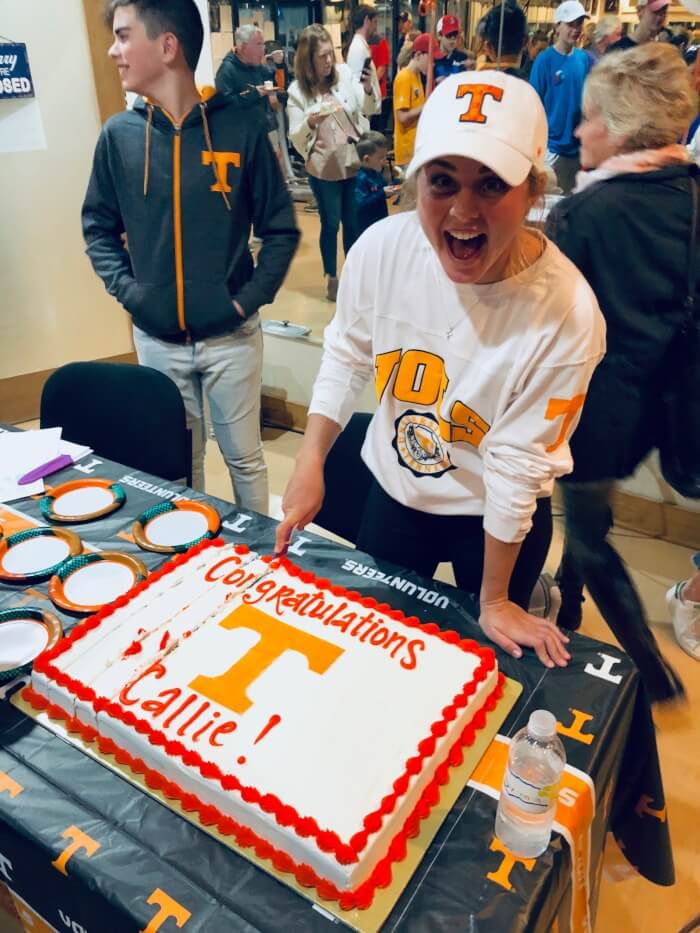 Five-Star Callie Creath Has Signed With Tennessee
"Everyone looks at me like I am super dorky when I tell them that," Creath said. "I am a big fantasy girl. I love reading things that put me into a magical world. It's really cool how the authors can come up with all the stuff they do for a series. I read one after another and really connect to the characters for a long period of time."
Creath will begin receiving some new reading material once she arrives at Tennessee in the fall. The five-star recruit from Austin, Texas signed with the Lady Vols in December
"When I went on my visit, I got this sense that everyone was really warm and welcoming. I felt immediately at home," said Creath, who also considered Oklahoma, SMU and Alabama. "The people are so nice. Out of all my official visits, that town was the most welcoming. I think that is what made it my first choice."
Finding the right school didn't happen as quickly as Creath initially envisioned. Brandon Davis, her coach at the Austin Tennis Academy, tried to make sure Creath remained patient and didn't get overly emotional.
"Her process took longer than some others and there were some difficulties with timing. I told her to keep a clear head and the opportunity will come along, and when it does you are going to know," said Davis, who played at Illinois. "She was always interested in Tennessee, and once the timing became right she knew it was the right place for her."
Creath's father played tennis at Texas A&M, but didn't push his daughter into the sport. Creath tried swimming, gymnastics and volleyball before gravitating to tennis at age 10. She arrived at ATA at age 11.
"I met my coach and from there I fell in love with it," Creath said. "It was really fast. I started traveling and playing a lot of matches and it got to be really fun. Brandon makes it fun to want to practice and play."
Davis has enjoyed watching Creath gradually improve and gain confidence in her game during the time they've been together.
"She is really diligent about her work," Davis said. "She started a little bit late to competitive tennis, and she's always been pushing a little to catch up. That never deterred her from putting in hard work and staying determined and having a big goal in mind."
For as much as she has progressed with her strokes and fitness, Creath's greatest asset remains her ability to compete.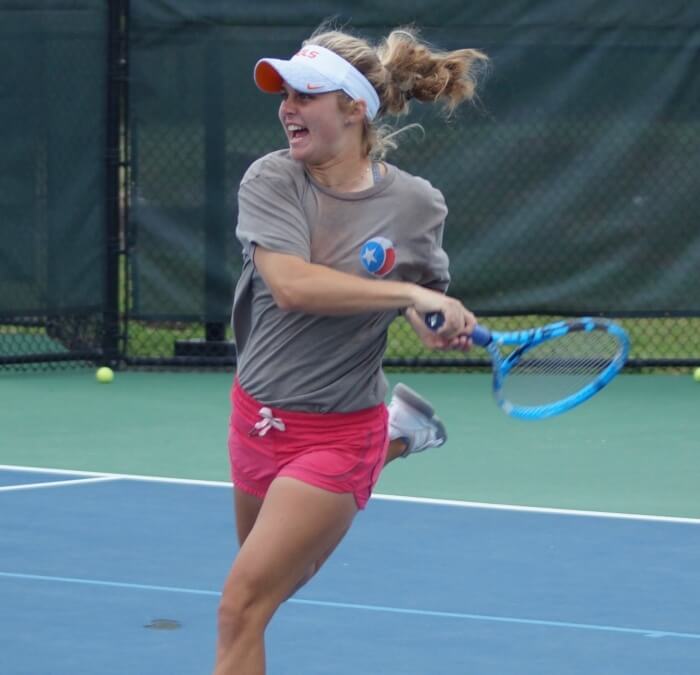 Creath Trains at the Austin Tennis Academy
"Her mental game is really strong. She may not be the biggest hitter or fastest player, but it is really tough to blow her off the court and get free points or free games from her," Davis said. "She is really good at making you work for every point and just making it as tough as possible on her opponent."
Having a good support system around her enables Creath to endure the highs and lows that come with the sport.
"She has really strong faith and a really strong family. That is a really big part of her life. They have been critical to her success on and off the court," Davis said. "They definitely keep her grounded and keep her moving forward, not just in tennis but becoming a really good person and someone who is fun to be around."
Creath plans to study journalism at Tennessee, and recently developed an interest in government after taking a class taught by Jennifer McEwen this year.
"She is the best. She is someone who totally changed my outlook," Creath said. "She works in our capital in downtown Austin as a lobbyist, so she writes up persuasive arguments to try and get people to get what her boss wants. Now, I want to study something related to political science. I am thinking about doing a double major, but that may be hard."
Creath is eager for new challenges in college, and grateful Kendall Brooks helped connect her to Tennessee. Brooks, the head coach at St. Edward's University, used to be the director of junior development at ATA. She is friends with Tennessee head coach Alison Ojeda, and put in a good recommendation.
"It was not on my list at all until Kendall texted me sending me these orange emojis and telling me I need to look at Tennessee," Creath said. "I didn't know anything about Tennessee, but she said the coach there is awesome. I trusted her and she was right. I am really glad it worked out."
Leave a Comment
More Recruiting Profiles
13-Jun-2019
Blue Chip McKennon Feels Wanted By ASU
Max McKennon noticed how invested the Arizona State coaches were in his recruitment process. The blue chip rising senior from Newport Beach, California appreciated their commitment, and returned the favor by committing to the Sun Devils.
5-Jun-2019
Five-Star Lovett Ready for New Experiences at Tulane
Henry Lovett wanted to leave California for a new experience in college. The five-star senior from Los Angeles signed with Tulane, a revived program built on recruits like Lovett looking for unique challenges.
8-May-2019
Prinyarux Finds a Division I Match in Rutgers
Alisa Prinyarux didn't think her game was good enough to play Division I. But once she stopped worrying and started having fun, Prinyarux improved and received Division I interest. The five-star junior from Kansas has committed to Rutgers.
About Rhiannon Potkey
Rhiannon Potkey is a veteran sportswriter with more than two decades of experience in journalism. Potkey has covered many sports at many levels and has a passion for finding great stories. Potkey has covered the U.S. Open, junior sectional and national events, college conference championships and Davis Cup matches. Potkey is currently Content Strategist for Tennis Recruiting. You can reach Rhiannon by email at
[email protected]
.