College Feature
Lilley Makes the Climb to Auburn Head Coach
by Rhiannon Potkey, 3 July 2019
The call that would change her professional life came when Caroline Lilley was strapped to the side of a mountain completing a training climb.
The athletic administrators from Auburn University were trying to reach Lilley to invite her for an on-campus interview for their vacant women's head coaching job.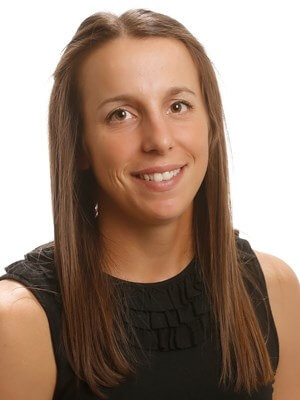 Caroline Lilley
The 29-year-old Lilley had never been a head coach before, and was waiting for an opportunity like Auburn to come around to make the jump.
But first, Lilley needed to get down from the mountain.
There was no cell service on Mount Rainier in Washington, so Lilley left her phone in her car. She didn't get the message until returning to base camp late that night.
"I am sure they were wondering what was going on. I hadn't responded in 10-12 hours because I had been on the mountain all day," Lilley said. "The service was really spotty and I had no idea if they could even hear me when I finally called back."
Lilley made the summit climb to the 14,400-foot peak the following day before flying to Auburn 48 hours later.
She arrived with blisters all over her feet, and walking gingerly from the soreness in her quads. But the former Kansas assistant impressed the Auburn administration with her vision for the Tigers, and was officially hired to take over the program on June 14th.
"They have high expectations, but Auburn provides you with all the resources you need to meet those high expectations. As a coach looking to make the next step, that's an absolutely integral piece," Lilley said. "Auburn has afforded me the opportunity to be surrounded by great athletic programs and leadership. It's been amazing to see how much they care."