Tournament Coverage
Boys 12s Winners Add to Their Gold Ball Collections
by James Hill, 23 July 2019
The recent USTA Boys 12 National Clay Courts was definitely a tournament of repeat gold ball winners at the USTA National Campus in Orlando, Florida.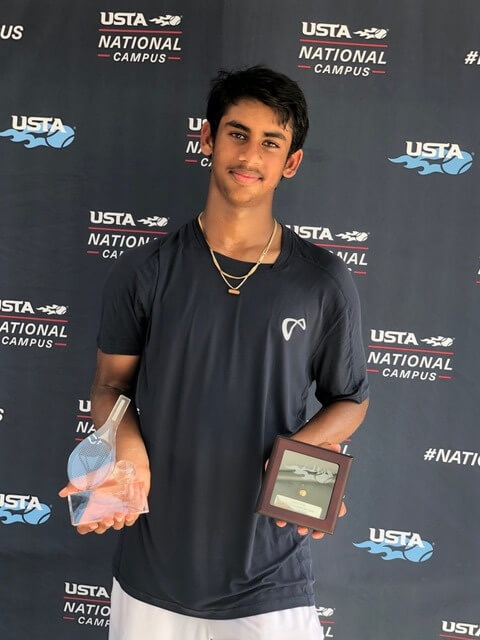 Singles Champion Abhishek Thorat
Easter Bowl champion Abhishek Thorat captured the singles crown. Max Exsted won the doubles title for the second year in a row, teaming up this time with Cooper Woestendick.
The third-seeded Thorat, who hails from Lithia, Florida, won the singles gold ball with a 6-4, 7-5, victory over No. 12 Maximus Dussault of Leesburg, Virginia.
Thorat defeated eighth-seeded Roman Sancilio of Henrico, Virginia, 6-0, 6-3 in the semifinals. Dropping only one set in the week-long event, Thorat's closest match was a 2-6, 7-5, 6-0 decision over No. 6 Cassius Chinlund of Los Angeles in the quarterfinals.
"I just played really well, and everything worked out," Thorat said. "I drill on points in different circumstances and situations. My forehand and serve were my two main weapons during the tournament. I play a lot of aggressive baseline, but I also play the net quite a bit."