Tournament Coverage
Casper Digs Deep to Secure Another Gold Ball in Boys 16s
by Rhiannon Potkey, 25 July 2019
Back and forth they went, alternating championship point opportunities saved and missed. Just when one player seemed to gain the upper hand, the other would swiftly pull it back.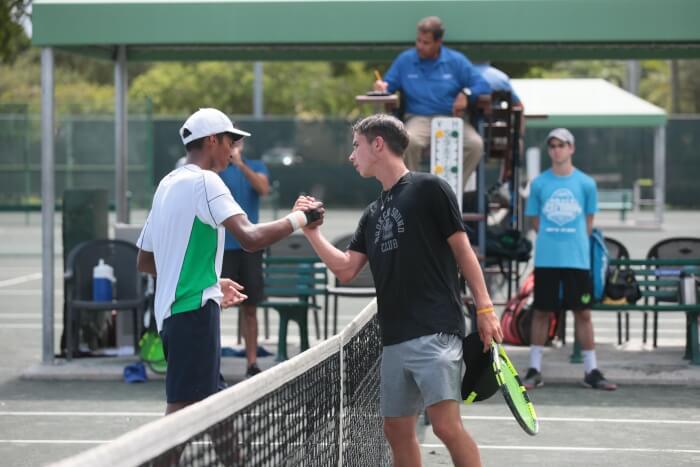 Samir Banerjee and Luke Casper Shake Hands After Final
© Contributed Photo
Luke Casper and Samir Banerjee engaged in a riveting final at the USTA Boys 16 Clay Court National Championships. The tournament's top two seeds put on a show befitting of their status.
In the end, the second-seeded Casper managed to outlast top-seeded Banerjee 3-6, 7-6(1), 7-6(6) to capture the singles title at the Delray Beach Tennis Center.
"It feels awesome just be able to grind through and get that win," said Casper, a blue chip rising junior from Santa Cruz, California. "It's one of the biggest national tournaments there is, so I am really excited to be able to win it."
Ben Shelton of Gainesville, Florida and Maxwell Smith of Daniel Island, South Carolina won the doubles title in another tight encounter. The second-seeded tandem defeated unseeded Gianluca Brunkow of Topanga, California and Sebastian Gorzny of Irvine, California 7-5, 5-7, 6-4 in the final.
The Clays title marked the second singles gold ball of the year for Casper. He captured the Boys 16s title at Winter Nationals in January for the first gold ball of his career.
The victory in Delray was capped by a physical and mental battle against Banerjee, a blue chip rising sophomore from Basking Ridge, New Jersey, filled with literal and emotional swings. Casper saved seven championship points in the third set while Banerjee saved four.
Casper led 5-4 in the third and was serving at 40-15, but could not convert to close out the title. He had some choice words for himself, yet displayed the resiliency to not completely fall to pieces.
"That was probably the toughest part. I just told myself don't get down," Casper said. "I knew I still had a big opportunity and I needed to make the most of it. I couldn't let that stuff get to me.I had to stay focused on the next game."