Tournament Coverage
Rabman Overcomes Nerves to Secure Girls 14s Title
by Rick Limpert, 14 August 2019
ROME, Ga. - Theadora Rabman made the most of being nervous going into the singles final of the USTA Girls 14s National Championships at the Rome Tennis Center at Berry College.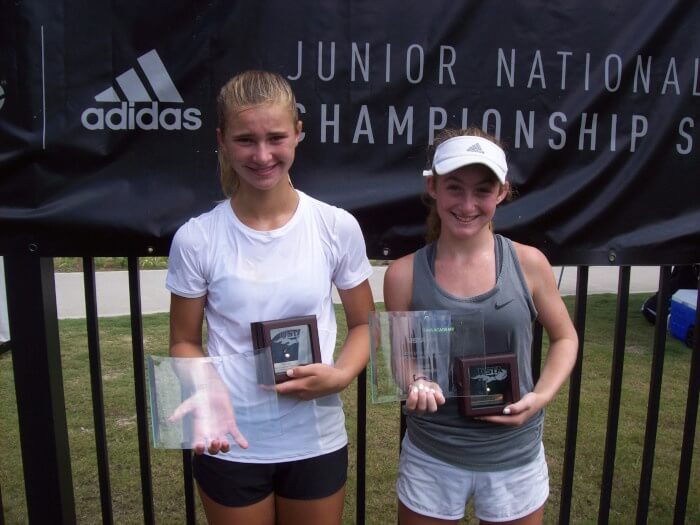 Singles Finalist Brookly Olson (left) & Champion Thea Rabman
© Contributed Photo
The rising high school freshman from Port Washington, New York has battled her way through big matches in the past, including six last week in Georgia. Rabman gets advice from John and Patrick McEnroe as she plays out of the John McEnroe Tennis Academy at Sportime in New York.
When a reporter mentioned dealing with the McEnroes, Rabman said she knows Patrick better than John, mostly through playing with Victoria McEnroe, Patrick's daughter.
"Patrick always tells me to keep my mind straight and stay focused," Rabman said following her 6-7(1), 6-1, 6-1 victory in the final over Brooklyn Olson, a rising eighth-grader at Inspiration Tennis Academy in Bradenton, Florida.
There were nervous moments for both players in the opening set as the two kept trading service breaks to reach a tiebreaker. Olson proved to be more consistent in taking the first set tiebreaker, but Rabman made adjustments.
"She was like a wall, so I had to keep the ball in play," said Rabman. "From then (on), I executed better, and I was able to start holding serve."