Special from
Zoo Tennis
KALAMAZOO, Mich. - Down two breaks in the third set of the USTA National Boys 16s final Sunday, top seed Alex Bernard wasn't quite sure how he would slow the momentum of No. 4 seed Aidan Mayo, who was serving at 4-1. But Bernard stayed calm, came up big when facing a match point at 3-5, and went on to claim the title, beating Mayo 5-7, 6-1, 7-5 in front of a large and appreciative crowd at Kalamazoo College's Stowe Stadium.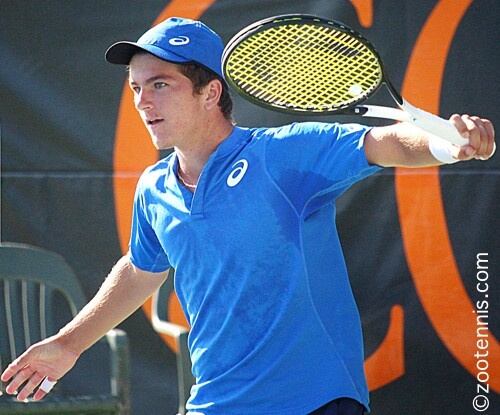 Singles Champion Alex Bernard
© Zoo Tennis
"It went by really quickly," Bernard said of the first five games of the final set. "And I didn't even realize how quickly. So I thought, I'm just going to make balls deep and look for opportunities to be aggressive. And then I think he won just one point out of the next eight, so I got it back to 4-3 and I thought, 'I've got a good chance here.'"
Bernard was right, but he faced yet another test of his composure after Mayo saved a break point to take a 5-3 lead.
Serving to stay in the match, Bernard went up 40-30, but two unforced errors gave Mayo a match point. Bernard decided to bring Mayo in with a drop shot, and that strategy, which hadn't been successful earlier in the match, worked when he needed it most, with Bernard able to execute a down-the-line backhand pass.
"I was kind of thinking of lobbing it," said the left-hander from Bonita Springs, Florida, who turned 16 two days after the tournament ended. "And then I just went for a passing shot and it went in."