Special from
Zoo Tennis
KALAMAZOO, Mich. - Down two breaks in the third set of the USTA National Boys 16s final Sunday, top seed Alex Bernard wasn't quite sure how he would slow the momentum of No. 4 seed Aidan Mayo, who was serving at 4-1. But Bernard stayed calm, came up big when facing a match point at 3-5, and went on to claim the title, beating Mayo 5-7, 6-1, 7-5 in front of a large and appreciative crowd at Kalamazoo College's Stowe Stadium.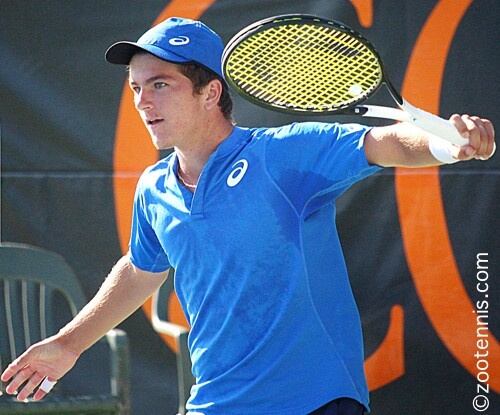 Singles Champion Alex Bernard
© Zoo Tennis
"It went by really quickly," Bernard said of the first five games of the final set. "And I didn't even realize how quickly. So I thought, I'm just going to make balls deep and look for opportunities to be aggressive. And then I think he won just one point out of the next eight, so I got it back to 4-3 and I thought, 'I've got a good chance here.'"
Bernard was right, but he faced yet another test of his composure after Mayo saved a break point to take a 5-3 lead.
Serving to stay in the match, Bernard went up 40-30, but two unforced errors gave Mayo a match point. Bernard decided to bring Mayo in with a drop shot, and that strategy, which hadn't been successful earlier in the match, worked when he needed it most, with Bernard able to execute a down-the-line backhand pass.
"I was kind of thinking of lobbing it," said the left-hander from Bonita Springs, Florida, who turned 16 two days after the tournament ended. "And then I just went for a passing shot and it went in."
The spectators packing the stands and bleachers roared their approval, boosting Bernard's energy, and he went on to hold serve after Mayo produced two unforced errors with his one-handed backhand, which Bernard had begun targeting in the second set.
"The crowd was pretty crazy," said Bernard, who had beaten Mayo in straight sets in their previous two meetings. "They got really loud sometimes, it was pretty cool."
Mayo still had a chance to serve out the match, but he played a sloppy game to get broken at love.
"I maybe got a little tired, maybe a little ahead of myself, thinking about the title," said Mayo, a 16-year-old from Torrance, California. "I made some loose errors, my feet weren't going and didn't make enough first serves. Mentally, I got a little tight, and I definitely didn't play that one very well."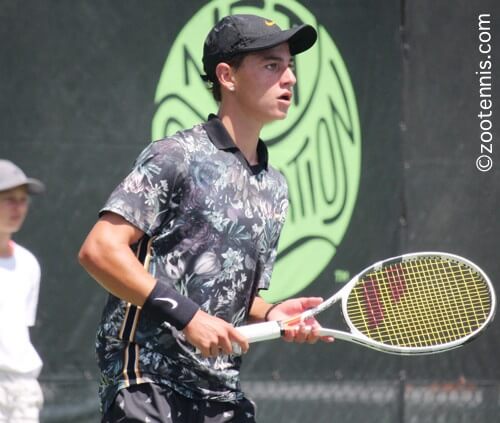 Singles Finalist Aidan Mayo
© Zoo Tennis
After Bernard held to take a 6-5 lead, Mayo went up 30-0, but it was Bernard who took control after that, winning the final four points of the match to secure the title.
Bernard had avoided an upset in his fourth round win over unseeded Will Mayew 3-6, 7-5, 6-0 in a match played at Western Michigan University due to rain earlier in the day.
"First set, I didn't play that great, but the other guy played pretty well," said Bernard, who won his next three matches in straight sets, including a 6-3, 6-4 semifinal win over No. 7 seed Ben Shelton. "In the second, both of us were playing really well and I was up a break serving at 5-4, but got broken, and that set went really close. In the third set, I kind of wore him down and got through it."
That may have been Bernard's advantage in the final as well, with Mayo, who needed over two hours to get by No. 19 seed Alex Finkelstein 3-6, 6-3, 6-3 in the semifinals, taking a medical timeout after the first game of the third set.
"I thought the crowd definitely gave me a jump in the third, but it couldn't sustain me," Mayo said. "My hamstrings, and at the end of the third, my quads, started to cramp up; there wasn't much I could do. Maybe he just played a little smarter, a little more solid in the more important moments. On match point, he hit a great pass, not much I could do. I think I competed and played well and he just beat me to it. I'm pretty happy with the week and how I played."
Bernard is already looking forward to his trip back to Kalamazoo to compete in the 18s, and he'll make it a priority to visit Stowe Stadium's permanent lists of over seven decades of Kalamazoo champions.
"It's just really cool to see the names, and next year I'll come and see mine there," said Bernard, whose previous USTA National Level 1 title came at the 2017 Easter Bowl 14s. "I don't know where I'll end up being, but at least I've got that."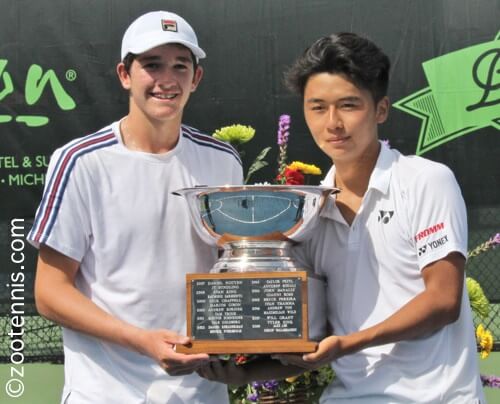 Doubles Champions Benjamin Kittay and Hugo Hashimoto
© Zoo Tennis
The 16s doubles title went to No. 7 seeds Hugo Hashimoto and Benjamin Kittay, who defeated No. 11 seeds Lucas Brown and Aidan Kim 6-4, 6-3 after trailing 4-2 in the opening set.
"We started out a little shaky at first, a little nervous," said Hashimoto, a 16-year-old from San Jose, California. "I think holding serve at 4-2 was really important, and getting that positive energy flowing back into the match was a big thing for both of us. That decided the first set, and I think we were able to keep it going in the second."
Kittay and Hashimoto, who have played together four times and won the tournament three of those times, also had to mount a comeback in their semifinal match against Jameson Corsillo and Luke Casper, after trailing 4-1 in the third set.
"It was our communication," said Kittay, a Potomac, Maryland resident, who turns 16 later this month. "We had a little lapse of energy, were a little flat-footed, weren't playing our best, but we just came back, found a way."
In the final, Brown and Kim didn't go quietly, saving three match points with Brown serving at 2-5 in the second, and another with Kittay serving at 5-3, 40-0. But on match point number five, Kittay hit a good first serve and Hashimoto put away the return, igniting a celebration reminiscent of the Bryan brothers.
"At the end, we did our signature chest bump," Kittay said. "We've done it since our first match. Every match point, I told him 'you better jump'; I give today's bump an A-plus."
"I'm just so happy," Hashimoto said. "Every tournament I play with him I have fun, most of all. I just love playing with this guy and I'm happy [our names] will remain on the board right there, it's such a great thing."
Third Place, Consolation and Sportsmanship
Finkelstein defeated Shelton 6-3, 6-2 in the third-place match, while Thomas Paulsell and Frank Thompson took the bronze balls in doubles with a 6-1, 6-0 win over Casper and Corsillo.
Evan Wen finished fifth by winning the feed-in consolation tournament, beating Ozan Colak 6-3, 6-4 in the final.
Paulsell received the tournament's Bobby Kaplan Sportsmanship award for 16s.
Up Next:
Check back this afternoon for the Girls 16s wrap-up from San Diego.
About American College Placement
We are excited to have American College Placement as the title sponsor of Championship Week at TennisRecruiting.net.
American College Placement - Premier Face-to-Face Mentoring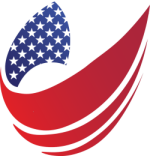 American College Placement is a mentoring and placement company. The difference with ACP is we only hire mentors that either played or coached college sport. We are the most personalized, boutique style service in the country. We will invest in you and your college selection process from building your list of schools all the way to signing your National Letter of Intent.
Our mentors will meet with you and your families face to face to ensure that all your needs are being met. You will have around the clock access to your mentor via e-mail, text, and phone throughout the process. Selecting the right college and athletic program is a big job.
Don't do it alone. Let American College Placement walk side by side with you from beginning to end.
Learn more about American College Placement at AmericanCollegePlacement.com - or connect with them on Facebook and Instagram.
Leave a Comment
More Tournament Features
16-Aug-2019
Volynets Experiences 'Surge of Energy and Joy' After 18s Title Win
Katie Volynets was filled with emotion after capturing the Girls 18s singles title at the USTA Billie Jean King National Championships in San Diego. The No. 2 seed defeated No. 3 Emma Navarro to secure a wild card into the U.S. Open women's singles main draw. Abigail Forbes and Alexa Noel secured the doubles title and a U.S. Open wild card in their debut as a team.
16-Aug-2019
Svajda Captures 18s Singles Title in Kalamazoo Debut
Zachary Svajda was a quick study in his first appearance at the USTA Boys 18s and 16s National Championships in Kalamazoo, with the 16-year-old capturing his first gold ball and a U.S. Open main draw wild card with a 6-7(3) 7-5, 6-3, 6-1 victory over Govind Nanda in the 18s singles final.
15-Aug-2019
Brantmeier Breaks Through To Secure First Gold Ball
Reese Brantmeier notched a decisive upset win over top-seeded Valencia Xu in the Girls 16s singles final at the USTA Billie Jean King National Championships to capture the first gold ball of her career. The 14-year-old became only the second player from Wisconsin to win the title in the event's history.
About Colette Lewis
Colette Lewis
has covered topflight U.S. and international junior events as a freelance journalist for over a decade. Her work has appeared in
Tennis
magazine, the
Tennis Championships
magazine and the US Open program. Lewis is active on
Twitter
, and she writes a weekly column right here at TennisRecruiting.net. She was named
Junior Tennis Champion
for 2016 by Tennis Industry Magazine.
Lewis, based out of Kalamazoo, Michigan, has seen every National Championship final played since 1977, and her work on the tournament's ustaboys.com website led her to establish ZooTennis, where she comments on junior and college tennis daily.