Tournament Coverage
Brantmeier Breaks Through To Secure First Gold Ball
by Rhiannon Potkey, 15 August 2019
The wait was worth it for Reese Brantmeier. Seeking to capture the first gold ball of her career, Brantmeier broke through in convincing fashion on a big stage.
The 14th-seeded 14-year-old upset top-seeded Valencia Xu 6-2, 6-0 in front of a capacity crowd and the Tennis Channel cameras to capture the USTA Billie Jean King Girls 16 National Championships singles title at the Barnes Tennis Center in San Diego, California.
A blue chip rising sophomore from Whitewater, Wisconsin, Brantmeier earned the right to celebrate after taking down the top two seeds in the semifinals and finals. She became only the second player from Wisconsin to win the singles title in the event's history. Teri Whitlinger of Neenah, Wisconsin was the champion in 1985.
"This is absolutely incredible," said Brantmeier, who lost in the Girls 14s Hard Courts final two years ago. "I really haven't had time to think yet. It's still so amazing. I have been trying for a gold ball for a long time."
Elise Wagle of Niskayuna, New York and Katja Wiersholm of Kirkland, Washington captured the doubles gold ball with a 6-3, 6-0 victory over Tara Malik of Secaucus, New Jersey and Nikita Vishwase of Phoenix, Arizona.
Brantmeier had played Xu three times before, and lost every time. The closest she came to a win was in 2017 at Girls 14s Indoors, where Xu won in three sets.
More eye-opening than the actual result on the hard courts in San Diego was the decisiveness of the 66-minute victory.
Xu, 16, hadn't dropped a set all tournament, and entered the final having lost a total of 20 games in six matches. The blue chip rising junior from Livingston, New Jersey breezed into the final with a 6-0, 6-1 victory over No. 17 Eleana Yu of Mason, Ohio in the semifinals.
Meanwhile, Brantmeier outlasted No. 2 seed Vivian Ovrootsky of San Jose, California 7-5, 1-6, 6-3 in the other semifinal.
Wearing her trademark high socks, Brantmeier secured an early break against Xu that turned the match in her favor. She capitalized on two double faults by Xu to take a 3-2 lead and never looked back, winning 10 consecutive games to close out the match and secure the title.
"Knowing what an amazing player she is, I knew I would have to fight for every single point," Brantmeier said. "I think I just really stayed calm and stayed positive and I was really aggressive and it just landed for me today."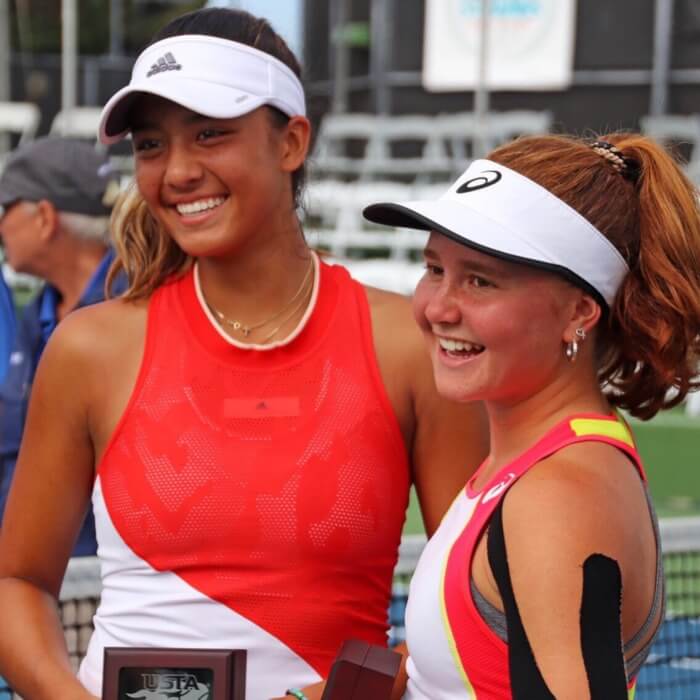 Doubles Champions Elise Wagle and Katja Wiersholm
© Contributed Photo
Xu had no answer for Brantmeier once she took control in the first set.
"I feel like she played really well throughout the match," Xu said. "I feel at the beginning, I had some chances, but then she saved a bunch of game points and from there she gained the momentum and that freed her up. She started hitting and executing all her shots and couldn't really get into a rhythm."
Despite the loss, Xu was pleased with her overall performance at one of her favorite events and locations to play. Xu couldn't stay in the beach city very long after the tournament because she had a meeting with her high school tennis team on Monday.
"Obviously I would have liked to play better in the final, but I feel like I had a good tournament even just getting to the final," Xu said. "I had to win a bunch of rounds and played well coming into the lead up to the final."
Brantmeier steadily gained confidence in the tournament with each win she secured. Although she knew the stage was much bigger in the final with TV cameras surrounding the court and major prizes at stake, Brantmeier tried to treat it like "just another match."
"I feel like I got better as the opponents got tougher and tougher," Brantmeier said. "By the final, I was playing some of my best tennis. It was definitely going really, really well during that match."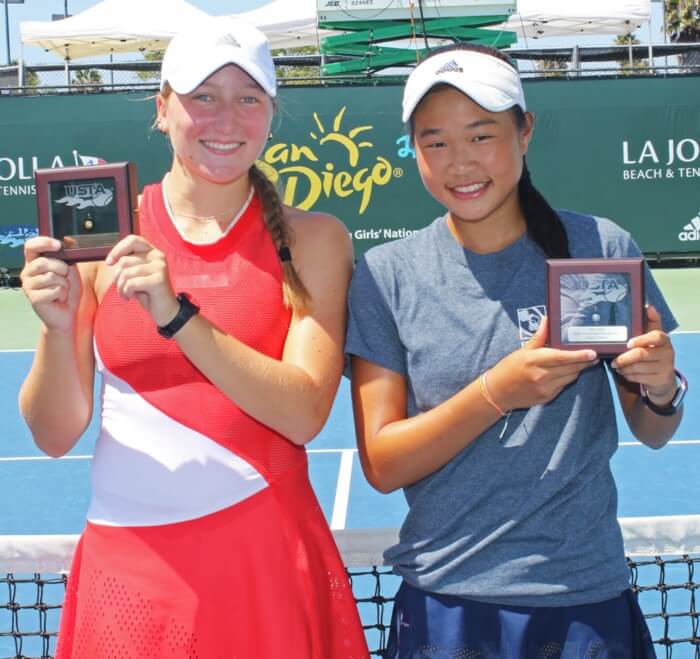 Champion Reese Brantmeier & Finalist Valencia Xu
© J. Fred Sidhu
Along with her first gold ball, Brantmeier secured a main draw singles wild card for the U.S. Open Junior Championships in New York. Brantmeier played in the qualifying of the event last year and lost in the first round.
"I am so excited because as Americans the U.S. Open is a huge tournament. I am so glad I have the opportunity to play there in my first main draw," said Brantmeier, who also received a wild card into the women's singles qualifying from the USTA three days after her tournament win. "I really can't wait to get there and see how I can do."
Making the victory even more meaningful to Brantmeier was having her parents both in attendance in San Diego.
"My mom comes to most of my tournaments, but my dad doesn't get to come very often," Brantmeier said. "We got lucky he could get off work and come this time. This will be really, really special."
After she received the winner's trophy from legendary player and women's sports advocate Billie Jean King, Brantmeier had no doubt where the title ranked in her budding career.
"This is definitely one I will remember," she said. "This is probably the biggest win I've ever had."
Other Results and Awards:
Third-place singles: Ovrootsky def. Yu 2-6, 6-4, 6-2
Consolation singles final: No. 17 Bridget Stammel of Dallas, Texas def. Midori Castillo of Chula Vista, California 6-3, 6-3
Third-place doubles: No. 2 Allie Gretkowski of Mount Pleasant, South Carolina and Carson Tanguilig of Alpharetta, Georgia def. No. 3 Carrie Beckman of Louisville, Kentucky and Emma Charney of Mount Pleasant, South Carolina.
James & Elaine Molden Memorial Sportsmanship Award: Sydney Pratt, Glenview, Illinois
USTA Sportsmanship Award: Ovrootsky
The Jean Kremm Sportsmanship Award: Castillo
Up Next
Check back tomorrow morning for the wrap-up story of the Boys 18s from Kalamazoo.
About American College Placement
We are excited to have American College Placement as the title sponsor of Championship Week at TennisRecruiting.net.
American College Placement - Premier Face-to-Face Mentoring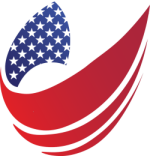 American College Placement is a mentoring and placement company. The difference with ACP is we only hire mentors that either played or coached college sport. We are the most personalized, boutique style service in the country. We will invest in you and your college selection process from building your list of schools all the way to signing your National Letter of Intent.
Our mentors will meet with you and your families face to face to ensure that all your needs are being met. You will have around the clock access to your mentor via e-mail, text, and phone throughout the process. Selecting the right college and athletic program is a big job.
Don't do it alone. Let American College Placement walk side by side with you from beginning to end.
Learn more about American College Placement at AmericanCollegePlacement.com - or connect with them on Facebook and Instagram.
Leave a Comment
More Tournament Features
16-Aug-2019
Volynets Experiences 'Surge of Energy and Joy' After 18s Title Win
Katie Volynets was filled with emotion after capturing the Girls 18s singles title at the USTA Billie Jean King National Championships in San Diego. The No. 2 seed defeated No. 3 Emma Navarro to secure a wild card into the U.S. Open women's singles main draw. Abigail Forbes and Alexa Noel secured the doubles title and a U.S. Open wild card in their debut as a team.
16-Aug-2019
Svajda Captures 18s Singles Title in Kalamazoo Debut
Zachary Svajda was a quick study in his first appearance at the USTA Boys 18s and 16s National Championships in Kalamazoo, with the 16-year-old capturing his first gold ball and a U.S. Open main draw wild card with a 6-7(3) 7-5, 6-3, 6-1 victory over Govind Nanda in the 18s singles final.
15-Aug-2019
Bernard Stages Comeback to Capture Boys 16s Title
Top seeded Alex Bernard rallied from a 4-1 deficit in the third set and saved a match point to capture the Boys 16s singles title at the USTA National Championships with a 5-7, 6-1, 7-5 win over No. 4 Aidan Mayo at Kalamazoo College's Stowe Stadium.
About Rhiannon Potkey
Rhiannon Potkey is a veteran sportswriter with more than two decades of experience in journalism. Potkey has covered many sports at many levels and has a passion for finding great stories. Potkey has covered the U.S. Open, junior sectional and national events, college conference championships and Davis Cup matches. Potkey is currently Content Strategist for Tennis Recruiting. You can reach Rhiannon by email at
[email protected]
.