Special Feature
Gorzny on the Road to Recovery Following Major Health Scare
by Rhiannon Potkey, 19 August 2019
Ted Gorzny usually "sleeps like a log." No matter what's going on around him, he rarely wakes up from his slumber.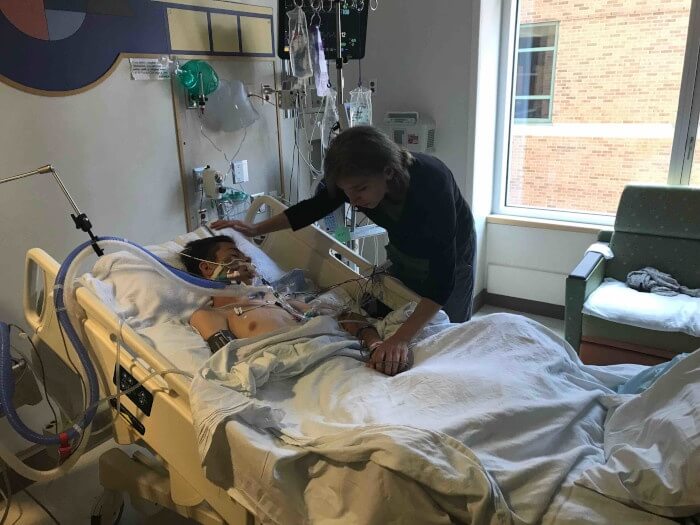 Sebastian Gorzny Was Hospitalized For Seven Days
© Contributed Photo
But for some reason - call it a parent's intuition - Gorzny awoke at 2 a.m. on August 4th to find his son Sebastian unconscious and trembling from seizures in their hotel room in Kalamazoo.
Sebastian, 15, had withdrawn from the USTA Boys 16 National Championships hours earlier during his second-round singles match because he didn't feel well. His father thought Sebastian may just be tired from having played so much tennis over the last few weeks.
But his concern escalated to a level he never imagined once he saw his son convulsing and unresponsive in the hotel bed.
"It's a miracle to me that I woke up," Ted Gorzny said. "He was suffocating and having seizures and it took me 30 seconds to call for help."
Sebastian was rushed to Bronson Methodist Hospital, where doctors performed numerous tests to determine the cause of his affliction. After eventually ruling out a bacterial infection and taking him off antibiotics, Gorzny's father said Sebastian was diagnosed with meningoencephalitis, an infection of the brain and layers of thin tissue that cover the brain.
"The doctor thinks what happened is he got bitten by a mosquito that was carrying the virus, so he had a viral infection in his brain," Ted Gorzny said. "They don't even know what the virus is and there is no medication for it. They tested him for 50 different viruses, including the worst ones, and all the tests came back negative. They may never know what it is."