Special from
Zoo Tennis
COLLEGE PARK, Md. - Last week's International Tennis Federation Grade 1 tournament featured stifling heat and thunderstorms at the beginning and an all-day rain near the end, challenges that didn't faze champions Kamilla Bartone and Karlis Ozolins of Latvia. No. 2 seed Bartone defeated No. 15 seed Mai Nirundorn of Thailand 6-2, 3-6, 6-0 and Ozolins downed Micah Braswell of the United States 6-4, 4-6, 6-2 to sweep the singles titles on a picture-perfect Saturday at the Junior Tennis Champions Center.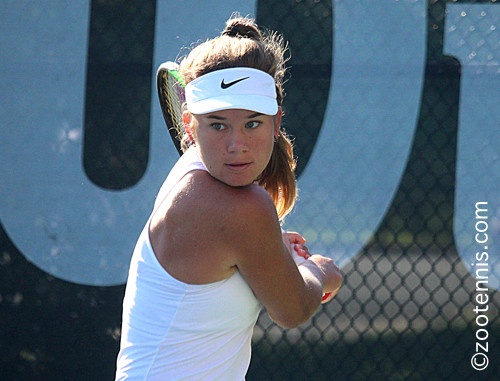 Girls Singles Champion Kamilla Bartone
© Zoo Tennis
The tournament began with a race against the clock, with top girls seed Sada Nahimana of Burundi attempting to get from Kenya, where she reached the final of an ITF World Tennis Tour $15,000 tournament on Sunday, to College Park, where she was scheduled to take the court late on Monday. Although she did arrive in the United States, Nahimana was unable to make her match time and a lucky loser was inserted in her place.
Nirundorn came through Nahimana's half of the draw, with the 17-year-old not facing a seed until she defeated No. 4 Abigail Forbes from a set and a break down in the semifinals, a match that was moved indoors during the first set due to Friday's persistent rain.
Bartone had her toughest match in the third round against doubles partner Robin Montgomery, the No. 13 seed, coming back for a 3-6, 6-2, 6-4 win. Bartone was the only singles semifinalist who did not play indoors, with No. 3 seed Priska Nugroho of Indonesia retiring with a back injury trailing 6-0, 1-0 before play was resumed indoors.