Commitment Announcement
SMU Tops the List: Five-Star Krall Commits to Mustangs
by Rhiannon Potkey, 17 September 2019
Liam Krall knew he wanted to make his college decision after his final visit two weeks ago.
The five-star senior from Bronxville, New York was ready to end the recruiting process and have more clarity about his future.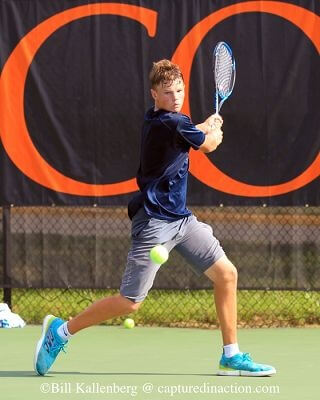 Five-Star Senior Liam Krall Has Committed to SMU
© Bill Kallenbeg/CapturedInAction
After initially considering SMU, Virginia Tech, Tulane, George Washington, Army and Navy Krall had narrowed his options down to SMU and Virginia Tech.
Krall devised a pro/con list on the drive home from Blacksburg, Virginia once he visited Virginia Tech.
"I really liked both schools, so it was a hard decision to make," Krall said. "I reached out to people who knew each school and most of them were recommending SMU for me. In the end, I really felt like that was the best option."
Krall officially committed to SMU by calling head coach Grant Chen to deliver the news.
"I really like Dallas. It is a great city. I come from a small town, so I really like the school size. I was not looking for a huge school and SMU is really a very small school," Krall said. "Grant is a great coach and connection to have for tennis. His work over the years has proven that, so I am really happy to be a part of this team."