Special from
Zoo Tennis
Stanford's unparalleled success in tennis and its sterling academic reputation provided Ana Geller with the same excellent reasons to consider the school as any other top recruit. Yet the 17-year-old from Argentina had an advantage that others did not, with her older brother Axel, now a junior on the men's team, available to offer his view of the life of a student-athlete on The Farm.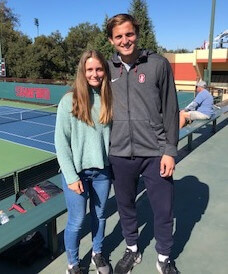 Ana Geller and Older Brother, Axel
© Contributed Photo
"He really wanted me to go there because he thinks it's the best school," said Geller, a senior who verbally committed to Stanford this summer.
"Obviously we are going to spend a year together, so he was pretty excited about that," Geller said. "When I visited, he had talked to every single girl [on the team], saying, 'please make it the best visit possible.' He was super excited when I ended up picking the school."
Geller didn't take for granted that she would end up at Stanford however; she also took official visits to Northwestern, Duke, USC and Vanderbilt. As far as her brother was concerned, that was a sensible approach.
"Of course I preferred she come to Stanford, but I wanted to her to do whatever she felt was best for her," said Axel, the 2017 ITF World Junior Champion, who is No. 7 in the ITA preseason rankings. "I didn't want to push her one way, and then at some point she might be unhappy, and not totally convinced that it was her who made the choice. So I tried not to push her in any way, but hoping, of course, that she would choose Stanford."