Commitment Profile
Dartmouth Offered Everything Five-Star Andy Ilie Wanted
by Rhiannon Potkey, 10 October 2019
Coaching changes can sometimes complicate the recruiting process. Andy Ilie didn't let it sway his overall opinion of Dartmouth.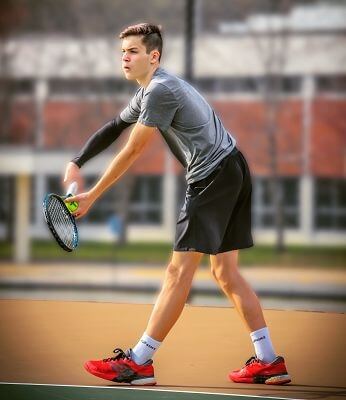 Five-Star Andy Ilie Has Committed to Dartmouth
© Contributed Photo
Although he wasn't committed to the program when Xander Centenari replaced Chris Drake as head coach in August, Ilie was confident things would work out. He had visited Dartmouth last January, and was impressed with everything the Ivy League school in New Hampshire had to offer.
"My two big things were how good the school was and how good the team was, and obviously Dartmouth has both those qualities," Ilie said. "I really liked the overall vibe from the school and had a good feeling about it."
Centenari contacted Ilie soon after he took over the program, and drove to New York to watch the five-star senior from Trumbull, Connecticut play in a tournament. Illie made it official last month by verbally committing to Dartmouth.
"He came to watch more matches than any of the other coaches I was more involved with, which really meant a lot," Ilie said. "I could just tell from the very beginning that he was a really great guy and a great coach. I just felt like my game would improve a lot with his coaching."
Ilie's parents immigrated to the United States from Romania separately, and met in the U.S. at an event. Ilie was born in Connecticut, and grabbed a tennis racket for the first time when he was 4.
"I went with my dad to our town courts and I just fell in love with the sport," Ilie said. "I have been playing almost every day since I was young and grinding out there. After all these years, I have finally committed for college."
Ilie has been a multi-sport athlete for much of his life. He's played soccer, basketball and skiied. He joined the Trumbull High football team this season for the first time. He works with the wide receivers in practice, and is the backup kicker for games.
"Training with the team helps my tennis a lot. All the different speed drills and strength training helps my game," Ilie said. "If we are winning by a lot, I go in for the last few minutes to kick. It's perfect because I don't really have a chance of getting hurt since most of the time I am just kicking."
Ilie's athletic idol isn't a tennis player. It's NBA guard Russell Westbrook.
"I try to model my game after him. I love his energy and drive to compete," Ilie said. "That is why I want to play my own tennis game the same way. I try my best every single point to not give up and have that killer mentality and attitude."
Ilie works with coaches Brian Barker and Matt Daly at the Tennis Club of Trumbull. His vision and feel for handling pace have become major strengths, along with his movement around the court.
"Andy is a real student of the game and loves tennis. He will be at the club all day and hit with anyone anytime," Daly said. "It is refreshing to have a kid like Andy who does a lot on his own and focuses more on his development and working on his game to improve for the future, and not just traveling around the country chasing points and trying to play as many tournaments as possible."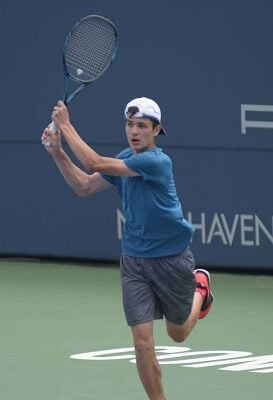 Ilie Trains at the Tennis Club of Trumbull
Befitting of any Ivy League recruit, Ilie has a 4.6 GPA and scored a 1540 out of 1600 on his SAT. He is part of the stock market club at school, and plans to major in economics with an eye toward an investment banking career.
"Since I was young, my parents have always told me to keep my grades as high as I can and be the best I can be in school and sports because one helps the other and if one doesn't work out you have the other to fall back on," Ilie said. "That is why it's a big thing for me to do really well, and that is why I have very little time for having fun stuff in my life. But it's worth it getting into an Ivy League school."
Although he tried to participate in as many events as he could over the years, Ilie's tennis exposure was more limited than some other players.
"A lot of people that play come from really rich families and can afford to go to the best tournaments all over the world and play. But I never played many national tournaments and couldn't train at some academy. It was too expensive," Ilie said. "I just started playing big nationals in the last year to get into college. Going to college is going to be a big financial investment for my parents and we are definitely grinding through. But in the end, we just know it will pay off."
Daly believes Ilie's lack of a grinding travel schedule will be a benefit once he arrives at Dartmouth.
"He will be going into college eager to get match play and face good competition, especially with the Ivies being so tough now," Daly said. "He is not going to be burnt out from junior tennis and will want the challenge college tennis provides."
Ilie grew up playing at the same club as Dartmouth junior Peter Conklin. He always enjoyed hitting with Conklin, and can't wait to spend one season together once Ilie arrives next fall.
"He was way better than me and a lot older, and I definitely looked up to him. He was always the best player at my club. Now we get to be teammates and I get to play with him," Ilie said. "That is definitely a great experience, and overall I am just excited to go out there and start a new challenge and find out what college tennis is like."
Leave a Comment
More Recruiting Profiles
9-Oct-2019
Fliegner Commitment to Michigan Hits Close to Home
Julia Fliegner grew up wanting to play for Michigan and stay close to home. Once she got the offer on her official visit to campus, the five-star junior didn't hesistate to commit. She will be joining a team filled with close friends.
30-Sep-2019
Support System Guides Chervinsky to Virginia Commitment
Elaine Chervinsky only needed to make one visit before knowing she wanted to commit to the University of Virginia. The blue chip junior has received a lot of support from family and coaches to give her the opportunity to play high-level tennis. She doesn't take it for granted.
25-Sep-2019
Hiryur Helps Honor Coach with Commitment to Dayton
Ronit Hiryur called his first coach after he committed to Dayton. The five-star senior from Ohio wanted to share the news with the person who inspired him to play. Alan Aure died a few days later, and Hiryur hopes to honor him through his performance on the court in college.
About Rhiannon Potkey
Rhiannon Potkey is a veteran sportswriter with more than two decades of experience in journalism. Potkey has covered many sports at many levels and has a passion for finding great stories. Potkey has covered the U.S. Open, junior sectional and national events, college conference championships and Davis Cup matches. Potkey is currently Content Strategist for Tennis Recruiting. You can reach Rhiannon by email at
[email protected]
.