Commitment Profile
Fliegner Commitment to Michigan Hits Close to Home
by Rhiannon Potkey, 9 October 2019
Julia Fliegner knew she wanted to play college tennis from the moment she began attending her older brother's matches.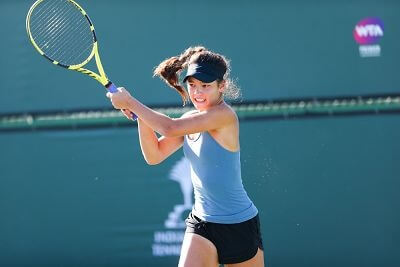 Max Fliegner played for Dartmouth, and Julia would often sit courtside and marvel at the intensity of the action.
"It was just so cool and I loved the whole atmosphere," Fliegner said. "The matches were so much fun, and I loved the guys shouting across the courts and the competition. It had a big impact on me. I wanted to go out there and play with them because it looked so fun."
Fliegner, a five-star junior from Clarkston, Michigan, dreamed of staying close to home and playing for the University of Michigan. She had friends on the team and admired the success of the program.
Fliegner planned to make visits to Princeton and Notre Dame during her recruiting process. But once she visited Michigan and was offered a scholarship, she didn't need to think twice.
"I did not take those other visits. I just loved Michigan so much. I couldn't imagine myself anywhere else," she said. "It's just a perfect fit. Michigan is an amazing school and I love the team dynamics and the coaches."
Fliegner was born in New York, but moved to Michigan shortly after. She grew up playing multiple sports, including lacrosse, swimming, ice skating and soccer. It came down to tennis and lacrosse, and she chose to pursue tennis full time by the sixth grade.
Fliegner never wanted to homeschool, and takes her academic priorities very seriously. She is a 4.0 student at the prestigious Detroit Country Day School, and has received straight A's in every class her entire life.
"I have always tried to keep up the high standards I have for myself as a student," Fliegner said. "I work as hard as I can trying to balance between tennis and the rigorous academics of the private school I go to."
Both of Fliegner's parents are doctors. Her father is a cardiothoracic surgeon and her mother is a general surgeon. Her brother is applying to medical schools. Although some might expect Fliegner to follow suit, she remains open minded.
"My whole life I thought I was going to be a doctor, but I don't know for sure. I want to figure that out in college," she said. "I may try to play a little bit on the pro tour if I really do well in college, and I really want to do well. But the future is the future, and Michigan will prepare me for whatever path I take."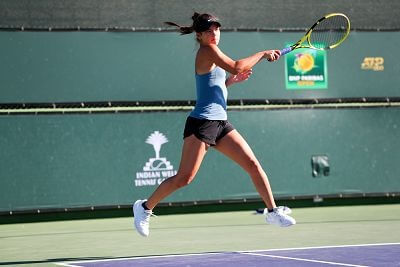 Fliegner Has Received Straight A's in Every Class
©
David Kenas
Jessica Stencel has been working with Fliegner for the last four years. Stencel immediately noticed there were "two different Julias" - the mild one off the court and the fierce competitor on the court.
"When I first got her, she had this aggressive game style, but she really couldn't string together multiple rallies. She was pretty inconsistent," Stencel said. "But we harnessed her ability to be aggressive and gave her a little bit better of a strategy and a little bit more margin. I think when she is moving forward and playing her aggressive, smart tennis, not many people can beat her. She is a rock star when she plays like that."
Before Fliegner's visit to Michigan, Stencel asked what she would say if Michigan coach Ronni Bernstein offered her a scholarship on the spot.
"I think that kind of caught her by surprise, but the next day she called me and said Michigan has always been my dream school and I want to go there and I know I am going to love it," Stencel said. "I told her, 'well then accept' and that is what happened, and she just had this big grin on her face. It's a really perfect fit for her."
The Michigan coaching staff has been receptive to working with Stencel and trusting her coaching of Fliegner.
"They call me to talk about her matches and are willing to reach out to me so I can translate some things to Julia," Stencel said. "It allows us to work on things they really want to see, so once she gets to Michigan she's already been doing it. Ronni is a great at developing players and Julia has so much untapped ability."
Fliegner credits her parents for instilling her strong values and drive. Her mom's parents immigrated to the United States from Hong Kong and her father's grandparents immigrated from Germany.
"Both my parents are inspirations to me. My mom's family didn't have a lot of money growing up, both my mom and dad worked so hard to get where they are," she said. "They have definitely passed that work ethic down to me and I look up to them."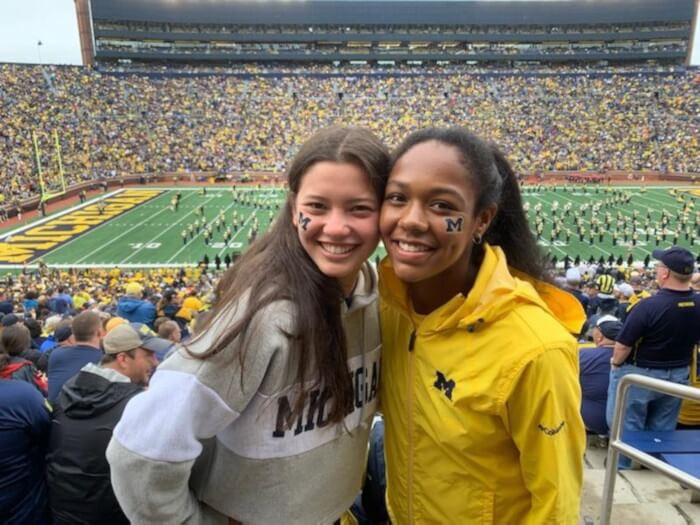 Michgan Commits Fliegner and Jaeden Brown
© Contributed Photo
Fliegner has an artistic side that she loves to express, and tennis played a small role in her discovering her abilities.
She has taken art classes throughout high school, and created charcoal stills and acrylic paintings. She's even sketched collections of fashion designs, but never made the pieces.
"I mostly got into it when I was sitting around at my brother's tournaments," she said. "I didn't have anything to do and my mom would buy me coloring books and I loved those. It has definitely become my sanctuary at school when I see that on my class schedule during the day."
Two of Fliegner's closest friends, Jaeden Brown and Karina Miller, are blue chip seniors who have committed to Michigan. They all played together during the Girls 18s National Team Championships in Claremont this summer, giving them a glimpse of their future in maize and blue.
"We all played 1-2-3 there and it was so much fun being on the same team with each other," Fliegner said. "Now I know what it's like to be on a team with them and I absolutely loved that experience. I can't wait for it to happen at Michigan."
Leave a Comment
More Recruiting Profiles
10-Oct-2019
Dartmouth Offered Everything Five-Star Andy Ilie Wanted
Andy Ilie had a good feeling about Dartmouth on his visit last January. A coaching change in the summer didn't sway his opinion. It actually solidified it. The five-star senior from Connecticut has committed to play for the Big Green.
30-Sep-2019
Support System Guides Chervinsky to Virginia Commitment
Elaine Chervinsky only needed to make one visit before knowing she wanted to commit to the University of Virginia. The blue chip junior has received a lot of support from family and coaches to give her the opportunity to play high-level tennis. She doesn't take it for granted.
25-Sep-2019
Hiryur Helps Honor Coach with Commitment to Dayton
Ronit Hiryur called his first coach after he committed to Dayton. The five-star senior from Ohio wanted to share the news with the person who inspired him to play. Alan Aure died a few days later, and Hiryur hopes to honor him through his performance on the court in college.
About Rhiannon Potkey
Rhiannon Potkey is a veteran sportswriter with more than two decades of experience in journalism. Potkey has covered many sports at many levels and has a passion for finding great stories. Potkey has covered the U.S. Open, junior sectional and national events, college conference championships and Davis Cup matches. Potkey is currently Content Strategist for Tennis Recruiting. You can reach Rhiannon by email at
[email protected]
.