Signing Profile
Blue Chip Alex Lee Sees Great Potential at Stanford
by Rhiannon Potkey, 17 October 2019
Alex Lee sees the pathway from college tennis to the professional ranks staring across the net at him and running beside him during fitness drills.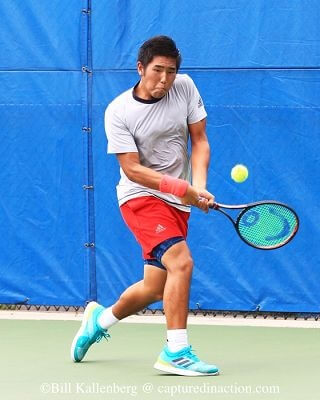 Blue Chip Alex Lee is Signing With Stanford
© Bill Kallenberg/CapturedInAction
Lee trains in Tampa, Florida with Dominik Koepfer, the Tulane product from Germany who broke into the Top 100 on the ATP Tour this summer.
Lee began working with Koepfer's coach, Rhyne Williams, a year ago, and immediately saw an improvement in his overall game.
"It's no doubt great for Alex to be around Dominik and get to practice with him all the time and see what it takes to be a professional," Williams said. "I know that is his goal ultimately after college, to play some pro tennis and give it a shot. Training side-by-side with Dom is huge for him to try and reach that goal."
Lee will make the next step on his path official next month when the Illinois native signs with Stanford - one of three blue-chip seniors in the Cardinal's 2020 class.
"Stanford gives you a great education and you can be a part of a great team, and it just seemed like the place for me," said Lee, a 4.0 student who scored a 31 on his ACT. "The environment felt right and just kind of the overall vibe of the place. I really loved it."