Special from
Zoo Tennis
Tennis has been the focus of former University of Florida Gator Alex Cercone throughout most of her life. From juniors to college to a brief foray into professional tennis, she viewed the sport from the vantage point of a competitor. Now, in her position at the USTA's National Campus, Cercone looks at tennis from a different perspective: as an administrator of the organization's national junior tournaments.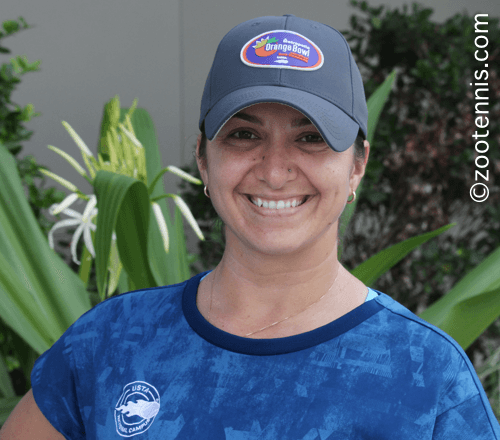 Alex Cercone
© Zoo Tennis
Still, Cercone didn't exactly trade in her racquet for a desk job in her position as Manager, Junior Competitive Pathway. She's just as likely to be seen sweeping lines, wielding a roll of duct tape or dumping ice in a courtside cooler as sitting in a cubicle reviewing entry lists.
"I think when you have events, you just have to do whatever you need to do to make it happen," said Cercone, who has been working for the USTA since 2016. "I was out there picking up trash the other day. That's just the type of person I am; I will do whatever, be a team player, to make sure that everything gets done that needs to get done. And I need to get my steps, and work on my tan, so it's fine, I'm happy to do it."
When Cercone, a 2010 blue chip recruit, graduated from Florida in 2014 with a major in psychology, she decided to try the Pro Circuit, but when another opportunity in tennis surfaced, she chose to explore it.
"At the end of my senior year, I committed to [pro tennis] and I did it for a few months," said Cercone, an All-American in doubles who was 77-15 in dual matches in her four years in Gainesville. "I was visiting some friends in Atlanta and my sister, who lived there. I met a coach, a younger guy, and he asked me if I was interested in coaching."
As the daughter of Maria Cercone, long one of Florida's top junior development coaches and now the USTA Southern section's Manager of Junior Competition, Alex was as comfortable teaching as being taught.
"I had obviously helped my mom a lot, because she had her program, so I had experience coaching juniors, high performance level and all that, and I enjoy it," said Cercone, who began working with teenage girls at the Atlanta club. "At that point I was doing OK on the tour, but not having amazing results. I think I wanted to have a little more independence, so I decided to coach."
But while she was coaching, Cercone discovered a significant byproduct of the time she spent teaching others.
"Of course while I was coaching, I got better, because you become a problem solver for these other kids," Cercone said. "I felt myself improve. I was still playing with friends, hitting the ball well, and these kids were good. So then I decided, 'I'm going to go back, I'm going to play,' and then I played two tournaments and injured my back. So then it was 'OK, time to go back to the real world,' although I don't even know if this is the real world still."
While she was rehabbing her herniated disk, Cercone continued working on an online masters degree in Sports Management, which she had begun as a way of coping with life in tennis's minor leagues. While she was recuperating, construction on the USTA National Campus in Lake Nona was underway, and job postings began appearing.
"I honestly didn't know much about what was happening [in Lake Nona]," said Cercone, who was then working with her mother at Bardmoor Golf and Tennis Club in the Tampa Bay area. "It was my mom, because she was in the know, super involved as a volunteer. I learned more about the position and I was like, 'this makes so much sense.'
"It was all the tournaments that I played growing up as a kid. I had an understanding of the regulations, my mom was on the junior competition committee, so the fit was a no-brainer."
Cercone was able to immediately put into practice what she was studying in the masters program.
"I was still in the program when I started my job here at the USTA, so obviously I was very busy, but it was cool, because stuff I was learning I could directly apply to what I was doing at work," said Cercone, who began working in Lake Nona in temporary office space while the campus was under construction.
Despite the meshing of her skills with her current position and her mother's career in tennis, Cercone did consider employment that didn't include the sport.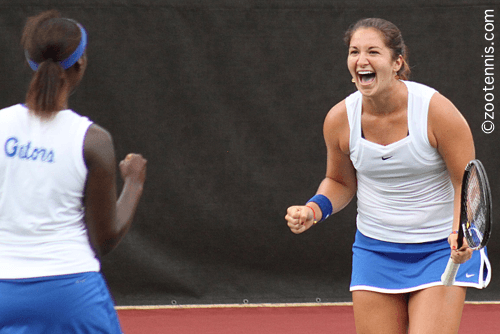 Cercone Was a Doubles All-American at Florida
© Zoo Tennis
"I was looking at all sorts of different things," said Cercone, who counts Florida's 2011 and 2012 NCAA team championships as the high points of her college career. "I think nobody knows what they really want when they're 23. So I was looking at different opportunities in the entertainment and sports industry, all the way from music and live entertainment to other sports in the Tampa Bay area, looking at opportunities with the Buccaneers, Tampa Bay Lightning or the Tampa Bay Rays, what those franchises had going on, just trying to stay in sports, something that I knew."
She had already ruled out pursuing a career in her undergraduate major.
"I went into psychology with the intent of pursuing something down that road, but the further I got along in it at school, I was like, eh, this academic stuff is maybe not it," said Cercone, who also briefly explored attending law school. "It's so much research, so much research, and I'm not good enough with statistics for this. I definitely explored a ton of different options, college coaching was one of them for sure; I talked to a couple of people about some opportunities for that."
Cercone hasn't ruled out coaching in the future, with its direct impact on individual players something she misses in the position she currently holds.
"The end result is kind of the same, it's just how close you are to that result," Cercone said. "As a coach, you're working one-on-one with a player and you're getting immediate feedback about helping a player improve. What we do, we're developing this calendar. We organize all of this to give competitive opportunities to these players. I know that what I'm doing is giving these players opportunities to grow and compete and improve and reach whatever their goal is, whether it be college, pro, high school. I know that's what I'm doing, but it's so far away. So that's the one difference I miss in coaching. And just also interacting with kids is fun. When I had a group of 15-year-old girls I was coaching in Atlanta, they were so fun to work with. And obviously, being on court is fun."
The transition from being on court to being on the periphery took some getting used to, and she doesn't relish some of the administrative chores that come with her position, yet Cercone realizes that as tennis jobs go, she is fortunate.
"Going from 0 to 60, from being a coach/athlete to doing an office job, was obviously a little bit of a shellshock, but it was fine, it was still in tennis. You still talk tennis all the time.
"I'm very lucky because I get to work with some awesome people. I'm very lucky to have Lew [Brewer, Director, Competitive Pathway Juniors] as a boss; he's taught me a ton of stuff, and also all the people I work with in my department and outside of it. I've been working with [Senior Director, Competitive Pathway] Megan Rose a lot, and she's obviously a very good leader. I'm kind of spoiled I get to work here."
After more than three years on the job, Cerone can draw both on that accumulated knowledge and on her years as a competitive player, as she did recently when her cell phone pinged with a text message informing her of a player with a food crisis.
"I think that happens at all events, there's always things that come up," said Cercone, who quickly arranged a light meal for the player before his late afternoon doubles match. "It's just finding a solution. I always compare things to being an athlete. We always want to do our best, the best job possible."
About YONEX
We are honored to have YONEX as the presenting sponsor of our Where Are They Now? article series at TennisRecruiting.net.
YONEX

YONEX is a successful global company with its corporate headquarters located in Tokyo, Japan. Subsidiary companies operate around the world, including the United States, the United Kingdom, Germany, Canada, Taiwan and China (Golf). YONEX continues to be driven to produce the most technologically advanced sports equipment to enable players, both amateur and professional, to play their sport at a higher level.
Connect with YONEX on Facebook, Twitter, Instagram, YouTube, and Pinterest, - or on their website.
Leave a Comment
More "Where Are They Now?" Features
6-Sep-2019
Rake Transitions From Tennis to Lucrative Career in Finance
Former junior star Rodolfo Rake has transitioned from tennis to a lucrative career in the finance industry. The two-time Kalamazoo champion is a managing director at Morgan Stanley Smith Barney LLC. How he got there featured some interesting twists and turns.
30-Jul-2019
Allen Grateful She Accepted the Challenge at Navy
Stefanie Allen spent four years playing at Navy, and has continued to serve the country as a Marine Corps officer. She was a platoon commander in Okinawa, Japan and currently works as a defense systems analyst. Find out more in "Where Are They Now?"
27-Jun-2019
Egoroff's Post-College Tennis Career Takes Flight
Former Florida Tech player Erin Egoroff is training to become an air traffic controller. Egoroff majored in aeronautical science at Florida Tech, which decided to cut its tennis programs. Egoroff and other alumni attended one of the final matches this past season to say goodbye.
About Colette Lewis
Colette Lewis
has covered topflight U.S. and international junior events as a freelance journalist for over a decade. Her work has appeared in
Tennis
magazine, the
Tennis Championships
magazine and the US Open program. Lewis is active on
Twitter
, and she writes a weekly column right here at TennisRecruiting.net. She was named
Junior Tennis Champion
for 2016 by Tennis Industry Magazine.
Lewis, based out of Kalamazoo, Michigan, has seen every National Championship final played since 1977, and her work on the tournament's ustaboys.com website led her to establish ZooTennis, where she comments on junior and college tennis daily.