Tournament Feature
Easter Bowl Wrap
by
Colette Lewis
, 26 April 2007
Although the Easter Bowl celebrated its 40th birthday in 2007, there were new places and fresh faces to help with the celebration. With the Riviera Resort in Palm Springs closing, tournament director Seena Hamilton needed a new host site, and it was the Rancho Las Palmas Resort and Spa in Rancho Mirage that took the baton. This year's champions - Emmett Egger (boys 14s), Lauren Herring (girls 14s), Lawrence Formentera (boys 16s), Nicole Gibbs (girls 16s), Rhyne Williams (boys 18s) and Gail Brodsky (girls 18s) - all collected their first Easter Bowl titles during a moderately cool and calm week in the Coachella Valley.
14s
Emmett Egger of Issaquah, Washington was the top seed in the boys 14s division, and although he had his share of tough matches throughout the week, the final wasn't one of them. Egger defeated No. 17 seed Sean Berman of Irvine, California 6-1, 6-3.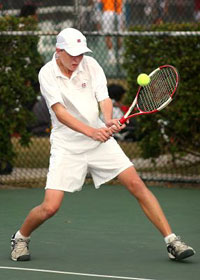 Boys 14 Champion
Emmett Egger
© Julie Wrege, TennisRecruiting.net
"I was serving well, hitting my groundies big, executing my volleys," said Egger, 14, who lost to Berman in the semifinals of February's
National Open
in Lakewood, Calif.
The final's first game saw Egger struggling to hold serve, but once the players changed ends, he reeled off four straight games, using his all-court game to take control of the match.
"I knew that I could," said Egger of his point-ending forays at the net, "and that's what I do."
The girls champion Lauren Herring of Greenville, North Carolina, had a different strategy in her 6-4, 6-0 victory over No. 17 seed Lauren Davis of Gates Mills, Ohio.
"I just went out there with the attitude to play long points, grind every point, and that's what I did," said the unseeded Herring, who had knocked out top seed Whitney Kay in the quarterfinals.