Special from
Zoo Tennis
EAST LANSING, Mich. - Michigan State men's head coach Gene Orlando didn't want his program left behind.
Orlando believes the current trend of Pro Circuit tournaments on college campuses is similar to the wave of facility upgrades, the emphasis on weight training and conditioning and the focus on nutrition that keeps raising the bar in Division I college tennis.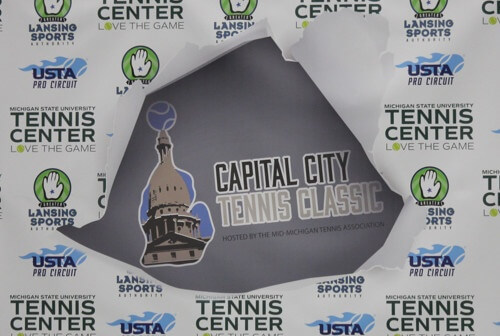 The First Men's Pro Event in Michigan since 1988
© Zoo Tennis
So when his assistant Harry Jadun suggested the Spartans host the state of Michigan's first men's professional tournament since 1988, Orlando understood why accepting that challenge was necessary. Sixteen months later, the $15,000 USTA Pro Circuit Capital City Tennis Classic was a reality, providing six members of Michigan State's team an opportunity to sample professional tennis.
"Ohio State and Illinois have been hosting these kinds of tournaments, even bigger tournaments, so it becomes more like an arms race," said Orlando, who is in his 29th season as head coach at Michigan State. "You want to compete with the best teams in the country, and those teams happen to be in the Big Ten."