Special from
Zoo Tennis
BRADENTON, Fla. - Last week's ITF Grade 1 Eddie Herr Championships at the IMG Academy produced an expected winner and an unexpected one, with No. 2 seed Thiago Tirante of Argentina taking the boys title over compatriot Roman Burruchaga 6-4, 6-2, and qualifier Eva Lys of Germany earning the girls title with a 6-3, 6-3 win over Jana Kolodynska of Belarus.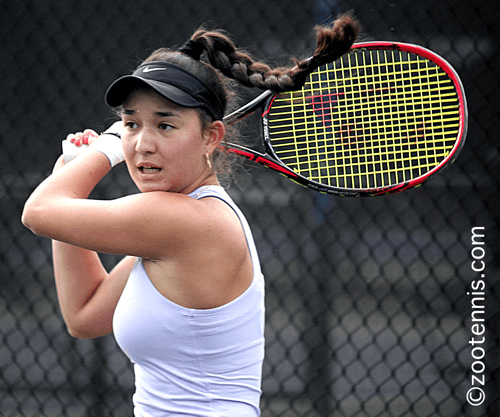 Girls Singles Champion Eva Lys
© Zoo Tennis
Lys, a 17-year-old from Hamburg, won two of her three qualifying matches in 10-point tiebreakers, but she limited her time on court in the main draw, winning all six of her matches in straight sets. A raft of upsets in the early rounds of the tournament also cleared her path, and Lys faced only one seed throughout her run.
After a 6-1, 6-1 semifinal rout of Evialina Laskevich of Belarus, who had beaten top seed Alexandra Eala of the Philippines in the quarterfinals, Lys found herself facing a second unseeded girl from Belarus in the final. Kolodynska's semifinal win over Elvina Kalieva was the polar opposite of Lys's victory over Laskevich, with Kolodynska battling for over three hours to get past the American 6-4, 4-6, 7-6(5). Kalieva had eliminated No. 2 seed Linda Fruhvirtova of the Czech Republic 7-5, 6-2 in the quarterfinals.
Which finalist would be more fatigued—Kolodynska after that grueling semifinal or Lys, who was playing her ninth match in nine days—was a valid question, and Lys, who began the match receiving, felt the impact of her eight previous matches early on.
"I was so tight this match," Lys said. "I started this match not so good, lost four points in a row. I couldn't put a ball in because my legs were so tired, my arms, everything, but I fought through it, I guess."