Winter Nationals
Validating Performance for Codd in 16s Championship Run
by Rhiannon Potkey, 8 January 2020
Katie Codd felt like she was making strides in her game. The five-star sophomore from Carlsbad, California had worked to increase her endurance and become more consistent with her aggressive style.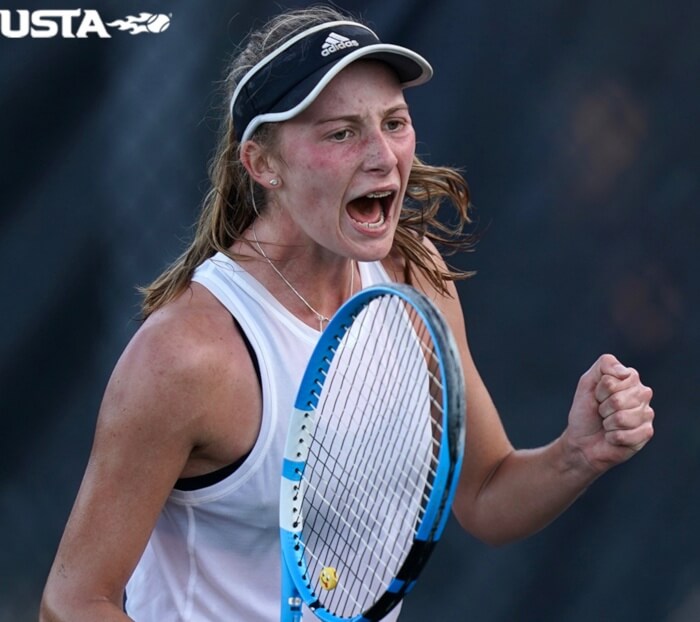 Girls 16s Singles Champion Katie Codd
© Manuela Davies/USTA
But the true validation Codd needed came last week at the USTA Winter National Championships in Lake Nona, Florida.
Having never won a ball of any color at a major national event, Codd returned home with two in her possession.
She captured a gold ball in singles and a silver ball in doubles in Girls 16s.
The second-seeded Codd defeated No. 17 Lucinda Gatsiounis of Los Angeles 6-2, 6-3 in the singles final on the clay courts at the USTA National Campus last Friday.
"I was really excited. I didn't think I would get that far. I was just trying to do the best I could," Codd said. "I went out and played my game and had no expectations for myself."
The competitors endured rain delays at the start of the tournament, with modified sets played for some early rounds.
Codd lost only one set in seven singles matches, and avenged two recent losses by beating No. 8 Ann Guerry of Atlanta 6-4, 6-0 in the quarterfinals and No. 5 Stephanie Yakoff 6-3, 3-6, 7-5 in the semifinal.