Winter Nationals
Zhao and Kelley Capture 12s Singles Titles, First Gold Balls
by James Hill, 6 January 2020
The USTA Boys and Girls 12s National Winter Championships in Tucson, Arizona, will always be special events to a number of budding future tennis stars.
The main-draw winners of singles and doubles championships at the Reffkin Tennis Center all earned their coveted USTA gold ball for the first time in their early careers.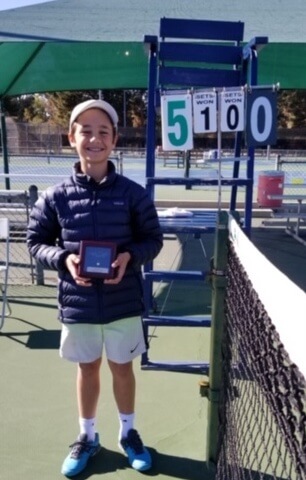 Boys Singles Champion Gray Kelley
© Contributed Photo
Fourth-seeded Gray Kelley of Tarzana, California brought home the gold in boys singles. The top-seeded duo of Roman Sancilio of Henrico, Virginia, and Jagger Leach of Laguna Beach, California emerged as the doubles champs.
Third-seeded Elena Zhao of San Diego, California won the girls singles title, while the No. 1 tandem of Amy Lee of Beverly Hills, California and Mia Yamakita of Johns Creek, Georgia won the doubles championship.
Kelley defeated the second-seeded Sancilio 6-3, 6-0 in the boys singles final, and was a 6-3, 7-6 (9) winner over Tristan Dussault, a No. 17 seed from Stuart, Florida in the semifinals. Sancilio bested No. 3 Dominick Mosejczuk of East Elmhurst, New York 6-2, 6-0 in the semis.