Commitment Profile
The Next Big Stage for Four-Star French is RPI
by Rhiannon Potkey, 16 January 2020
The words were music to John French's ears.
French wanted to play tennis in college, but didn't want to sacrifice his artistic passions. The four-star senior from Raleigh, North Carolina is heavily involved in theater and choir and loves those aspects of his life.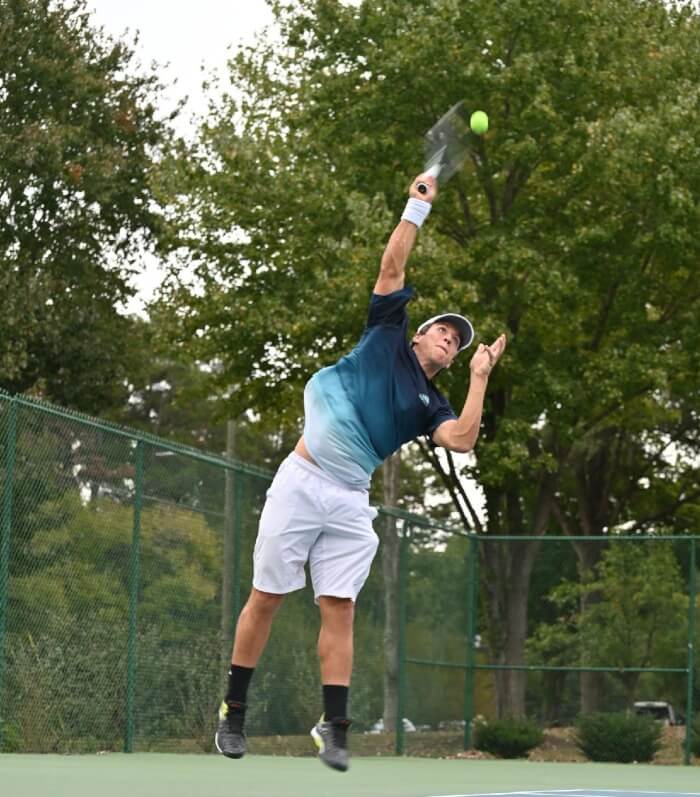 Four-Star Senior John French Has Committed to RPI
© Contributed Photo
During the early stages of his recruiting process two years ago, French began corresponding with Jon Satkowski. The Rensselaer Polytechnic Institute head coach was always excited to talk to French and learn about what he was doing on the court or on the stage.
"He has always been so positive about not only having me as a player on the team, but also allowing me to keep doing what I love to do off the court," French said. "That was a really big factor for me. I have always enjoyed not just playing tennis, but also singing and performing to an audience on the stage. That means a lot to me."
French committed to RPI, a Division III program located in Troy, New York, in December
"I remember when I first started looking into colleges, I thought there is just something different about this school than the normal college," French said. "After I did my research and visited, I realized these people strive for something more than just the norm."
Born and raised in Raleigh, French began playing tennis at age 9. His grandfather was a huge fan of the sport and it trickled down to the rest of the family.
French's older sister, Lauren, played at Coe College, earning conference Most Valuable Player honors as a junior and senior.
Along with his tennis, French played indoor soccer for many years and traveled to tournaments. He enjoys the team environment and played for his high school soccer team in the fall. But as he became more serious about tennis, he realized it was the sport he wanted to pursue in college.
French values the life skills and self discipline tennis has instilled in him. During last year's NC State Tar Heel qualifier, French received the sportsmanship award.
"That is my best achievement I've ever had in the tennis world," French said. "I always try to be kind and respectful to my opponent and the officials because I understand that tennis is a hard sport mentally. It's going to make you frustrated and there is always going to be a loser. But you can always be respectful, because at the end of the day it's just a game."
French regularly trains at Millbrook Tennis Center in Raleigh. He visits Van Der Meer Tennis in South Carolina to prepare for big tournaments, with Pat Van Der Meer providing support and encouragement.
Bennett Bailey has been working with French at the Millbrook for the last nine years. From the start, French has possessed a good offensive game with a big serve and strong forehand.
"But the thing I am most impressed with is how much his approach to the game and problem solving on the court has evolved," Bailey said. "He has gotten so much better and way more cerebral than he used to be. It's become a real strength of his. Our conversations about the game are coming from a higher level of intelligence now than they were before."
French strives to live a balanced lifestyle with outlets beyond tennis. His father and brother are singers, and he joined the boys choir when he was young. He continued performing with his middle school and high school choirs.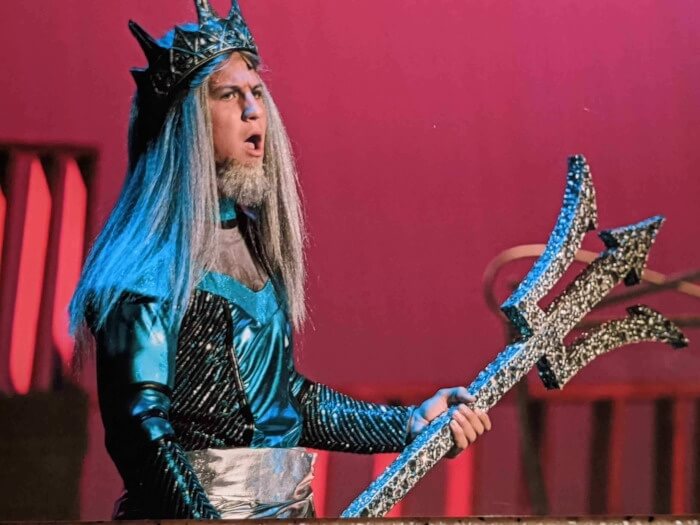 French Performs in School Plays and Sings in the Choir
© Contributed Photo
His older brother introduced him to theater in the eighth grade, and his first role in a play was in Tarzan.
"I was an ape and I sang, danced and acted like an ape," French said. "It was a blast. I had so much fun."
French has gradually advanced to bigger roles with solos. He played King Triton in The Little Mermaid and is Captain Hook in Peter Pan this year.
Although French can't spend as much time on the tennis court as some others, Bailey is happy to see him explore different aspects of life.
"One of the really cool things about John is that he has so many interests," Bailey said. "He is very focused when he is on the court and works extremely hard, but I have always encouraged him to be that kind of well-rounded person because it just makes you more interesting. His entire family is that way, and I think it's great."
Once he gets to RPI, French hopes to join the Rensselaer Concert Choir and sing in the school's impressive Experimental Media and Performing Arts Center.
"I heard it is like the second best acoustically sounded auditoriums in the world to some place in Germany," French said. "When I first got in there I thought, 'Man, I would love to sing in there,' so I am definitely looking into joining a singing group once I finalize everything."
French's artistic and athletic talents are matched by his analytic nature. He has a 4.8 GPA, and plans to study computer engineering in college.
"I love using computers. I have always been fascinated with how a small electrical circuit on a board can translate into a moving image on a screen," French said. "Computers are strange, but a really innovative way of technology and I really want to be a part of change when change comes at some point, because we are going to be like the Jetsons at some point."
French is excited to experience all RPI has to offer once he arrives next fall. He's glad the coaches have encouraged him to stay true to himself and not set limits on what he can achieve. He has big dreams for all stages.
"RPI has a little slogan, 'Change the World' and that is what I have always wanted to do," French said. "I want to make a difference in my community, whether it's my theater or on the court or just in my regular household. I just want to make a difference and change peoples' lives. That is what I have always wanted to do."
About CrampsAWAY
CrampsAWAY is proud to sponsor the Countdown to Signing Day series of articles at TennisRecruiting.net.
What is CrampsAWAY Pro?

CrampsAWAY Pro is an all-natural, food-grade liquid supplement that can prevent or instantly stop cramps. CrampsAWAY comes in convenient single-serve packets, perfect for any athlete on-the-go. CrampsAWAY Pro is completely safe and free of any banned substances. It's also NSF Certified for Sport, so athletes can use it whenever needed, with the assurance that they are not putting anything foreign, unhealthy or illegal into their bodies.
Are any elite athletes using CrampsAWAY?
Absolutely! CrampsAWAY Pro has become the go-to cramp solution for many of the best athletes in the world; including pro sports teams in the NCAA, NFL, NBA, MLB and MLS. Also, many top ATP players use CrampsAWAY Pro as a competitive advantage, including John Isner, Jack Sock, James Blake and Tim Smyczek.
Connect with CrampsAWAY on Facebook, Instagram, Twitter, and YouTube - or on their website.
Leave a Comment
More Recruiting Profiles
14-Jan-2020
Blue Chip Neal Works Hard to Earn Opportunity at Yale
Mature beyond his years, it was no surprise to his coaches that Luke Neal committed to Yale early. The blue chip junior from Northern California has become an example to other players at local clinics for his hard work and dedication.
2-Jan-2020
Moss Receives Friendly Welcome at Washington and Lee
Gabriela Moss was interested in Washington and Lee University for its strong academics and tennis program. But once she got on campus, she discovered a few traditions that made her feel even more welcome. The four-star from Arizona has committed to the Division III program.
24-Dec-2019
Zukic Discovers Home Away From Home at Western Michigan
Nejla Zukic could have stayed close to home and gone to Louisville, where her high school campus is located. But she wanted to gain some independence, and found a home away from home at Western Michigan. The four-star senior signed with the Broncos last month.
About Rhiannon Potkey
Rhiannon Potkey is a veteran sportswriter with more than two decades of experience in journalism. Potkey has covered many sports at many levels and has a passion for finding great stories. Potkey has covered the U.S. Open, junior sectional and national events, college conference championships and Davis Cup matches. Potkey is currently Content Strategist for Tennis Recruiting. You can reach Rhiannon by email at
[email protected]
.