Class of 2007
Transitioning From The Tennis Court To The Emergency Room
by Rhiannon Potkey, 15 January 2020
It was never the difference between life and death, but Ashton Schwerin Ramirez endured many high-pressure situations on the tennis court.
The experiences came in handy once she began her professional career as an emergency medicine physician.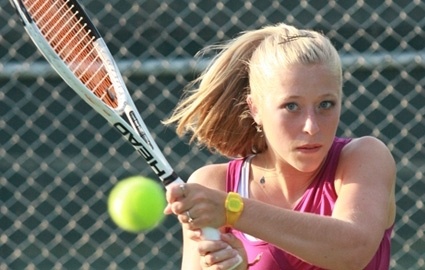 Ashton Schwerin Ramirez Played for Evansville
© Evansville Athletics
She was better prepared to handle the stress by knowing how to stay in the present, keep things simple and rely on her hours of training.
"It's very easy to get emotionally overwhelmed and start thinking they might die if I do the wrong thing or give them the wrong medication," Schwerin Ramirez said. "But instead, you take a step back and take a deep breath and determine what is the logical next step. It's similar to the approach of being at 6-6 in a third-set tiebreaker when you have to get out of your own head."
Schwerin Ramirez, 30, was a three-star recruit from Madison, Wisconsin in the Class of 2007.
She started her college tennis career at the University of Northern Iowa before transferring to the University of Evansville for her final three seasons. Evansville cut the women's tennis program in 2017, citing a budget shortfall.
Schwerin Ramirez majored in biology at Evansville and attended the Medical College of Wisconsin. After four years of medical school, she did a three-year residency in emergency medicine.
She now lives Virginia Beach, Virginia and works at seven different emergency departments in the Virginia Beach and Norfolk area.