College Feature
Heart Awareness Match Has Personal Meaning at Colgate
by Rhiannon Potkey, 10 February 2020
Colgate coach Bobby Pennington had just left for the parking lot to get the car when he received a call from his wife telling him to return to the hospital room.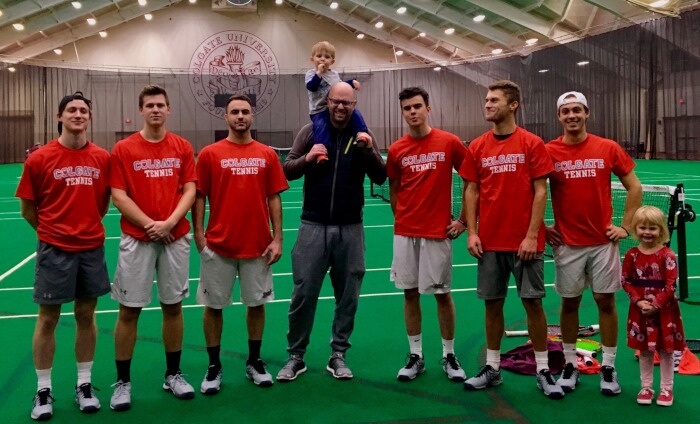 The Colgate Players Wear Red for the Heart Awareness Match
© Contributed Photo
Jenny Pennington had just delivered their son, Clifford, and the family was preparing to be released and drive home. But doctors thought they heard a murmur in Clifford's heart and decided to run more tests.
"I ran up to the room as quickly as I could and was greeted by a team of doctors. They said his aorta was basically twisted and it was cutting off his breathing," Bobby Pennington recalled of that March day in 2016. "They said they were keeping him in NICU and keeping medicine pumping in him to keep his valve open and they wanted to get him to surgery as quickly as possible."
Clifford underwent an eight-hour lifesaving heart procedure five days later at the Golisano Children's Hospital in Rochester, New York. The medical ordeal inspired Pennington to hold a Heart Awareness Match at Colgate every February during Heart Awareness Month, with all the proceeds from the match donated to Golisano.
The 4th annual event will take place on Feb. 23 when Colgate hosts Rochester at Sanford Field House in Hamilton, New York. The women will play at 10 a.m. ET followed by the men at noon.
The Colgate players dress in special red jerseys with red socks, shoelaces and headbands. The event has raised nearly $10,000 over the last three years and raised awareness about the issue.