Commitment Profile
Longhorns, Likely Short Stay: Blue Chip Stearns Picks Texas
by Rhiannon Potkey, 5 February 2020
If not for her mother's fashion sense, Peyton Stearns may have been holding a bat and glove instead of a tennis racket.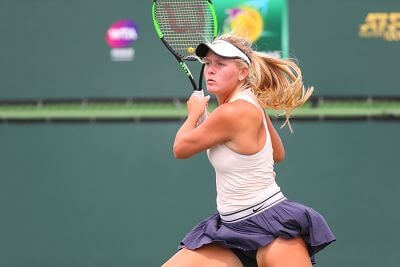 Blue Chip Peyton Stearns Has Committed to Texas
© David Kanas
Stearns was at her neighbor's house when she was around 7 years old and began hitting wiffle balls across the yard.
"My neighbor's mom said, 'Oh, you should play softball. You have a killer arm," Stearns recalled. "My mom said, 'No, I don't like the uniforms.' My neighbor played tennis as well and told my mom, 'Well then you should put her in tennis. It has adorable clothing.'"
Forgoing polyester pants and jerseys for skirts and fitted tops, Stearns has developed into one of the top junior tennis players in the country.
The blue chip senior from Mason, Ohio has decided to pursue college for at least one season. She recently committed to Texas, where her mother was recruited as a gymnast.
"It just felt like the right fit. They are offering me the one-and-done deal, where I can go for a year and leave after and then come back and get my education," Stearns said. "They will bring me to at least seven pro tournaments, and I trust them. Some other schools say they will, but I have never seen their players play that many. That was huge for me."