Where Are They Now?
Holcomb-Jones Striving for Excellence with NJTL Leadership
by Rhiannon Potkey, 25 February 2020
Sean Holcomb-Jones doesn't have to search far to show the NJTL players he works with what is possible.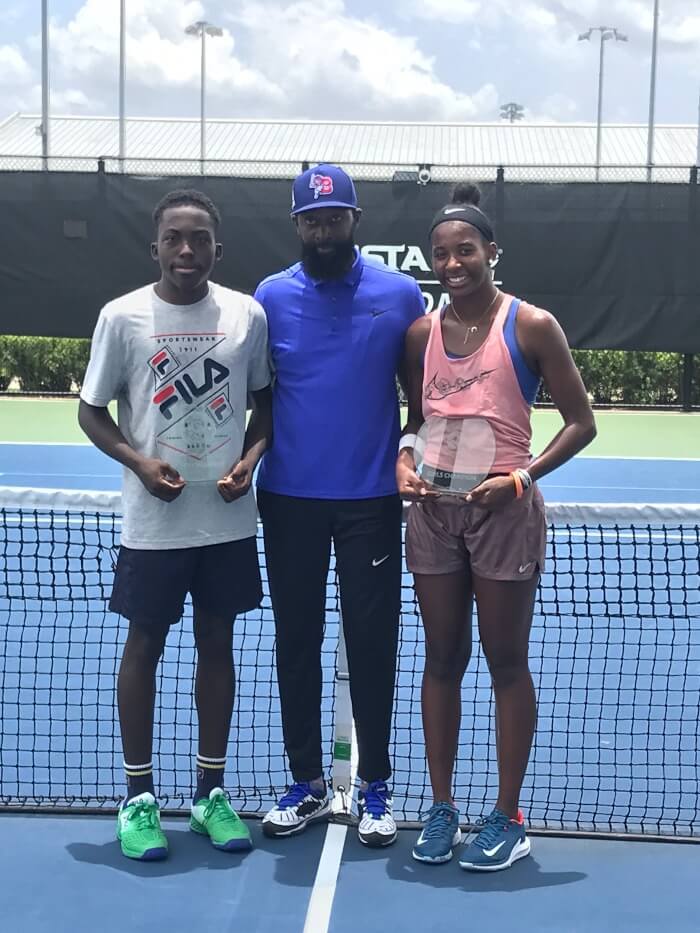 Sean Holcomb-Jones with Tauheed Browning, Mya Spencer
© Contributed Photo
Holcomb-Jones was introduced to tennis in Albany, New York through 15-LOVE, an independent organization which uses tennis to reach inner-city youth.
Holcomb-Jones, 37, went on to play college tennis and coach college tennis before returning to the sport in his current role as manager of USTA Foundation Excellence Program & Corporate Activations.
The USTA's NJTL network has more than 250 programs around the country offering free or low-cost tennis and education programs to nearly 180,000 under-resourced youth each year.
"The goal is to continue to break down barriers for more diverse participants and continue to grow and have diverse participants feel welcome," Holcomb-Jones said. "I want them to feel attended to and poured into and want to continue in the game."
Holcomb-Jones played at Towson until the program was disbanded before his senior season. He started his coaching career as an assistant at George Washington University, where he got his master's degree in philosophy and social policy.
He served as the head men's and women's coach at Morgan State for three years before moving to Maryland as the women's assistant coach. After nearly two years, his career path took a right turn and he began working at Deloitte, a multinational professional services network.
But he didn't stay away from tennis for very long.
"I wasn't necessarily passionate about that and I reached out to a couple of friends within the industry to try and to see what was going on at USTA," Holcomb-Jones said. "I was really interested in a position there, and scoured the web until I saw this position and what it entailed and thought that fit right into my wheelhouse."
Holcomb-Jones will be celebrating his second year in the role in May.
"It is everything I imagined it to be and more," he said. "We have been able to expand the programs from when I first got here and the opportunities we've been able to provide the kids with some activations has been amazing."
NJTL players from around the country have been able to attend the U.S. Open and train at the USTA National Campus in Orlando. They've met Sloane Stephens, the USTA Foundation's first National Excellence Program Ambassador, and Coco Gauff among other professional players.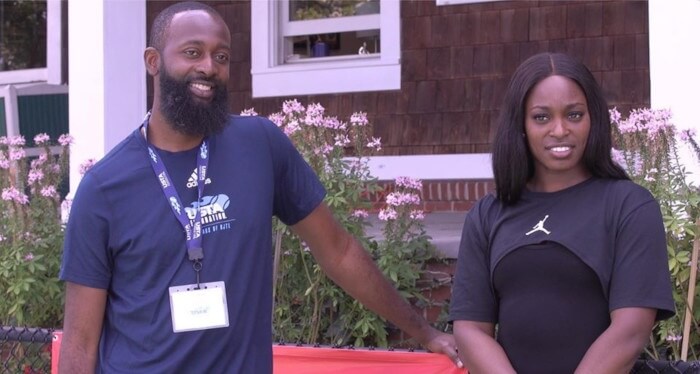 Holcomb-Jones with National Ambassador Sloane Stephens
© Contributed Photo
One group was able to watch blue chip sophomore Robin Montgomery make her WTA debut at the Citi Open in Washington D.C.
"To see a kid like Robin, who is from a community tennis background and from an NJTL background, make it to No. 5 in the world is something that all these kids can aspire to do," Holcomb-Jones said. "Seeing her, they know it can be done."
As part of TRN's celebration of Black History Month, Holcomb-Jones conveyed more his thoughts on his playing career, his future goals and diversity in the sport:
How was your college tennis experience?
"It was interesting. I played sparingly if I did play. I wasn't a world-beater to say the least. But I think what I was able to do was find my niche in the coaching arena, because I really think a lot of times everyone wants to be one of the greatest players in the world, but I believe it's important to have diversity in the decision-making arena of tennis as well. With my educational background, I knew it would fit. Then, being able to make the transition from off the court to a more corporate investment for me was a no brainer. I wanted to be able to affect how decisions were made for us in tennis."
Have you seen a growth in the diversity of players in American tennis?
"There is progress that has been made, especially on the women's side. I think there is still additional progress to be made on the men's side. But there are a lot of mitigating factors to that progress. There are limited scholarships available in NCAA men's tennis with just 4 1/2. That is one mitigating factor to getting more diverse participants. But we have seen a lot of success on the women's side."
How can college coaching become more diverse?
"We have to challenge people at every level of the game. We can continue to improve on giving opportunities to a wider range of diverse participants, and I think we have to continue to get more and more comfortable with diverse participants and people of color leading programs and leading organizations within the tennis community. Putting diverse voices in leaderships positions, whether that is a head college coach, whether that is a C-Suite executive within an organization or whether that is at the director's level, we just have to be more comfortable in the industry allowing people to bring a more robust experience to the world and make the sport feel inclusive to all people."
What are your broader goals for NJTLs and The Excellence Program?
"My vision is quite large. I want to see a wider array of people have access to become champions in tennis. I want a more diverse range of participants to get access to a high level of instruction and not just be introduced to the sport. I think sometimes we do some good work introducing players to the game, but I don't want to just introduce players, I want to make sure we give access to players to be built up and give them the best quality of instruction and insight into the game. I feel that should be available to everyone."
About YONEX
We are honored to have YONEX as the presenting sponsor of our Where Are They Now? article series at TennisRecruiting.net.
YONEX

YONEX is a successful global company with its corporate headquarters located in Tokyo, Japan. Subsidiary companies operate around the world, including the United States, the United Kingdom, Germany, Canada, Taiwan and China (Golf). YONEX continues to be driven to produce the most technologically advanced sports equipment to enable players, both amateur and professional, to play their sport at a higher level.
Connect with YONEX on Facebook, Twitter, Instagram, YouTube, and Pinterest, - or on their website.
Leave a Comment
More "Where Are They Now?" Features
24-Jun-2020
Rajeev Ram Joins Cal As Volunteer Assistant Coach
Rajeev Ram spent one successful semester playing for the University of Illinois before leaving to pursue a full-time career on the pro tour. But he always wanted to return college tennis, and has joined the Cal men's tennis staff as a volunteer assistant for the 2020-21 season.
15-Jan-2020
Transitioning From The Tennis Court To The Emergency Room
After finishing her college tennis career at the University of Evansville, Ashton Schwerin Ramirez attended medical school and is now an emergency medicine physician. Playing tennis helped prepare Schwerin Ramirez for some of the stressful situations she encounters.
11-Oct-2019
Gator Grad Cercone Transitions from Player to USTA Administrator
Tennis has been the focus of former University of Florida Gator Alex Cercone throughout most of her life. In her position at the USTA's National Campus, Cercone looks at tennis from a different perspective: as an administrator of the organization's national junior tournaments.
About Rhiannon Potkey
Rhiannon Potkey is a veteran sportswriter with more than two decades of experience in journalism. Potkey has covered many sports at many levels and has a passion for finding great stories. Potkey has covered the U.S. Open, junior sectional and national events, college conference championships and Davis Cup matches. Potkey is currently Content Strategist for Tennis Recruiting. You can reach Rhiannon by email at
[email protected]
.