Commitment Profile
Barrow Finds The Right Fit Is Close To Home At Mercer
by Rhiannon Potkey, 25 March 2020
From the time Samuel Barrow began playing tennis, the anticipation of competing gripped him. He could hardly wait until the first match of a state Level 4 would begin.
Four-Star Senior Samuel Barrow Has Committed to Mercer
© Bill Kallenberg/CapturedInAction
Even as he aged and his ability improved, Barrow's passion never wavered. He would sit down with his parents every year and mark all the tournaments he wanted to play.
They would tell him which dates might work and which dates had conflicts.
"I fell in love with USTA tournaments and was always looking forward to them," Barrow said. "They would be months away and I would just keep thinking about that one weekend. I have always tried to convince my parents to let me play every single one possible."
Barrow's weekends will soon be filled with college matches. The four-star senior from Macon, Georgia decided to stay very close to home and sign with Mercer University.
"I really wasn't interested in staying in Macon until I visited Mercer and met with the team and the coach," Barrow said. "I loved the coach and he had a lot of faith in me. I really liked the campus. It didn't feel like the Macon I grew up with, so it was kind of an escape while also being nearby."
Barrow's parents exposed him to as many sports as possible while he was growing up in Macon. He played soccer, basketball, baseball and flag football. But tennis was the sport he enjoyed most.
Barrow has been taking lessons from Craig Jones at Idlehour Country Club since he was 8. He's the type of player that shows up early in the morning, stays late in the evenings and does all the little things to improve.
"He is just a fighter. He never quits," Jones said. "He loves tennis and loves the challenge of getting better. He will really put in the time and work hard. He is a very, very special person."
The 5-foot-7 Barrow may not have the strongest serve, but he compensates with an all-court game that gives opponents trouble.
"He is a little guy with a big game," Jones said. "He covers the court really well and can retrieve the ball. He has got what you call good court savvy."
Barrow loves playing doubles, and takes pride in his strong volleys to help close out points.
"It just comes naturally to me. I read people very well and I just love to be right on top of the net," he said. "I don't care how hard you hit, I am going to get it back. It's fun for me to be at the net."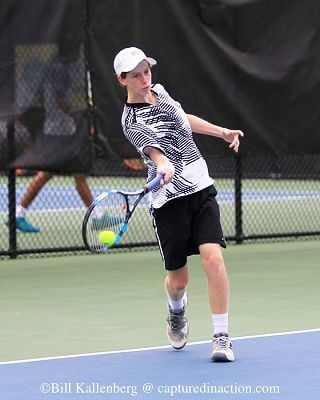 Barrow Has a 4.06 GPA and Plans to Study Pre-Med
© Bill Kallenberg/CapturedInAction
After a good showing at Kalamazoo in the Boys 16s, Barrow was sidelined by a stress fracture in his back and couldn't return last summer for his first year of 18s.
"He had some major colleges looking at him, but that slowed down when he didn't show up," Jones said. "But he is excited about Mercer and he knows he will be in the lineup. They play a bunch of big schools, so he will get to show he is that good."
Barrow has a 4.06 GPA and plans to take the pre-med route in college. His father is a radiologist and he's always been interested in the profession.
Barrow's success in the classroom and on the court doesn't surprise Jones, who has no doubt Barrow will excel in college as well.
"He is a coach's dream," Jones said. "The guy's a leader and everybody likes him. He's just a good 'ole boy and a good kid."
About CrampsAWAY
CrampsAWAY is proud to sponsor the Countdown to Signing Day series of articles at TennisRecruiting.net.
What is CrampsAWAY Pro?

CrampsAWAY Pro is an all-natural, food-grade liquid supplement that can prevent or instantly stop cramps. CrampsAWAY comes in convenient single-serve packets, perfect for any athlete on-the-go. CrampsAWAY Pro is completely safe and free of any banned substances. It's also NSF Certified for Sport, so athletes can use it whenever needed, with the assurance that they are not putting anything foreign, unhealthy or illegal into their bodies.
Are any elite athletes using CrampsAWAY?
Absolutely! CrampsAWAY Pro has become the go-to cramp solution for many of the best athletes in the world; including pro sports teams in the NCAA, NFL, NBA, MLB and MLS. Also, many top ATP players use CrampsAWAY Pro as a competitive advantage, including John Isner, Jack Sock, James Blake and Tim Smyczek.
Connect with CrampsAWAY on Facebook, Instagram, Twitter, and YouTube - or on their website.
Leave a Comment
More Recruiting Profiles
23-Mar-2020
Unexpected Visit Results in Texas Tech Commitment For Evans
Kailey Evans didn't plan to visit Texas Tech during her college recruiting process. But once the blue chip junior did, she realized she wanted to play for the Red Raiders and made a verbal commitment.
12-Mar-2020
Sacrifices Makes Iowa Commitment Even Sweeter for Weiss
Her family would drive 20 hours to tournaments, sleep in their caravan and work multiple jobs to help Oliva Weiss achieve her goals in tennis. The four-star junior from Michigan saw one reward come through earlier this year when she committed to Iowa.
10-Mar-2020
Friendly Recommendation Leads Brady to Marquette
Ian Brady listened to his trainer's advice and decided to learn more about Marquette and head coach Steve Rodecap. The four-star senior from Indianapolis liked what he learned, and has committed to the Golden Eagles.
About Rhiannon Potkey
Rhiannon Potkey is a veteran sportswriter with more than two decades of experience in journalism. Potkey has covered many sports at many levels and has a passion for finding great stories. Potkey has covered the U.S. Open, junior sectional and national events, college conference championships and Davis Cup matches. Potkey is currently Content Strategist for Tennis Recruiting. You can reach Rhiannon by email at
[email protected]
.