Special from
Zoo Tennis
The odds were against an unranked teenager capturing a $25,000 tournament in just her fourth professional-level event. But 15-year-old blue chip Robin Montgomery rolled the dice and came up a winner last week at the Oracle Pro Series event in Las Vegas.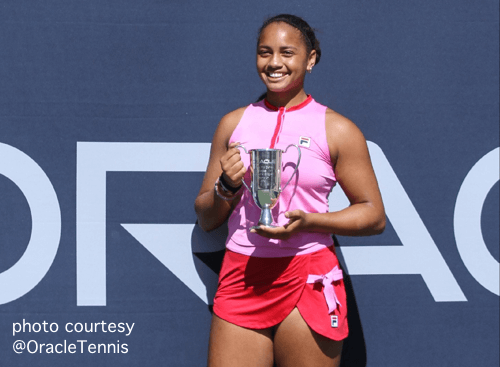 Montgomery Won the Oracle Pro Series Event in Las Vegas
© Oracle Tennis
Montgomery had no WTA ranking prior to the event, primarily because the Washington D.C. resident was busy building her International Tennis Federation world junior ranking. After winning the Orange Bowl last December and reaching the quarterfinals of the Australian Open Junior Championships in January, Montgomery, No. 1 in the Class of 2022, now ranks a career-high No. 5 on the ITF junior circuit.
Using an ITF exemption available to year-end Top 10 juniors to enter the Las Vegas event, Montgomery hoped to get matches while learning what she needed to improve to play at the professional level. The 5-foot-10-inch left-hander started by beating No. 6 seed Gabriela Ce of Brazil 6-0, 6-2 in the opening round, then breezed into the semifinals, where she earned a three-set victory over Canadian Katherine Sebov.
In the final, Montgomery trailed No. 3 seed Xiaodi You of China 5-0 in the first set, 3-1 in the second set and 4-2 in the third set before rebounding for a 2-6, 6-3, 6-4 victory that will propel her to a WTA ranking of around 600 when the points are added.