College Feature
Emory's Spring Break Trip Ends in Uncertainty For All
by Rhiannon Potkey, 24 March 2020
Emory women's head coach Amy Bryant thought she had seen just about everything in her 20-plus years of coaching. But nothing prepared her for the situation two weeks ago when the college tennis season was canceled because of the coronavirus (COVID-19) outbreak.
Emory was in Cocoa Beach, Florida for its annual spring break trip when everything began to unfold in rapid succession. The Eagles were preparing for a week of training and competition, but things just didn't feel right.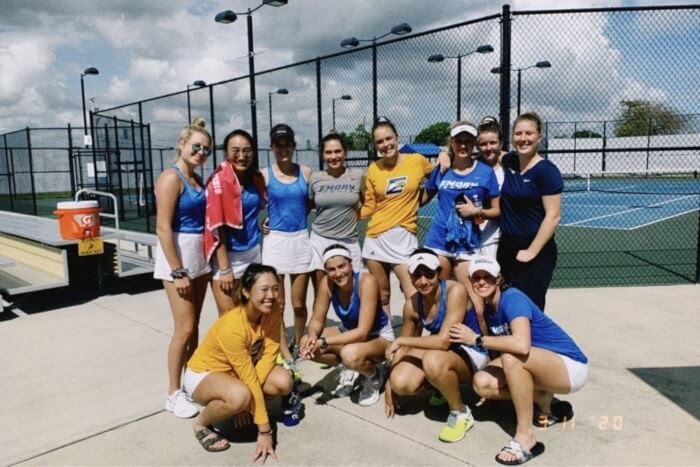 Emory Eagles in Cocoa Beach, Florida for Spring Break
© Contributed Photo
"It began with small warning signs: conferences imposing travel restrictions, teams canceling spring break trips within days of competition," Bryant said. "But we continued to press on, business as usual."
The team realized how serious the situation was within two days of their arrival. The players began receiving messages from friends about their colleges closing and seasons being canceled.
"There was a palpable sense of uncertainty in the air as we all began to wonder – what is going to happen to us?'" Bryant said. "Then, on Wednesday night, our announcement came. Emory. Closed. We tried to find a silver lining in the announcement – some shred of hope that school could be cancelled, but athletics could continue on. The notification said that there may be accommodations made for some groups of students to stay on campus. Would that be us? They couldn't really cancel our season, could they? Would a 'delay' even be an option? We waited, pontificated, and slept restlessly. It was as though we could feel our season, our hard work, and essentially, our way of life, slipping through our hands."