Notes
The table above lists all recruits as of May 24, 2020. In addition to the Star Rating, we display the highest TRN, UTR, ITF junior, and WTT rankings for each player since January 1, 2019, and for international players we display the TRN ranking they would hold if eligible.
Also Receiving Consideration
We reviewed the resumes for more than 50 teams for these rankings. Teams that received strong consideration and almost made our list are (alphabetically) as follows: Simmons, St. Lawrence, Trinity (TX)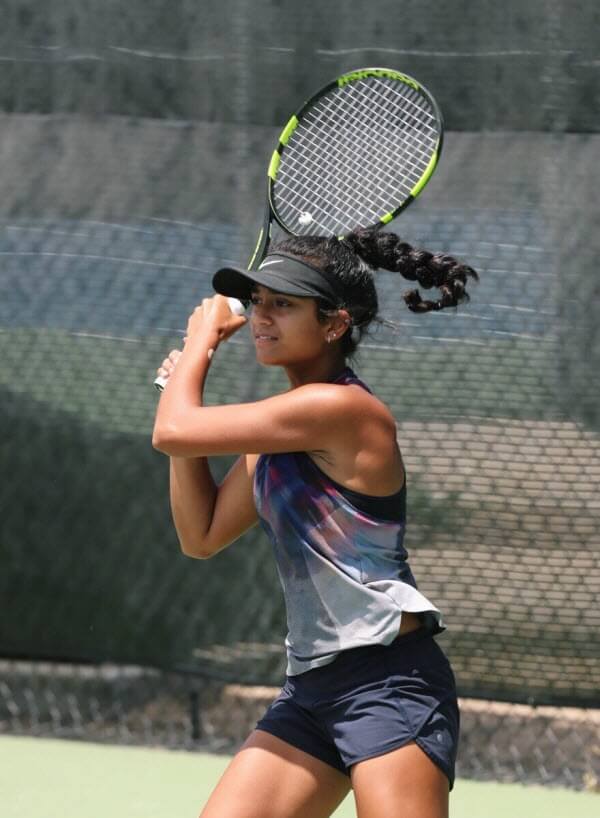 5-Star Ananya Aggarwal is heading to Williams
Cows Coming Home
The top programs in NCAA Division III tennis have a number of high-level recruits, with 22 American recruits rated 4 Stars or better making commitments their programs. Only two of these recruits are 5-Star seniors - and both young women have committed to the Williams Ephs.
Williams has had an incredible run in Division III tennis, winning 8 of the last 12 NCAA team titles. Head Coach Anik Cepeda took the reins in Summer 2017 and promptly led the Ephs to the 2018 Final Four. This coming season, her Williams squad will have the help of the nation's top recruiting class.
Cepeda has three top recruits from across the country coming to Williamstown this fall, starting with 5-Star senior Erica Ekstrand of Santa Monica, Calif. Eckstrand has posted 10 wins over opponents rated 5 Stars or better over the past year, and she won the singles title at a USTA National Level 3 in Lakewood. She will be joined by fellow 5-Star senior Ananya Aggarwal (Mason, Ohio) who has recorded strong results in USTA/Midwest tournaments. Aggarwal also recorded victories at last year's USTA gold ball events on both clay and hard courts. Rounding out the trio is Chinese national Zhenghui Tian who has been training in Florida. Tian has been active on the ITF junior circuit, winning matches in both Florida and Asia.
Williams regularly has ranked recruiting classes, but this is the first time since 2012 that the Ephs class has been ranked No. 1. These recruits will help bolster a talented squad that should compete at the highest level in 2020-21.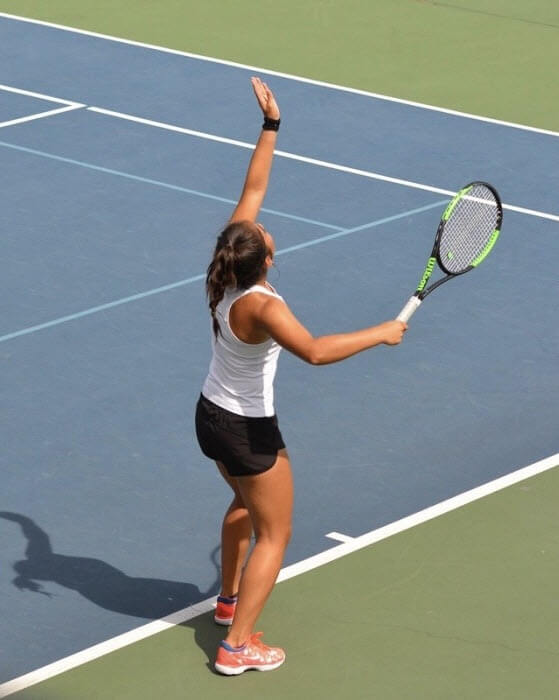 4-Star recruit Alisha Chulani is heading to CMS
Five for Five
Four other college programs stood out to our contributors - starting with No. 2 Claremont-Mudd-Scripps. The Athenas won the NCAA Division III Team Championship in 2018 and were runners-up in 2019. This coming season, Head Coach David Schwarz has four 4-Star recruits arriving in Claremont to work towards another deep run. Californians Alisha Chulani and Trinity Zhang will be joined by fellow 4-Star recruits Sena Selby of White Plains, N.Y, and Knoxville, Tenn., recruit Audrey Yoon to form a formidable class.
Checking in at No. 3 on our list - and located right down the road from CMS - is Pomona-Pitzer. The Sagehens, who finished the 2019 season ranked No. 5 in the nation and were ranked No. 6 this past season, should reload in 2020-21 with four strong recruits. Americans Alicia Carmona Cornejo (Rancho Palos Verdes, Calif.), Samantha Moore-Thomson (Denver, Colo.) and Nina Ye (Ruston, Wash.) will join with Charlotte Imbert of Great Britain to form a strong foursome.
The Amherst Mammoths and Emory Eagles are in the No. 4 and 5 spots on our list, respectively, and both of these classes also received a great deal of support.
Conference Call
The 25 recruiting classes on our list come from 9 different conferences, but more than half of the classes on our list come from just two conferences - the NESCAC and UAA.
Three of the top 6 programs come from the NESCAC - Williams (No. 1), Amherst (4) and the Wesleyan Cardinals (6). Other NESCAC classes in the rankings are the Middlebury Panthers (12), Colby Mules (14), Bowdoin Polar Bears (15), and Tufts Jumbos (21) for a total of 7 NESCAC programs.
The UAA has 6 programs of its own on the list. The Carnegie Mellon Tartans (7) join Emory in the Top 10. Also in the rankings are the Brandeis Judges (17), Wash U Bears (19), CWRU Spartans (20), and NYU Violets (25).
Other notable conferences are the SCIAC and NEWMAC. Both of these conferences have three ranked classes apiece and two among the Top 10.
Drop Shots
Scattershooting across the rankings …
Love That Dirty Water - Massachusetts usually has a strong presence in the recruiting class rankings, and 2020 is more of the same. 7 of the 25 classes in our rankings hail from the Commonwealth: Williams (No. 1), Amherst (4), MIT (9), Babson (10), Brandeis (17), Tufts (21), and Wellesley (23).
Deja Vu All Over Again - 16 of the 25 programs in our 2020 rankings also appeared in 2019.
Fresh Face - One program is in the D-III Recruiting Class Rankings for the first time in school history. Head Coach Traci Binder has the Pacific University Boxers in our rankings at No. 24 with 4-Star senior and in-state prospect Cassidy Binder (Forest Grove, Oregon).
Welcome Back - Second-year head coach David Weiner has Christopher Newport University (22) back on the list for the first time since 2014. The six-year absence for the Captains is the longest for any program in the rankings.
Perfect Attendance - 2010 was the first year we published recruiting class rankings for NCAA Division III programs, and so this is our 11th edition. Six programs - six! - have appeared in all 11 lists: Williams (1), CMS (2), Emory (5), MIT (9), Bowdoin (15), and Wash U (19).
Top Marks - In addition to Pacific who is new to the rankings, five other programs have posted the best-ever recruiting class ranking in school history: the CMS Athenas (2), Swarthmore Garnet (8), Caltech Beavers (13), and Colby Mules (14).
Moving Target - Recruiting is a year-round affair, with new recruits committing daily. With COVID-19, the decision deadline was pushed back for many schools - resulting in later commitments than usual. A number of D-III programs have announced new recruits since our cut-off - and schools like Tufts (21) were impacted in our rankings. Two highly-rated new recruits announced their decisions to attend Tufts after our ranking cut-off - which would have lifted the Jumbos considerably in our rankings.
Recruiting Class Ranking Wrap
And that will do it! This is the sixth article in our Recruiting Class Ranking series. Make sure to check out all of our lists from our homepage. Happy Summer!
Leave a Comment
More Recruiting Class Rankings
21-Jun-2021
2021 Top NCAA D-III Men's Classes
TRN continues its recruiting class ranking series this week with a look at Division III. Today we present the Top 25 NCAA D-III Men's Recruiting Class Rankings for the Class of 2021.
18-Jun-2021
2021 Top Mid-Major Women's Classes
The Tennis Recruiting Network continues its recruiting class ranking series this week with a look at the mid-majors. Today we present the Top 25 Women's Mid-Major Recruiting Class Rankings for the Class of 2021.
14-Jun-2021
2021 Top Mid-Major Men's Classes
The Tennis Recruiting Network continue its recruiting class ranking series this week with a look at the mid-majors. Today we present the Top 25 Men's Mid-Major Recruiting Class Rankings for the Class of 2021.