Notes
The table above lists all recruits as of May 24, 2020. In addition to the Star Rating, we display the highest TRN, UTR, ITF junior, and WTT rankings for each player since January 1, 2019, and for international players we display the TRN ranking they would hold if eligible.
Also Receiving Consideration
We reviewed the resumes for more than 50 teams for these rankings. Teams that received strong consideration and almost made our list are (alphabetically) as follows: Army, CMS, Emory, Georgetown, Gonzaga, Louisiana Tech, Quinnipiac, Samford, UAB
Seeing Red
The women's tennis team for the University of San Diego was off to a solid start in 2019 - posting a 7-4 record and a 1-0 mark in West Coast Conference play. They were looking to mix in a talented group of newcomers in pursuit of a trip to the NCAA Tournament for a second straight year. That all came to a halt in March, of course, when all NCAA sports were discontinued due to COVID-19.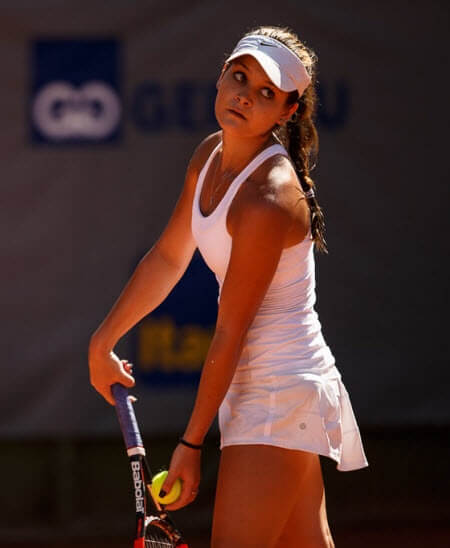 USD recruit Abigail Desiatnikov is a WTA competitor
This coming season, the Toreros are looking to turn things up a notch, when the top-ranked mid-major recruiting class comes to town.
Sherri Stephens, who is entering her 36th season as USD's head coach, has attracted a trio of strong recruits for 2020-21. The class is headlined by Blue Chip senior Abigail Desiatnikov of Las Vegas - the first Blue Chip athlete to commit to the Toreros. She is joined by 5-Star senior Jordyn McBride (Valencia, Calif.) who won six combined singles matches in last year's USTA Nationals and Clay Court Nationals. German standout Elizabeth Andryukhova, who is ranked among the Top 100 women in Germany overall, completes the recruiting class that is ranked No. 1.
This top-rated class will combine with an existing squad that includes the No. 5 mid-major class from 2019. The future looks bright for the University of San Diego - a sentiment echoed by Coach Stephens.
"USD women's tennis is definitely on the rise as testified by these three amazing recruits," said Stephens. "I believe the addition of these student-athletes to the already powerful program will take us to another level."
Give Me Five
While San Diego was the clear choice for No. 1, two other recruiting classes received support from college tennis coaches for the top spot: the University of Memphis (No. 2) and Florida International University (3).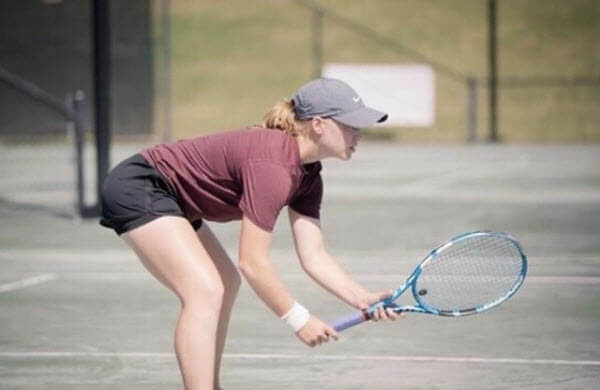 Memphis' Sophie Abrams competes on the ITF pro circuit
Memphis head coach Hayden Perez and staff have brought in a four-woman class that combines two Tennessee recruits with two international athletes. 4-Star seniors Sophie Abrams (Germantown) and Miriam Grossman (Memphis) will be joined in the Bluff City by Camila Soares of Peru and Dolavee Tumthong of Thailand.
"Each of these kids coming in will represent the University of Memphis in a great way and will shine some light on our program," said Perez.
Florida International has attracted a pair of experienced international players in Andjela Skrobonja (Serbia) and Andreea Velcea (Romania). Panthers head coach Katarina Petrovic is understandably excited about the future of her program.
"I feel very good about our team strength, lineup wise, and future accomplishments," said Petrovic.
The SMU Mustangs and San Jose State Spartans round out our Top 5 at No. 4, and 5, respectively.
Conference Call
The 25 recruiting classes from our rankings hail from 13 different athletic conferences, but the American Athletic Conference stands above the rest with 5 ranked classes. Top 5 classes Memphis (No. 2) and SMU (4) are joined in the rankings by the Central Florida Knights (9), Tulane Green Wave (14), and Tulsa Golden Hurricanes (17).
The other other conferences with more than two ranked classes are the West Coast Conference and Conference USA - with three ranked classes apiece.
Also of note are the WIlliams Ephs (17) of NCAA Division III - the only program outside of D-I to appear in the rankings this year. I expect we will hear more from WIlliams next week when we publish our D-III rankings ...
Drop Shots
Scattershooting through the rankings:
Golden State Dominance - Six recruiting classes come from California - more than Texas (4 ranked classes) and Massachusetts (3).
New Look - 17 of the programs in this year's recruiting class rankings did not appear in 2019.
First Time - Three schools are in our recruiting class rankings for the first time in school history: San Jose State (No. 5), Eastern Washington (15), and Northern Illinois (23).
Streaking - Florida International (3) is making its seventh straight appearance in our mid-major class rankings. The next-closest streak is three.
Welcome Back - The Toledo Rockets (20) are back in the mid-major rankings for the first time since 2010.
Best Ever - In addition to our three newcomers who have never before appeared on our list, three programs are posting the best rankings in school history: San Diego (1), Memphis (2), and Williams (17).
Familiar Faces - Boston University (No. 6) is making its 11th appearance in our mid-major rankings - two more than any other program.
Coming Next Week … D-III Rankings
Next week, TRN will wrap up its recruiting class rankings with a look at the Top 25 NCAA Division III recruiting classes. Look for the men's list on Monday - and the women next Friday.
Leave a Comment
More Recruiting Class Rankings
18-Jun-2021
2021 Top Mid-Major Women's Classes
The Tennis Recruiting Network continues its recruiting class ranking series this week with a look at the mid-majors. Today we present the Top 25 Women's Mid-Major Recruiting Class Rankings for the Class of 2021.
14-Jun-2021
2021 Top Mid-Major Men's Classes
The Tennis Recruiting Network continue its recruiting class ranking series this week with a look at the mid-majors. Today we present the Top 25 Men's Mid-Major Recruiting Class Rankings for the Class of 2021.
7-Jun-2021
Top Women's Classes - 2021 Rankings
Our recruiting class rankings continue with a look at the top women. TRN has worked with a panel of junior tennis experts to produce the Top 25 Women's Recruiting Classes of 2021 - with a familiar face at the top.