Special from
Zoo Tennis
Extensive travel is one of the few things professional tennis players and corporate sales representatives have in common. In identifying that similarity, Har-Tru's Business Development Manager Dustin Taylor found a way to leverage it, with former collegiate All-Americans Jamie Loeb and Alex Rybakov now representing the company while they compete on the Pro Circuit.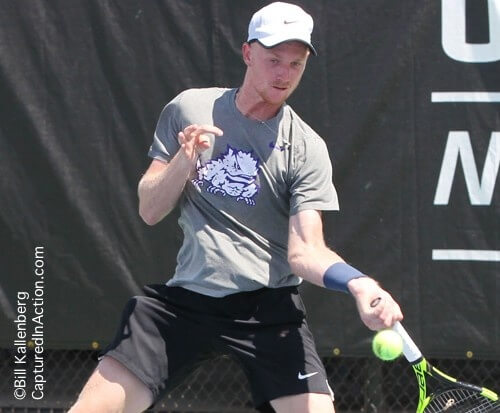 Former TCU All-American Alex Rybakov
© Bill Kallenberg/CapturedInAction
The Charlottesville, Virginia-based company is well-known in the United States for its green clay surface, so expanding the awareness of their hard court offerings and other equipment and accessories was Taylor's focus when he joined the company late last year.
"The more we talked internally about having a sales team, the more it kept popping in my mind, 'Why don't we have a sales team of players, a sales team of coaches?'" said Taylor, who joined Har-Tru after serving as USTA National Coach, University of Virginia men's assistant coach and as a private coach for ATP pros.
"They are going to be traveling for tennis anyway; they are going to be in front of these decision makers week in and week out."
Although Taylor had been planning to introduce the program as he settled into his new position, a call from Rybakov in the early stages of the pandemic sped up the process.
"Rybakov actually reached out and asked 'Is there anything I can do?'" Taylor said. "I'm sure he was looking for an exhibition or an Instagram or social media post he could do for Har-Tru to support himself. That got me thinking, 'How can we support these players, because they do have all this time when they're out on the road? And they do have all these networks.'"