Commitment Profile
Family Memories Help Inspire UCLA-Bound Catanzarite
by Rhiannon Potkey, 31 July 2020
Ava Catanzarite glances down at the blue and gray bracelets on her right wrist every time she grips her Babolat Pure Aero racket. They provide perspective and remind her to take nothing for granted.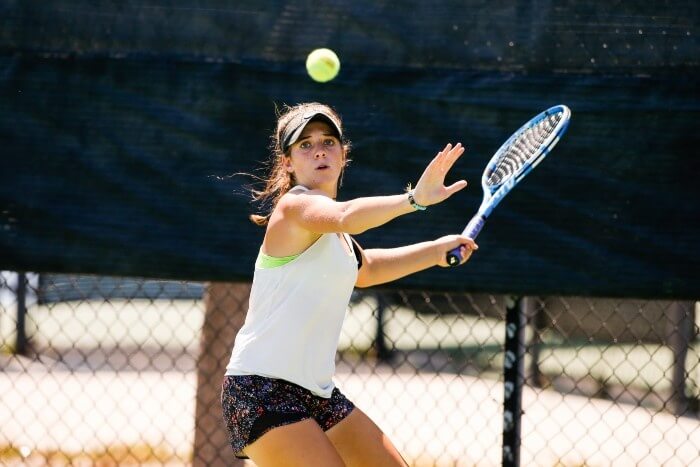 Blue Chip Ava Catanzarite Has Committed to UCLA
© Derrick Tuskan Photography
Catanzarite wears the rubber bands to honor her two cousins who died a year apart. Brooks Watkins was a 21-year-old baseball player and suffered an accident at his home in 2015. Michael Trella was a 15-year-old lacrosse player who died in his sleep in 2016.
Along with the memory of her grandparents, Catanzarite finds inspiration from the joy they brought to her life and the void their deaths have left unfilled.
"Every time I step on the court, I play for them," Catanzarite said. "I just wish I could have told them that I committed to UCLA. Obviously they are looking down on me and are happy for me."
Family has always been at the heart of what drives Catanzarite. One of the major attractions to UCLA for the blue-chip rising senior from Pittsburgh was the connection she felt with head coach Stella Sampras Webster and current Bruin players that went beyond just tennis.
"Stella was talking to me about how family-oriented the team was and how that pretty much shapes their team and who they are," Catanzarite said. "I talked to a few girls over Zoom, and they were just so welcoming and supportive. I just knew it was a group of girls I wanted to be a part of."
The coronavirus pandemic sped up Catanzarite's recruiting process. She called the coaches of the programs she was considering to see if they still had a spot for her on the team given that seniors were granted an extra year of eligibility once the 2020 season was halted in March.
Catanzarite was able to visit Wake Forest, Notre Dame, Texas A&M, Vanderbilt, Georgia and Florida. But she couldn't visit UCLA before the pandemic shut down recruiting trips. She did virtual tours of the Westwood campus as a substitute.
"I was putting every single detail into consideration. I wanted to make sure the school was the right fit," she said. "The morals and the way they run their program was a big part, and they are going to be able to help me develop my game and help me accomplish my goals in and after college. I thought the challenges and opportunities UCLA gave me were just amazing."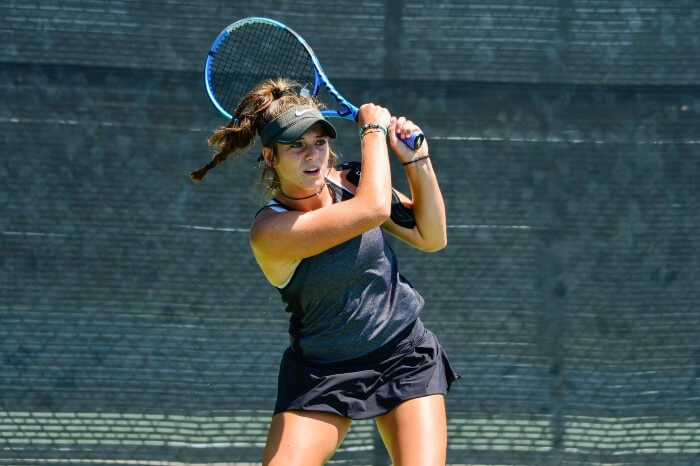 Catanzarite Trains at Gomez Tennis Academy in Florida
© Derrick Tuskan Photography
Catanzarite started playing tennis at age 5 when her mother enrolled her in a class. The left-hander loved the sport right away, and eventually gave up gymnastics and basketball to focus on tennis full time.
Having outgrown the training in the Pittsburgh area, Catanzarite left home and began training at the Gomez Tennis Academy in Naples, Florida in 2018. Mat Lowe, the Program Director at the academy, has been working with Catanzarite since she arrived two years ago.
"She works really hard on the practice court and has a good attitude towards it. She truly has a desire to be the best she can be," Lowe said. "She keeps fighting out on the court and competes hard. She has all the good traits and qualities you are looking for."
Catanzarite is a strong doubles player, having won seven straight ITF titles, two national gold balls, two silver balls and a bronze ball. Training at Gomez has allowed her to participate in bigger events and test her skills against higher-level players.
"I have always wanted to play ITFs all my life. I just didn't have the ability to since my parents worked and we didn't really have the money and time to go travel to all these countries," Catanzarite said. "The coaches at Gomez take groups to all these ITFs and I've been able to play them now. That is something I am really happy about."
The exposure has given Catanzarite more belief in her game and abilities, according to Lowe.
"I think she has come a long way mentally and I think there is a greater confidence she possesses now," he said. "I think she has proven to herself she can compete at the top level with some of the results she's had on the ITF circuit and also within the USTA setup. I think she has a greater understanding of what her strengths are and how she can maximize those strengths."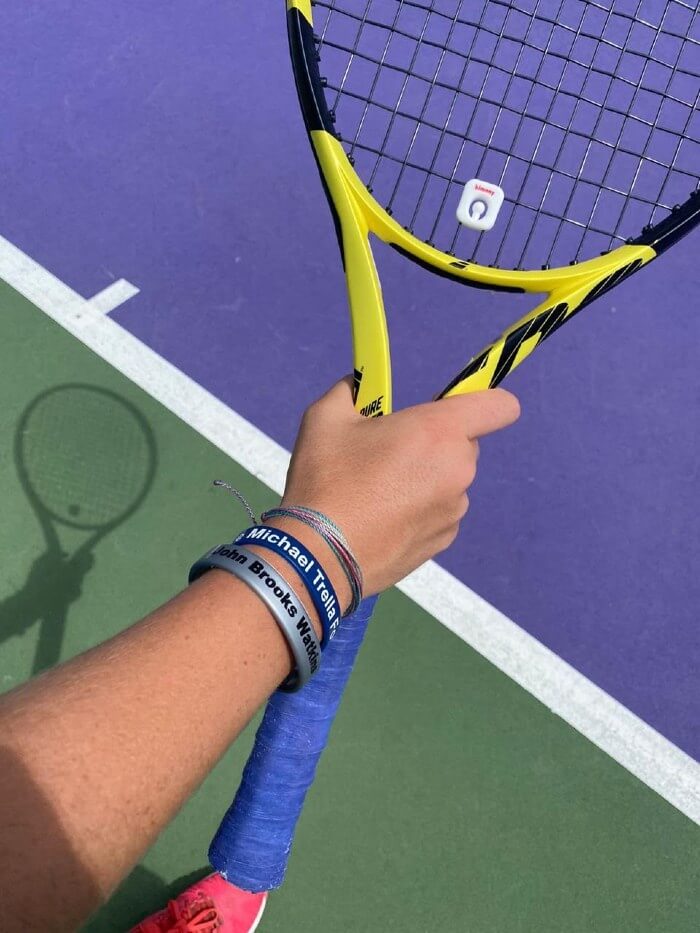 Catanzarite Wears Braclets In Honor of Her Cousins
© Contributed Photo
No matter where Catanzarite plays, her deceased cousins are never far from her mind. Her family has ensured their legacy lives on through foundations they created in their honor.
The I Love You More/The Michael Trella Foundation provides bereavement support for families who have lost a child. The Brooks Watkins Foundation helps purchase books for students and faculty at California University of Pennsylvania, where Watkins was a student when he died.
The rubber bracelets Catanzarite wears in remembrance will match her uniform colors once she begins playing for UCLA in 2021. Representing a Division I school has been a lifelong goal for Catanzarite, one that she knows will make her family proud.
"The pro thing has always been a dream and it's still kind of something I do think about one day," she said. "But my focus has really been on college. I am just honored to be a part of a top program and great team like UCLA."
Leave a Comment
More Recruiting Profiles
28-Jul-2020
Breakfast Discussion Helps Murphy Pick North Carolina
Peter Murphy has always valued the advice of his older siblings. The five-star from Portland, Oregon sat down with some of them over breakfast to weigh the pros and cons of his college decision before picking North Carolina.
16-Jul-2020
Persistent Solomon Makes a Strong Connection at Belmont
Abigail Solomon didn't let one unreturned email deter her from being recruited to Belmont. The four-star rising senior from nearby Knoxville, Tennessee reached out again and made a strong connection that turned into a verbal commitment.
9-Jul-2020
Family Ties Provide Comfort For Binder At Pacific University
Cassidy Binder had interest from Division I schools, but the coronavirus prevented her from making any official visits. The four-star from Oregon realized the best option was close to home at Division III Pacific University, where her mom is the coach and her sister plays on the team.
About Rhiannon Potkey
Rhiannon Potkey is a veteran sportswriter with more than two decades of experience in journalism. Potkey has covered many sports at many levels and has a passion for finding great stories. Potkey has covered the U.S. Open, junior sectional and national events, college conference championships and Davis Cup matches. Potkey is currently Content Strategist for Tennis Recruiting. You can reach Rhiannon by email at
[email protected]
.