Commitment Profile
Hunger To Excel Leads Blue Chip DeFalco to LSU
by Rhiannon Potkey, 15 September 2020
Jenna DeFalco was interested in all aspects of the LSU campus, but the athletic nutrition facility really captured her attention. DeFalco embraced a vegan diet last year after four years of being a vegetarian. Having the right food available to eat in college was a major consideration for her performance and lifestyle.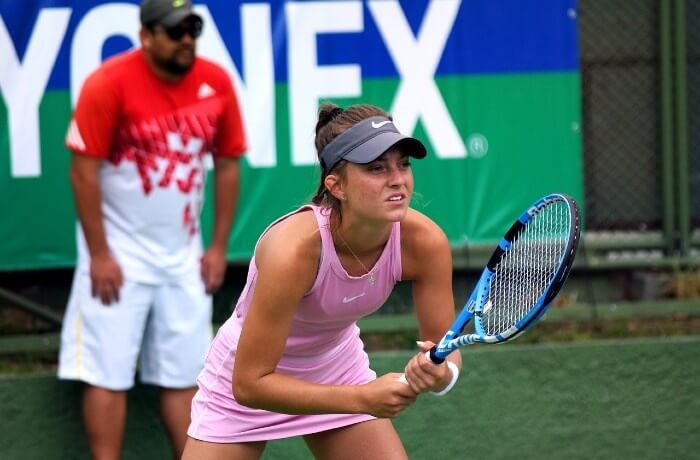 Blue Chip Jenna DeFalco Has Committed to LSU
© Contributed Photo
"I never really liked the taste of meat and got kind of grossed out with cheese, dairy and everything once I watched The Game Changers," said DeFalco, referring to the documentary film about the benefits of plant-based eating. "I went really strict after that and decided to be fully plant-based. I feel so much stronger on the court and way faster and I recover super quick. It's really helped me a lot."
From the court to the classroom to the kitchen, DeFalco felt confident LSU could meet her needs. The blue chip rising senior from Tustin, California committed to LSU co-head coaches Julia and Michael Sell last month.
"I thought LSU was the perfect fit for me. The coaches have a lot of experience and I connected with both of them immediately," she said. "I built a strong relationship with them and they see the same vision I have with my tennis and really care about my tennis and me as a person. They made me feel like family and the girls on the team welcomed me immediately."
DeFalco was born in Newport Beach, California and started playing tennis at a club near her house when she was 4. Her father, Jason, played collegiately at the University of New Mexico.
"Ever since I picked up a racket, I loved it," DeFalco said. "I played multiple sports, but I knew tennis was the sport for me. I like the fact it's an individual sport and I just love figuring out the puzzle and constantly thinking and being active."
DeFalco has been homeschooled since the fifth grade, and works with a trainer and psychologist along with a private coach. Her goal has always been to pursue a professional career, but making a stop in college became more of a reality in the last year as the world grappled with the coronavirus pandemic.
"Ever since this Covid thing, I haven't really been able to play any pro tournaments so college was kind of my backup plan," DeFalco said. "That is why I feel super good about LSU because I am confident they can get me ready for the pro level."
DeFalco has worked to diversify her game and be prepared for anything an opponent may throw at her during a match.
"I think my movement is pretty strong and I have an all-court game," DeFalco said. "I have all the shots so I can adjust accordingly against most players. I can use a slice, drop shot or heavy forehand and figure things out."
Despite having grown up near the beach in SoCal, DeFalco didn't discover her love for surfing until this summer.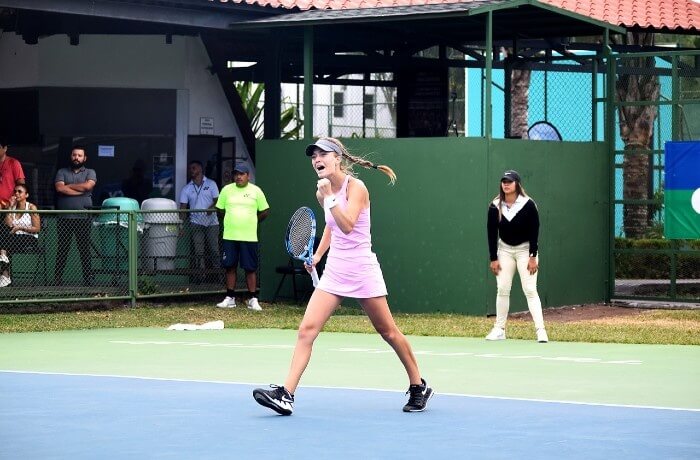 DeFalco Has Aspirations To Play Professionally
© Contributed Photo
"I have always wanted to do it, but then I never got out there. One day I just went out with my dad and oh my gosh it is so addicting," she said. "I try to go every single day now after tennis."
Once she relocates to football-obsessed Baton Rouge next year, DeFalco will get to witness games played in one of the best environments in the country. Making a trip to Death Valley - as Tiger Stadium is popularly known as - is a bucket list item for many sports fans.
"I don't watch a ton of football or know all the rules, but I have started to watch a lot of LSU games and watch as much as I can when my dad is watching," DeFalco said. "My dad and I actually throw a football around before practicing my serve, and I can throw a pretty good spiral.
The 5-foot-7 DeFalco believes she has the potential to make a career out of tennis, and sees LSU as a stepping stone to her bigger dream. Having been smaller than most players when she was younger, DeFalco developed a chip on her shoulder that remains.
"I feel like I have been underestimated because of that and it makes me want to work even harder," she said. "I have always done things my way and been unique. I feel like there is really no right or wrong way to become a professional. You get there when you get there."
Leave a Comment
More Recruiting Profiles
17-Sep-2020
UC Davis is the Right Spot for Five-Star Ryan Morgan
Ryan Morgan had UC Davis high on his list even before the coronavirus pandemic. Once two other schools no longer had a roster spot for him, the five-star senior from Glendale, California realized committing to the Aggies was clearly the best option.
10-Sep-2020
Blekhman Has a Positive Outlook About Lehigh Commitment
Marc Blekhman quit tennis for a year to play soccer. The break helped him develop a more positive mental outlook, and he returned to tennis even stronger and eager to play in college. The four-star senior from Illinois has committed to Lehigh.
8-Sep-2020
Commitment Secured: Herremans Sees Bright Future With Army
Paige Herremans wants to pursue a career in cyber security. The four-star rising senior from Orlando realized the military was the perfect option for her future. Her commitment to Army became official last month.
About Rhiannon Potkey
Rhiannon Potkey is a veteran sportswriter with more than two decades of experience in journalism. Potkey has covered many sports at many levels and has a passion for finding great stories. Potkey has covered the U.S. Open, junior sectional and national events, college conference championships and Davis Cup matches. Potkey is currently Content Strategist for Tennis Recruiting. You can reach Rhiannon by email at
[email protected]
.