College Feature
Late Mother Inspires Woodson's Coaching Journey to Baylor
by Rhiannon Potkey, 17 August 2020
Michael Woodson was deliberating between attending medical school or pursuing a fellowship when the direction of his life tragically changed.
Woodson was a senior at Valparaiso University, juggling tennis with a triple major in biology, chemistry and exercise science. On the morning of Nov. 3, 2011, his mother, Maria Woodson Dann, a longtime elementary school teacher in the Raleigh, North Carolina area, was driving to work when she was hit head on by a drunk driver and killed.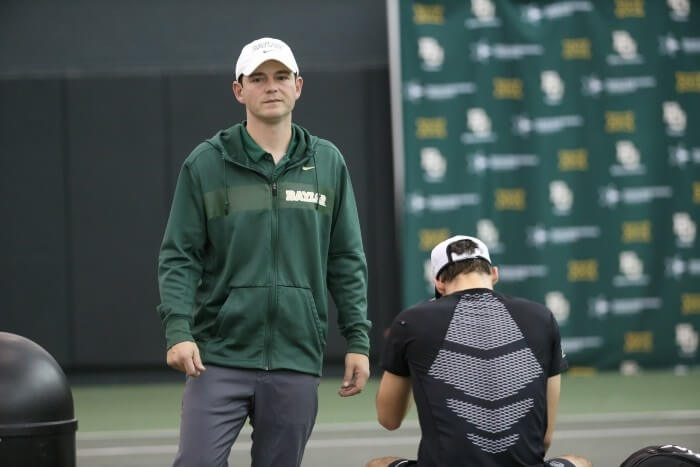 Michael Woodson Was Promoted to Interim Head Coach
© Baylor Athletics
Woodson was in shock once he received the news. He shared an extremely close relationship with his mother. Instantly, all of his future plans took a backseat to his grief. He needed to feel safe and wanted to remain close to people he loved.
Valparaiso head coach Jim Daugherty offered Woodson a job as an assistant coach once he graduated. Woodson could stay on campus and obtain a master's degree. If he didn't like coaching, he could move on when he felt ready.
Woodson poured himself into the profession and didn't want to leave.
He was recently named Baylor's interim head coach for the 2020-21 season, with hopes of reaching a long-term agreement and removing the interim label by next summer barring an unforeseen event.
After receiving the call from Baylor athletic director Mack Rhoades, Woodson thought of his mother and wished he could have shared the moment with her in person.
"She meant everything to me. I am thankful for the 21 years we did have together and the great memories I have with her," Woodson said. "I make sure I do everything to live out her legacy so that she would be proud of me."