Recruiting 101
Meet The Assistant: Florida's Tanner Stump
by Rhiannon Potkey, 11 September 2020
They fill a crucial role in every college program. They juggle multiple responsibilities and put in long hours behind the scenes. They arrive early to hit balls, they stay late to provide advice and they keep in contact with potential recruits.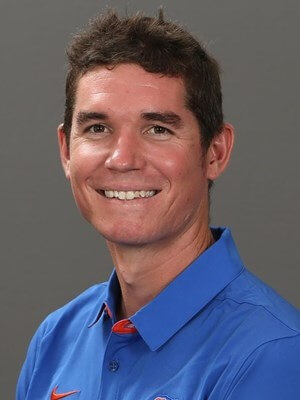 They are assistant coaches.
Although they may not get as much attention as head coaches, they are highly valued by many.
In this edition of Meet The Assistant, we profile University of Florida assistant Tanner Stump.
Why did you get into coaching?
When I entered college, I already had the idea of becoming a college coach. The game of tennis has always been infectious for me and I couldn't imagine not being around it by choosing a different career path. My experience in college only intensified that as I began to see how enjoyable it was to watch a team grow together and accomplish amazing things. I was certainly blessed with two coaches, Per Nilsson and Matt Hill, who supported me in that pursuit and have been invaluable to my success in this arena. Being a part of something bigger than yourself, while helping young men mature and prepare for life, is the exclamation point on why I got into coaching.
What do you enjoy most about coaching?
I think first and foremost at UF, it's getting to work with Bryan Shelton and Scott Perelman every day. Having the opportunity to learn from them and help direct our team is a once-in-a-lifetime experience. And then, getting to see the little day-by-day victories in our players' games and lives is such an uplifting part of the job. Tennis is a sport filled with ups and downs, but when players really take hold of things with self-driven ownership it's super fun to get to be a part of that.
What is the most challenging aspect?
I think finding the balance in the job is probably the most challenging aspect, especially with recruiting. It can be something that really takes over your life and, for me, I have to consistently check to make sure my priorities are in line with my faith and family first to ensure I'm investing in those areas. If my personal walk and life is out of balance then my work life will be as well, so that's something I'm always on the lookout for.
How much of your job is recruiting?
I think a large part of every college coach's job - and not just in tennis - is recruiting. It's certainly no different for me. Recruiting is a time-consuming endeavor because tennis is a worldwide sport. There are a plethora of players from every region of the world capable of playing collegiate tennis. So sorting through all of those players and then forming relationships to discover who may be the right fit for your program takes a large amount of time.
What are your strategies to identify recruits?
We tend to focus on intangibles first here at UF. Things such as work ethic, respect, coachability, etc. are very important to us. The initial part of the process is usually watching guys compete and seeing how they handle themselves. Of course, at the same time, we are evaluating their games from both a results standpoint and a development trajectory. We want to work with guys who haven't seen their best tennis yet. That means that results aren't always the No. 1 factor in identifying who is best for our team, but rather who has the tools or is developing the tools to be successful at an even higher level. After that initial process, we really begin to narrow things down and start to get to know the guys we've identified on a personal level.
The best advice you would give to recruits?
I've found that a lot of players tend to try to fit a school, rather than find a school that fits them. This is the player's process, not ours, so it's all about asking the right questions to find out if a place is good for you rather than say what you think a coach wants to hear. I also really appreciate when players who are interested in our program initiate contact and try to get to know us as well. It can be hard as a 16- or 17-year-old to ask those questions, but it shows us a great level of maturity when they can show an interest not just in our program, but in our personal lives as well.
What are your future aspirations?
I certainly have the ambition to be a head coach at some point in my career, but I'm extremely blessed to be in the position that I am here at UF. There have been opportunities for me to move to that next phase, but my family and I have a special connection here to the players, coaching staff, support staff, administration and community that make me feel like this is home. I came here to help UF win a national championship for the first time in program history and I'm excited to continue getting after that goal with Coach Shelton for the years to come. Go Gators!
Leave a Comment
More Recruiting 101 Articles
27-Aug-2020
Meet The Assistant: Michigan's Teryn Ashley-Fitch
Assistant coaches might not get as much attention as head coaches, but they are highly valued by everyone within a college program. They work long hours to help teams try to win matches and help players try to achieve their goals. In this edition of Meet The Assistant, we profile Michigan associate coach Teryn Ashley-Fitch.
5-Aug-2020
Meet The Assistant: Washington's Chris Russell
Assistant coaches might not get as much attention as head coaches, but they are highly valued by everyone within a college program. They work long hours to help teams try to win matches and help players try to achieve their goals. In this edition of Meet The Assistant, we profile Washington associate coach Chris Russell.
29-Jul-2020
How Online, Hybrid Learning Will Impact NCAA Eligibility
In an effort to provide clarity to students and parents making decisions for the 2020-2021 academic year, the NCAA Eligibility Center offered additional guidance last week regarding distance, e-learning or hybrid options made available by schools with NCAA-approved core courses.
About Rhiannon Potkey
Rhiannon Potkey is a veteran sportswriter with more than two decades of experience in journalism. Potkey has covered many sports at many levels and has a passion for finding great stories. Potkey has covered the U.S. Open, junior sectional and national events, college conference championships and Davis Cup matches. Potkey is currently Content Strategist for Tennis Recruiting. You can reach Rhiannon by email at
[email protected]
.